Israel Says Palestinian Casualty Figures from Operation Protective Edge Were 1 Terrorist for Every Civilian Killed, but There Is Evidence That Many of the Civilians were Part of "Hamas's Civilian Army"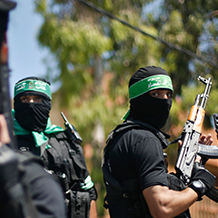 Calls to haul Israeli leaders and individual soldiers to the International Criminal Court (ICC) to answer for "war crimes" committed during Operation Protective Edge last summer have been issued by Hamas and its supporters around the world.
The war, which took place in Gaza in the summer of 2014, was Israel's response to thousands of missiles fired at Israeli civilian targets by Hamas, Islamic Jihad, and other terrorist groups in Gaza, as well as the kidnapping of three teenagers by Hamas operatives in Judea.
While the UN Human Rights Commission (UNHRC) has concerned itself chiefly with condemning Israel for the Gaza conflict, the PA's suit against Israel in the ICC includes Operation Protective Edge as well Israel's presence in Judea and Samaria and the fact that Arab terrorists are serving sentences in Israeli prisons.
Like the US, Israel is not a member of the ICC and, therefore, is not required to cooperate with the organization. With the UNHRC report released in June, accusing Israel of war crimes during Operation Protective Edge, it seems doubtful that Israel will have anything to do with the ICC's investigation. Neither the US nor Israel recognizes the authority of the court.
PA Papers
At the end of June, PA Foreign Minister Riyad al-Maliki submitted papers to the ICC's prosecutor, Fatou Bensouda, in an effort to bolster her investigation into the charges against Israel. The initial request for an investigation was submitted by other Arab countries on behalf of the PA.
The PA's paper was prepared by a team of 45 representatives, at least half of whom are from the politburo of the Hamas terrorist organization.
The PA said its file, which comprises hundreds of pages, aims to capitalize on the anti-Israel momentum caused by the UNHRC report.
 "Politically Motivated and Morally Flawed"
It is unlikely that ICC investigators seeking to condemn Israel will have any better luck visiting the Jewish State than the UNHRC representatives had. When UNHRC representatives tried to enter Israel in preparation for the committee's report, Israel blocked their visits to Gaza, Judea, and Samaria, refusing to be part of the probe into Israel's "war crimes" by this agency with its history of hostility to the Jewish state.
When the report was issued, it was condemned equally by the Israeli right and left. The Israeli Foreign Ministry said the report was "politically motivated and morally flawed from the outset."
Israeli Education Minister Naftali Bennett of the nationalist Jewish Home Party said the report "has blood on its hands and is trying to turn Jewish blood into the cheapest product in the world."
"It's trying to restrict soldiers who protected this country's citizens. It's trying to tie our hands," he said.
He noted that the UNHRC report "skipped over the murder of the three boys [Naftali Frenkel, Gilad Sha'ar, and Eyal Yifrah] as if it did not happen and implied there is no intention for it to be investigated."
"The Jewish people will continue to defend itself whether you like it or not. And we will say forever: Shame on you," said Mr. Bennett to the UNHRC committee.
Left-Wing Condemnation
MK Tzipi Livni of the left-wing Zionist Union Party also denounced the report, calling it "born in sin and written by a committee that systematically and proactively attacks Israel."
"We will not accept a comparison between IDF soldiers and terrorists. We will not agree to speak about IDF soldiers and terrorists in the same breath. This is an important distinction for any country fighting terrorism," she said.
MK Haim Yellin of Yesh Atid called the report "nothing more than a rubber stamp that gives a boost to terrorist organizations around the world by allowing them to continue to attack innocent civilians."
Predictable
Supporters of Israel in the US agreed. NY State Assemblyman Dov Hikind pointed out that "most countries in the UN don't know what the words 'civil rights' mean."
"They don't know what 'human rights' means because they don't practice it," he said, noting that "Israel, which does everything to ensure that civilians aren't hurt, is singled out."
"I don't think any of us are surprised anymore," he said.
Former US Ambassador to the UN John Bolton agreed, calling the UNHRC report "completely predictable."
He said that when the UN decides to investigate a conflict in which Israel was involved, "you can write the report in advance."
"The cause of the damage that did take place was the result of the Hamas strategy to conceal its military activities in civilian locales and use civilians as shields. There's simply no other explanation that this is another example of the pervasive UN bias against Israel," he said.
"Children and Armed Conflict"
Even before the UNHRC report on the Gaza conflict was released, the UN had accused Israel of bombing several UN institutions, which Israel has documented were used to store and launch rockets by terrorists. One UN clinic in Gaza was booby-trapped and filled with terror tunnel entrances. It was detonated, leading to the deaths of three IDF soldiers.
The IDF has charged that the UN ignored the realities of fighting in Gaza and Hamas's role of embedding its terrorist infrastructure in the civilian population while firing on Israel's civilians, thereby committing a double war crime.
But the UNHRC report was not the world body's only condemnation of the Jewish state in June. The UN report on "Children and Armed Conflict," prepared by Leila Zerrougi of Algeria, also condemns Israel, but Hamas's endangerment of Israeli and its own children is not even mentioned.
According to Israel's Ambassador to the UN Ron Prosor, Ms. Zerrougi "repeatedly refused attempts on Israel's part to provide official evidence and facts."
The report completely skips the original trigger of Operation Protective Edge: The constant missiles onto Israeli civilian targets and then Hamas's kidnapping and murder of three Israeli teenagers.
Although Mr. Prosor wrote to UN Secretary General Ban Ki-moon demanding that he "impartially investigate the findings of this study and take all steps necessary to ensure that Zerrougi's office treats Israel in a fair and honest manner," no one in Israel is expecting anything better from any international group, including the ICC.
Gaza Assessment Task Force
While Israel will probably not submit to the ICC prosecutor's investigation, the Jewish state has already tendered its own response to the charges. Israel has given the ICC the findings of a report from 11 top military officials who visited Israel last May for a fact-finding mission on Operation Protective Edge.
The report, issued by the High-Level International Military Group called the Gaza Assessment Task Force, found that Israel far exceeded international standards regarding the protection of civilian lives during war.
This latest report is actually the third such document issued since the end of the Gaza conflict last summer, all confirming that Israel prevented civilian deaths.
Careful Examination
The task force's report begins by examining the circumstances preceding the conflict, finding that "Israel sought to avoid the conflict and exercised great restraint over a period of months before the war when its citizens were targeted by sporadic rocket attacks from Gaza."
Once the war began, the report says, "Israel made repeated efforts to terminate the fighting." Hamas, on the other hand, according to the report, "deliberately and indiscriminately targeted Israeli civilian population centers" through rocket attacks and digging terror tunnels, both of which the military experts conclude, are unequivocally considered "war crimes."
The report also contrasts Hamas's use of human shields with Israel's efforts to save lives. "Hamas launched attacks against Israel from the heart of its own civilian communities in Gaza and positioned its munitions and military forces there also, including in schools, hospitals and mosques," says the report, citing international media footage, IDF documented evidence, and senior Hamas officials' own claims.
"A recent report by the UN Secretary General confirmed that, in some cases, Hamas even used UN facilities for storing munitions and launching attacks," said the report.
Israel's Bind
The report, which was sent to the UN, confirmed for many Israeli leaders the bind in which Israel finds itself. In presenting the report to journalists, Israeli Deputy Foreign Minister Tzipi Hotovely quoted former Israeli Supreme Court President Judge Aharon Barak who said that democracies, due to humanitarian considerations, are forced to fight terrorism with one hand tied behind their backs.
Ms. Hotovely said it seemed to her that most of the world would like to tie both of Israel's hands behind its back.
The report corroborates previous findings that, while fighting Hamas terrorists in Gaza, the IDF achieved a 1:1 civilian-to-combatant ratio, meaning that for every civilian killed inadvertently, Israel succeeded in killing a terrorist militant combatant. According to some reports, that ratio is so low for civilian casualties as to be virtually unprecedented in urban warfare.
Hamas's Civilian Army
Journalist David Bedein, head of the Jerusalem-based Center for Near East Policy Research, took issue with Israel's and the report's reference to non-combatants killed in Gaza as "civilians." Rather, he said, many of them were members of what he called "Hamas's civilian army."
According to Mr. Bedein, the supposed humanitarian agency, The United Nations Relief and Works Agency (UNRWA) for Palestine Refugees, is actually being used "to train and indoctrinate a new generation of children in Gaza into terrorism."
This, he pointed out, is in contradiction with Article 6 of the UN Convention on the Rights of the Child, in which all UN agencies are required to recognize that children have "the inherent right to life."
"Recruiting and using children under the age of 15 as soldiers is prohibited under international humanitarian law—treaty and custom—and is defined as a war crime by the ICC," he said.
"Children's Army of Hamas"
Mr. Bedein documented his accusations with a film showing Hamas activities in the refugee camps run by UNRWA. The film, made after Operation Protective Edge ended, includes a statement by Hamas's Minister of Religion Ismail Radwan that "the ceasefire [with Israel] gives our warriors time to rest until we liberate our land and holy sites."
Mr. Radwan insists that Hamas has "the right to develop new missiles."
Mr. Bedein opens the film, entitled "Children's Army of Hamas," by asking the terrorist organization's leaders if "it had changed its policy of inciting indiscriminant acts of violence."
"Instead of changing its ideology, we discovered that Hamas is preparing for its next acts of terror by recruiting and exploiting 17,000 young teens. Drafted from UNRWA by Hamas, the teens attend war games where they earn to use lethal weapons," said Mr. Bedein.
Training the Children
In the film, Hamas's Education Minister Osama al-Mizini describes the children as "strong soldiers, proving their potential. With Allah's help, you will see them in Haifa and Tel Aviv and on every part of our Palestinian land."
A masked trainer of Hamas's Children's War Games explains, "We train children how to use all types of weapons: machine guns, anti-aircraft, tunnel warfare, guerilla warfare, to fight the enemy, with Allah's help."
The teenagers confirm the leaders' statements. One youngster tells the camera, "We're being trained to be mujahedeen (warriors) to fight the evil Israeli presence. They conquered our land and defiled our holy sites. We will liberate it with Allah's mighty help. And we will be the commanders who will liberate Al-Aqsa (The Temple Mount). In this military camp, we study jihad, determination, to trust Allah, and the other Islamic values."
UNRWA's Participation
UNRWA's participation is confirmed by Mr. Radwan, who tells the camera that his organization's relationship with UNRWA is "good, very good."
"We assist UNRWA and Hamas cooperates with UNRWA on many levels. A direct connection exists between UNRWA and Hamas," he says.
Given this evidence, Mr. Bedein called for an Israeli public relations effort to stress UNRWA's role in placing children on the frontlines in Hamas's children's army and "to stop referring to Hamas-run firms that receive supplies from Israel through UNRWA as 'civilian.'"
Not Always a War Crime
According to Prof Ido Rosenzweig, an expert on international law and cybersecurity at the University of Haifa, once Hamas began firing from UNRWA schools, making them legitimate military targets for the IDF, the onus was on the UNRWA to ensure minimum casualties.
While Mr. Rosenzweig did not believe that UNRWA was deliberately supporting terrorism, he said, "They should be very careful in their operations not to support any military activity of such organizations."
He stressed that while there were civilian deaths in Gaza during the conflict, "not every civilian death equals a war crime."
Obligation to Mitigate
US Army Lieutenant-Col(Ret) Professor Geoffrey Corn, who served on the Gaza Assessment Task Force, agreed. "There is a perception that the laws of armed conflict somehow imposes on military commanders an obligation to prevent civilian casualties. In fact, what it imposes on commanders is an obligation to mitigate risk through feasible measures designed for that purpose," said Dr. Corn, who teaches Law and Presidential Research at the Texas College of Law and was the former US Chief of Law of the War Branch. "The process of making an effort to comply with the law is an indication of the good faith commitment to the law by the parties to the conflict."
In an address last month to the Jewish Institute for National Security Affairs (JINSA), Dr. Corn condemned the UNHRC report for constructing legal arguments which were "totally detached from reality" and for not including statements or observations from any current or former military commanders.
Israel, he said, is dealing with the kind of "enemy who views your compliance with the law, or your commitment to comply with the law, as a tactical and strategic enabler for its own objectives."
Betrayed by Israeli NGOs
When told of Jerusalem's intention not to cooperate, ICC chief prosecutor Bensouda warned Israel that if the Jewish state does not provide the investigators with reliable information on Operation Protective Edge, the prosecutor will open a full-scale investigation based solely on Palestinian claims of Israeli war crimes.
Ms. Bensouda said she has already received information "from others" regarding the preliminary investigation.
While she did not elaborate, she made clear she is trying to obtain a copy of a report released in early May by the left-wing Israeli NGO Breaking the Silence, which is joining the chorus of those hoping to Israel will be condemned for war crimes.
Breaking the Silence says its report is based on testimony from 60 officers and soldiers who served in Operation Protective Edge and includes allegations of indiscriminate Israeli fire on civilian targets.
Arab Financing
In the face of Breaking the Silence's charges, the nationalist grassroots organization, Im Tirtzu, released evidence showing that the left-wing NGO's report was ordered and financed by a Ramallah-based Palestinian group called the Arab Human Rights Fund (AHRF).
According to Im Tirtzu, AHRF is regular contact with many terror organizations, including the Popular Front for the Liberation of Palestine and the Global Jihad. The AHRF provided Breaking the Silence with $300,000 to write the report, according to Im Tirtzu, an accusation that Breaking the Silence did not deny.
Other left-wing groups, including B'Tselem, the New Israel Fund, Adalah ("Justice" in Arabic, run to help Israeli-Arabs against Israel), and Yesh Din, were also involved in giving information to the UN in an effort to discredit Israel.
Foreign Agents Supported by the New Israel Fund
According to Im Tirtzu's CEO, Matan Peleg, the left-wing groups are supported by the radical New Israel Fund as well as foreign states and "radical Palestinian-Arab groups  which are in close contact with terror organizations in Judea, Samaria, and Gaza."
"We call upon the government of Israel to act immediately against those organizations which would seek to defame Israel under the mantle and the guise of caring Israeli citizenship, when, in reality, we are dealing with foreign agents in all respects and for all intents and purposes," said Mr. Peleg.
Mr. Bennett agreed. He accused the groups of "meeting after each operation of the IDF and telling the UN that we are war criminals."
He admitted he has no answer as to where such "self-hatred" emanates, but, he said, he has a response: new Israeli laws to strip funding from "anyone who tries to make our soldiers war criminals and gets foreign financing for it."
On June 23, his Jewish Home Party colleague, MK Yinon Magal submitted a bill to the Knesset stipulating that any NGO receiving more than $50,000 in funding from foreign governments will be taxed at a higher rate, 37 percent. The law would force all NGOs to indicate their affiliation with any foreign governments on every document and report in order to ensure transparency for donors. It would also limit cooperation by the Israeli government and the IDF with foreign NGOs.
UN Status
Further convincing Israel to maintain its distance from the ICC was the UN's decision in early June to reward the Palestinian Rights Center (PRC) with the status of an official UN non-governmental organization (NGO). The PRC has applied for this status before, but had always been rejected.
Israel has determined that the PRC, which claims to promote human rights and democracy in Palestine, is illegal because of its many ties to Hamas. PRC's leaders include Ghassan Faour, a member of the Hamas front group Interpal, and Zaher Birawi, head of the pro-Hamas Al-Hiwar TV, which has ties to Muslim Brotherhood leaders in the UK.
Recalling that only last summer, Hamas was hiding behind Palestinian women and children in Gaza "to fire missiles at Israeli centers," Ms. Hotovely called the UN's decision to recognize the PRC "outrageous."
"Inserting the Hamas-affiliated organization into UN institutions is awarding a prize to terrorism and its activities—there is no other way to interpret this decision," she said.
PRC's Supporters
The Committee for UN NGOs consists of 19 nation members, 12 of whom, including Iran, Sudan, Venezuela, Turkey, Pakistan, China, and Cuba, voted in favor of the PRC. Opposing were the US, Uruguay, and Israel. Russia and Greece abstained.
As a UN NGO, the PRC has full access to UN events and can participate in debates.
Mr. Prosor noted that the PRC denies Israel's right to exist, supports the return of millions of Arab refugees—and their descendants—to Israeli territory in order to render Israel another Palestinian state instead of a Jewish state, and opposes the peace process.
"Until now, the UN had given Hamas discounts and let it strengthen its activities. Now, the UN went one step further, and gave Hamas a welcoming celebration at its main entrance, allowing it to be a full participant," said Mr. Prosor. "According to this script, one day we may find Hezbollah sitting at the Security Council and ISIS voting at the Human Rights Council. This is the peak season for the UN's Theatre of the Absurd."
The PRC's first action at the UN was to threaten Israel's UN mission with legal action for defamation. The PRC said it would hold Israel "accountable for the safety and security of our members worldwide." The group claimed the allegations that it is affiliated with Hamas are "dangerous, baseless, and will have negative ramifications on our work and members."
Being Too Cautious
Ironically, some international legal experts have condemned Israel for going too far in its attempts to avoid Palestinian-civilian casualties during Operation Protective Edge.
In the Weekly Standard, Willy Stern of the Vanderbilt Law School in Nashville, who spent time with the IDF's international law department as well as frontline commanders, claimed Israel's "legal zeal" has not stemmed the deluge of international criticism against the Jewish state.
Mr. Stern explained that before dropping bombs, the IDF bombarded Gaza residents with thousands of telephone calls, leaflet drops, TV and radio messages, as well as calls to influential citizens urging them to evacuate residents. According to Mr. Stern, in doing so, the IDF gave its terrorist enemies in Hamas detailed information about its troops movements.
"It was abundantly clear that IDF commanders had gone beyond any mandates that international law requires to avoid civilian casualties," Mr. Stern told the Standard.
In contrast, the Hamas "doctrine manual," which was captured by the IDF in the Shejaiya neighborhood of Gaza during the war in early August 2014, documents that the terror organization urged its fighters to embed themselves among civilians, hoping to cause greater numbers of civilians to be killed by the IDF.
"Hamas's playbook calls for helping to kill its own civilians, while the IDF's playbook goes to extreme—some say inappropriate—lengths to protect innocent life in war," wrote the Standard.
"Unreasonable Precedent"
That was the opinion of Wolff Heintschel von Heinegg, a military law expert at European University Viadrina in Frankfurt, Germany, who was called by the IDF's legal department to train IDF commanders about the laws of armed conflict.
Mr. Heinegg told the Standard that the IDF went to "great and noble lengths" to avoid civilian casualties, taking "many more precautions than are required."
As a result, he said, he feared the IDF "is setting an unreasonable precedent for other democratic countries of the world who may also be fighting in asymmetric wars against brutal non-state actors who abuse these laws."
"Going Too Far"
Pnina Sharvit Baruch, a senior researcher at the Institute for National Security Studies and a former head of the IDF's legal department, said legal advisers from militaries around the world often confronted her with "recurring claims" that the IDF was "going too far in its self-imposed restrictions intended to protect civilians, and that this may cause trouble down the line for other democratic nations fighting organized armed groups."
Michael Schmitt, director of the Stockton Center for the Study of International Law at the US Naval War College, said the IDF, by going beyond what the law requires, may be creating a dangerous situation that could harm the West's efforts to fight terrorism.
"People are going to start thinking that the US and other Western democracies should follow the same examples in different types of conflict. That's a real risk," he told the Standard.
War Is Not Always Fair
The report of the Gaza Assessment Task Force's fact-finding mission concluded with the observation that, "in the air, on the ground, and at sea, Israel not only met a reasonable international standard of observance of the laws of armed conflict, but in many cases significantly exceeded that standard."
"A measure of the seriousness with which Israel took its moral duties and its responsibilities under the laws of armed conflict is that, in some cases, Israel's scrupulous adherence to the laws of war cost Israeli soldiers' and civilians' lives," said the report.
One of the UNHRC's condemnations of Israel revolved around the fact that the Jewish state is militarily stronger than Hamas and suffered fewer civilian casualties. According to Prof Corn, that has no legal significance.
"War is not supposed to be a fair fight," he said.
Like most observers, Prof Corn noted that Israel's casualties would have been far greater were it not for its Iron Dome system.
But, he said, suggesting that "because there were civilian casualties international law must have been broken" is a further "distortion" of the law perpetrated by the authors of the UNHRC report.
S.L.R.