Ess Gezint: The Kosher Silver Platter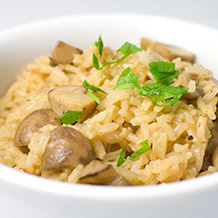 Ess Gezint: The Kosher Silver Platter
Over the years, many kosher cooks—and food writers— have learned to depend on Norene Gilletz, a Canadian-based Certified Culinary Professional whose work on healthy, often low-calorie recipes has been revolutionary. For a new cookbook, The Silver Platter: Simple to Spectacular Wholesome, Family-Friendly Recipes, published by Mesorah, Ms. Gilletz teamed up with Daniella Silver, another kosher Canadian mother, whose interest in cooking stems from her family background in art. In the back of the book, there is a listing of each dish's nutritional information, including calorie count. The result a magnificently beautiful, gift-worthy book of 160 dishes, each reflecting Ms. Gilletz's motto: "Food that's good for you should taste good."
Honey-Garlic Mushrooms and Rice
Rice
2 cups water
1 cup basmati rice, rinsed and drained
3 Tbs seasoned rice vinegar
1-2 Tbs extra virgin olive oil
Kosher salt
Freshly ground pepper
Mushrooms
2 Tbs grapeseed or olive oil
2 lb (8-10 cups) assorted mushrooms
2 Tbs honey
3 Tbs soy sauce
1 Tbs seasoned rice vinegar
3 cloves garlic, minced (about 1½ tsp)
½ tsp dried thyme
Fresh chives, chopped, for garnish
For the rice, bring the water to a boil in a medium saucepan over high heat. Add rice, cover, and simmer for 20 minutes. Remove from heat and let stand, covered, for 10 minutes. Fluff with a fork. Stir in rice vinegar, oil, salt, and pepper; mix well. Adjust seasonings to taste. Set aside
Meanwhile, heat oil in a large wok over medium-high heat. Add mushrooms and sauté, stirring often, for 10-12 minutes, or until golden and liquid has evaporated. If liquid is left in the pan, just drain it off. Stir honey, soy sauce, vinegar, garlic, and thyme into the mushrooms.
Plate a mound of hot rice for each serving. Spoon on hot mushroom mixture. Garnish with chives. Serves 6 as appetizer; 4 as main course.
Crunchy Corned Beef Strips
¼ cup ketchup
3 Tbs honey
2 Tbs soy sauce
1lb deli corned beef, thinly sliced
Preheat broiler. Coat a perforated baking sheet or ovenproof grid with nonstick cooking spray. Place onto a foil-lined baking sheet. In a small bowl, stir together ketchup, honey, and soy sauce to make a glaze. Arrange corned beef slices in a single layer on prepared baking sheet or grid. Brush both sides of each slice with glaze. Broil for 3-5 minutes, or until golden and crispy. Let cool. Store in an airtight container in the refrigerator. Will remain fresh for 4-5 days.
Spiced Cauliflower
1 large cauliflower (or frozen cauliflower florets without defrosting)
2 Tbs brown sugar
1½ tsp kosher salt
½ tsp black pepper
1 tsp garlic powder
1 tsp onion powder
2 tsp sweet paprika
¹/8 tsp chili flakes (or to taste)
2 Tbs olive oil
Preheat oven to 400°. Line a rimmed baking sheet with parchment paper. Cut cauliflower into 2-inch florets. Transfer to prepared baking sheet. In a small bowl, combine brown sugar, salt, pepper, garlic powder, onion powder, paprika, and chili flakes. Mix well. Sprinkle spices over cauliflower florets; drizzle with olive oil. Rub all over to coat evenly. Bake, uncovered, for 35-40 minutes, or until cauliflower is golden brown and tender. Carefully transfer cauliflower to a serving platter. Serve hot or at room temperature. Serves 6.
1-2-3 Almond Cookies
2 egg whites
²/3 cup sugar
4 cups slivered or sliced almonds
Preheat oven to 300°. Line two baking sheets with parchment paper. In a medium bowl, use a fork to stir together egg whites and sugar. Gently stir in almonds. Drop mixture from a teaspoon onto prepared baking sheets, forming small mounds. Bake for 20 minutes or until crisp and golden. Let cool on baking sheet. Store at room temperature in airtight container. Yields about 4 dozen cookies, 64 calories each.