Ess Gezint: Jewish Slow Cooker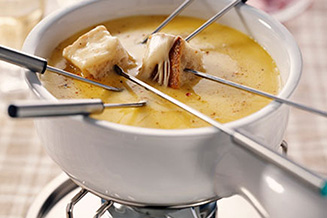 Laura Frankel is a professional chef who says she loves her slow cooker, a thermostatically controlled electric countertop appliance that consists of a lid made of metal, glass, or plastic; an insert made of glazed ceramic, metal, or plastic; and a housing unit fitted with a heating element. As a Shomer Shabbat wife and mother, she says she used the device every week, but, professionally, she says, it is "an extra pair of hands," much more useful than other kitchen gadgets, such as a waffle machine or fancy coffee pot. Her cookbook, Jewish Slow Cooker Recipes (Surrey Books), is a fun addition to anyone's collection, but, be aware, she has a sufficient number of meat and dairy recipes to prompt the reader to want two slow cookers (and two more just for Pesach), in order to try them all.
Cheese Fondue
1 garlic clove, cut in half
¾ cup dark beer or apple juice
2 cups (½ lb) shredded Swiss cheese
1 cup (¼ lb) shredded sharp white Cheddar cheese
¼ cup grated Parmesan cheese
1 Tbs cornstarch
2 tsp hot sauce
Freshly ground black pepper
Rub the inside of a small slow cooker insert with the garlic. Discard the garlic. Pour the beer or apple juice into the slow cooker insert. In a large bowl, toss the cheeses with the cornstarch, taking care to make sure all the cheese is coated. Add the cheeses to the beer in the slow cooker. Cover and cook on "low" for 1 hour. Stir the cheese. Add the hot sauce and black pepper to taste. Cover and cook another 15 minutes. To serve the fondue, remove the cover and keep the slow cooker on "low." Serve with accompaniments such as cubes of hearty bread, toasted pita, bagel chips, cooked new potatoes, crunchy vegetables crudités, cut up apples and pears.
Wild Mushroom Stroganoff
Olive oil
2 medium shallots, finely chopped
2 garlic cloves, finely chopped
8 oz button mushrooms with their stems, sliced (4 cups); or 8oz cremini mushrooms, with their stems, sliced (4 cups); or 4 oz (2 cups) of each
2 oz fresh shiitake mushroom caps, sliced (1 cup)
Kosher salt and freshly ground black pepper
1/3 cup dry sherry
4 oz dried mushrooms, such as porcini, chanterelle, or morels, any type or combination
2 cups vegetable stock or water
2 Tbs (¼ stick) unsalted butter
2 Tbs all-purpose flour
1 cup sour cream
2 Tbs chopped fresh thyme leaves
1 Tbs chopped fresh rosemary leaves
¼ cup chopped fresh flat-leaf parsley
Preheat a slow cooker to "low." Place a large sauté pan over medium heat. Lightly coat the bottom of the pan with olive oil. Add the shallots and garlic and cook for about 5 minutes, until they are soft and fragrant. Transfer the shallots and garlic to the slow cooker insert. Add 2 Tbs of oil to the sauté pan and increase the heat to high. Sauté the fresh mushrooms in batches until they are browned and lightly crispy, adding more oil if necessary. Season each batch with salt and pepper. Before adding the last batch of mushrooms to the insert, turn off the heat under the sauté pan and stir in the sherry. Turn on the heat and cook the mushroom mixture over medium heat for several minutes to burn off the alcohol. Transfer the last batch to the insert. Add the dried mushrooms and the stock to the insert. Cover and cook on "High" for 90 minutes. Ladle out and reserve about 1½ cups of the mushroom liquid from the slow cooker. Melt the butter in a medium saucepan over medium-high heat. Whisk the flour into the butter until it forms a paste. Cook for 2 minutes to remove the starchy taste. Pour in the reserved mushroom liquid while continuing to whisk. Whisk in the sour cream until thoroughly blended. Pour the sauce into the slow cooker and add the thyme, rosemary, and parsley. Cover and cook the stroganoff for 30 minutes more, until the sauce has thickened. Adjust the seasoning with salt and pepper. Ladle the stroganoff into a large bowl piled high with broad, flat pasta or thick slices of bread, toasted and rubbed with garlic.
Black Forest Bread Pudding
1 Tbs unsalted butter, melted, plus extra for greasing the insert
2 cups half-and-half
1 cup whole milk
½ cup unsweetened cocoa powder
4 large eggs
1 cup tightly packed light brown sugar
½ cup granulated sugar
¼ cup Kirsch
2 tsp vanilla extract
Ten 1½-inch-thick slices of day-old bread
½ cup dried cherries, preferably sour
1 cup frozen cherries, sliced in half and pitted (sour or sweet)
½ cup bittersweet chocolate, cut into medium-sized chunks
½ cup white chocolate, cut into medium-sized chunks
Lightly grease a 6½-qt slow cooker insert. In a large bowl, whisk together the half-and-half, milk, and cocoa powder until thoroughly combined. Whisk in the eggs, melted butter, sugars, Kirsch, and vanilla to make a custard. Layer the bread in the insert. Scatter the dried and frozen cherries evenly over the bread. Sprinkle the chocolate chunks over the cherries. Cover and cook on "High" for 3 hours, or until the custard has been cooked through and the bread is no longer soggy and has firmed up slightly. Scoop the bread pudding into dessert glasses and serve with freshly whipped cream.