"Childless Mother" Dr. Amy Neustein: A Legacy of Standing Up for Women and Children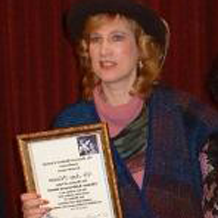 Last month, when Passaic-based author and attorney Michael Lesher introduced the keynote speaker, Dr. Amy Neustein, of Fort Lee, at the 11th Battered Mothers Custody Conference (BMCC) at the Clarion Hotel in Secaucus, it served as the reunion for two veteran fighters against child sexual abuse in the Jewish community.
The conference was a weekend-long program dedicated to helping women who, as victims of domestic abuse, have been doubly victimized by the family court system in the United States.
Dr. Neustein's history includes her more than 26 years as a "childless mother," stripped of custody of her only child—eventually even the right to visit her daughter—because Dr. Neustein believed the child's report of having been molested by Dr. Neustein's ex-husband three years after their divorce. When her daughter, Sherry, now 34, reached her majority, she still refused to acknowledge or even see her mother, a situation Dr. Neustein and others attribute to parental alienation akin to brainwashing.
"In court, no one, not even Sherry's father, ever contested the fact that Sherry and I had a warm and loving relationship, and, for well over a year, my child pleaded with the judge and the court-appointed experts to be reunited with me," said Dr. Neustein.
Sherry was eight years old when the family court ended all visitations with Dr. Neustein. Court papers show the judge acted because, although Dr. Neustein had been ordered not to seek medical care for the child without the father's consent, she and the Rebbetzin who was appointed by the court to supervise Dr. Neustein's visits with Sherry, believed there was an emergency and, together, took the little girl to the King's County Hospital Emergency Room in Brooklyn. The pediatrician on call, who diagnosed the child with anorexia nervosa and admitted her to the hospital, attested to the fact that, without the trip to the emergency room, the child would have died. Nevertheless, the judge ended all contact between mother and child and the two have never seen each other since.
25 Years of Pain
Dr. Neustein spent the next 25 years trying to reconnect with her daughter, and, in the process, helping Jewish and non-Jewish women who, like herself, were guilty only of trying to protect their children from suspected sexual abuse by the fathers. Many experts have argued that, even when the courts rule there has been no sexual abuse by the fathers, there is no reason to destroy the relationship between the mothers and their children.
"In the beginning, I'd count the hours since I lost my daughter, then the days, weeks, the months, the years, and, now, sadly, the decades," she said, explaining that the calendar became her marker as a childless mother.
She said she counts herself fortunate not to know, at the beginning, that the first painful hours of separation would expand into decades.
Sublimated Pain
An observant woman and the daughter of a prominent, Brooklyn-based Orthodox rabbi, Dr. Neustein sublimated her own pain as a childless mother into service for others.
"Over the years, she became a beacon of light for mothers of all faiths, and a symbol for all women fighting the scourge of childless motherhood," said Mr. Lesher, who has published numerous articles dealing with child sexual abuse and other topics.
Mr. Lesher first learned about Dr. Neustein's story in 1995. The blatant injustice of her situation prompted him to use his talents as a writer and attorney to tackle similar cases among Orthodox Jews when he found credible charges of child sexual abuse that were being suppressed.
His most recent book, Sexual Abuse, Shonda and Concealment in the Orthodox-Jewish Communities (McFarland and Co, Inc) focuses on cover-ups of abuse cases among Orthodox Jews.
Political Activism
As part of her efforts, Dr. Neustein converted her personal tragedy into political activism and scholarly writing, including two books and numerous articles on child-abuse issues. One of her books, Tempest in the Temple: Jewish Communities and Child Sex Scandals (Sarna Series in American Jewish History at Brandeis University Press), was the first to address the issue.
In 2010, Dr. Neustein and Mr. Lesher were awarded a Pro Humanitate Literary Award by the North American Resource Center for Child Welfare for their work on that topic.
Although many journalists have detailed Dr. Neustein's personal tragedy, the author herself has not done so. Many of her supporters and colleagues believe the time has come for her to tell her story in her own words, of how she abruptly went from being a loving mother to a childless one.
"That is a book that still needs to be written," said Mr. Lesher.
"Protective Mothers"
At last month's conference, once again, Dr. Neustein did not revisit the details of her own story. Instead, she spoke about how, in the shadow of her grief over losing all contact with her only child, she galvanized a movement to help others in similar straits. Dr. Neustein's activism has called national attention to the plight of "protective mothers," while her writing has established models for badly needed remedial legislation.
"For too many years, I kept telling myself I could be happy only if I had Sherry back," said Dr. Neustein. "I was wrong. I realized the winds of happiness breeze through our lives and we can go only in the direction they blow in."
Asked why she had never remarried and tried "to get on with her life," Dr. Neustein said, "I'm a one-child mother."
"Carrying the Torch"
Many of those in the audience said Dr. Neustein's most moving comments concerned the professional accomplishments of her daughter, who is now a lawyer specializing in children's rights and welfare. Despite having no contact with her mother for more than 25 years, Sherry ironically has also devoted herself to legislative work on behalf of children.
"She could be earning five times as much had she chosen another legal specialty," said Dr. Neustein, with a note of pride that, despite their estrangement, mother and daughter have chosen similar lines of work.
Prof Maureen Therese Hannah, founder and chief organizer of the BMCC, said this part of Dr. Neustein's address "moved me to tears."
Dr. Hannah recognized that Sherry had "carried out of this horrific scenario something good and noble, despite the evil forces that took her from [her mother]."
Dr. Neustein agreed. "Even if I never see Sherry again, I am gratified to know she is carrying the torch," she said.
A Broken Family Court System
Mr. Lesher said that recognition resonated with him as well. "When I addressed the conference, it was to talk about my work on behalf of Jewish victims of child abuse, both as a writer and a lawyer. Dr. Neustein's daughter, Sherry, is a lawyer, too, and so I am able to feel a kind of bond with the child of the woman whose tragedy led my work in the direction it has taken," he said.
Asked how he felt sharing the podium with Dr. Neustein, Mr. Lesher said he felt he was doing more than merely "honoring a remarkable activist and scholar."
"I was continuing a career that unites me with the hopes and goals of all the childless mothers and all the motherless children our all-too-broken family court system continues to produce, both inside the Orthodox-Jewish community and outside it," he said.
Standing on Her Mother's Shoulders
Mr. Lesher was not the only one at the conference who saw the professional connection between Dr. Neustein and her daughter. One of the conference attendees said that when she heard Dr. Neustein speak, she could imagine "Sherry standing on her mother's shoulders."
The obvious parallel in Jewish tradition struck Mr. Lesher as particularly poignant.
"Those who pursue the work prepared by others stand, in effect, on the shoulders of their predecessors. Though Dr. Neustein can never roll back time and replace the missing years when she should have held Sherry, as a young child, lovingly in her arms, her daughter is now standing on her mother's shoulders. In that sense, this tragic story is a testament to Jewish survival, Jewish willpower, and true meaning of tikkun olam," he said.
S.L.R.