What's Going On in Teaneck?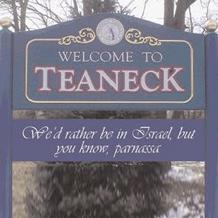 What's going on in Teaneck? It seems that Chuck Powers and his wife, Barbara "People worry that there's a group that wants [Teaneck] to become an Orthodox community like some of the ones in Rockland County" Toffler, are now part of a group that says its purpose is "to make sure that the wider public knows what's going on."
But "Teaneck Transparency Trust" may have more on its mind than just finding "a way for Teaneck residents readily to get information they need/want" to check up on their elected officials—including several whom the Powers-Toffler team holds responsible for Dr. Toffler's official censure a few years ago when she was a Teaneck Councilwoman.
According to Teaneck official documents, one of the founding members of Teaneck Transparency Trust is Timothy Wells who, last month,  was charged with engaging in sexually explicit conversations with five young boys and offering them illegal drugs.
We think, perhaps, Mr. Powers and Dr. Toffler (who likes to think of herself as an "ethicist," but whose anti-Orthodox animus, verging on outright antisemitism was once made public in the New York Times) might spend at least as much time wondering about what their fellow Teaneck Transparency Trust colleague does in his spare time as the would-be watch-dog group spends worrying about the fact that some Teaneck Council members sometimes interrupt one another and sometimes take more than a few days to come up with, literally, thousands of pages of documents for court cases that are miraculously dropped by friends of Teaneck Transparency after elections.