Real Life Kosher Cooking Is for Those with More Passion Than Time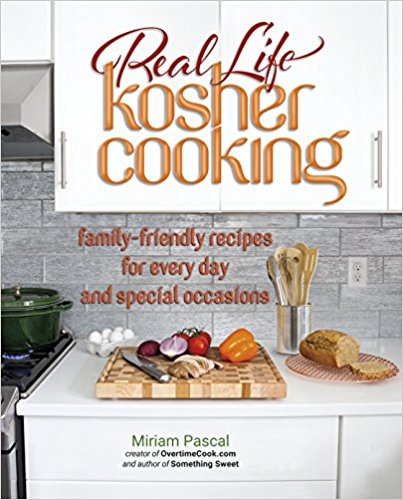 Miriam Pascal is a kosher food-writer whose blog, "Overtime Cook," is for all those whose daily lives are so jam-packed, it's a wonder dinner actually gets on the table. This past year, she came out with a new cookbook that those same home chefs—as well as others who have some time to be creative—will love. Real Life Kosher Cooking: Family-Friendly Recipes for Every Day and Special Occasions (Artscroll/Shaar Press and Mesorah Publications) is dedicated to the principle that cooking and food are "not meant to be feared or cause stress." The book is chock full of easy recipes with non-exotic ingredients for dishes that may easily become staples. In honor of Chanukah, here are some that include that all-important seasonal oil. Happy Chanukah, everyone.
S.L.R.
Gnocchi with Mushroom
and Veal Sauce
¼ cup olive oil, divided
1½ lb ground veal
2 onions, diced
1 (10-14-oz) box white button mushrooms, diced
2-3 Portobello mushrooms, diced
3 cloves garlic, minced
½ cup fresh parsley, finely chopped, plus additional, optional, for garnish
1½ tsp kosher salt
¼ tsp black pepper
1 cup chicken or vegetable broth
2 (10-oz) pkgs frozen gnocchi, prepared according to package directions
Heat half the oil in a large frying pan over medium-high heat. Sear the veal, stirring to break into small pieces, until the meat is browned, 5-7 minutes. Remove meat from pan, set aside. In the same pan (do not wash; the veal bits will add flavor), heat remaining oil over medium heat. Add onions. Sauté for about 5 minutes, until translucent. Add both types of mushrooms, garlic, parsley, salt, and pepper. Sauté, stirring occasionally, for about 10 more minutes, until liquid is reduced and mushrooms are fragrant. Add reserved meat and the broth to the pan. Reduce heat to low, cover and simmer for 20-30 minutes, until cooked through. Add cooked gnocchi to the pan just before serving. Stir until all gnocchi are coated. If using, sprinkle chopped parsley over the top. Serves 6.
Pretzel-Crusted Chicken Fingers
1½-2 lbs chicken cutlets
2 Tbs flour
2 eggs
2 Tbs honey
2 Tbs mustard
1 tsp kosher salt
½ tsp dried thyme (crushed slightly between your fingers)
2 cups coarse pretzel crumbs. Don't process until fine. Leave some texture.
Preheat oven to 400⁰. Line a baking sheet with parchment paper. Coat paper generously with nonstick cooking spray and set aside. Cut cutlets into strips and place in a small bowl. Toss with flour and set aside. In a second small bowl, combine eggs, honey, mustard, salt, and thyme. Set aside. Place the pretzel crumbs in a third bowl. Set up a breading station by lining up the three bowls. Dip a floured chicken strip in the egg mixture; then coat in the pretzel crumbs. Press the chicken into the pretzel crumbs to make sure it is well coated. Place on prepared baking sheet. Repeat with the remaining chicken. Coat the top of the chicken with a generous amount of nonstick cooking spray, which helps give it a crunchy coating. Bake for 6 minutes. Flip the fingers; coat tops again with nonstick cooking spray, and bake an additional 6 minutes. Serve hot for 6 with honey-mustard sauce, see below.
Honey-Mustard Dipping Sauce
½ cup mayonnaise
2 Tbs Dijon or spicy brown mustard
2 Tbs honey
1 tsp kosher salt, or to taste
¼ tsp black pepper, or to taste
Add all ingredients to a bowl or container. Whisk to combine.