Public Now Seeing Art of Givati Who Died Just Before Showing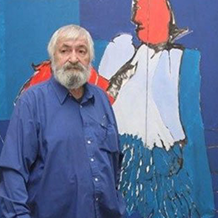 A few months ago, Israeli artist Moshe Givati passed away exactly as he was planning a brand new exhibition at New York's Jadite Galleries. Buzz was already swirling in the Israeli art circles over Givati's resurfacing after years of retreat.  Givati was known for his compelling abstract paintings defined by his use of bright colors and expressionistic quality. His paintings reflect the not only his internal struggles due to his manic-depression (suspected but never officially diagnosed), inherited from his mother, but also reflect the political and social issues affecting Israel during his lifetime.
A vivid example is a painting he produced with emotional intensity the night that Gilad Shalit was released from prison. Shalit, an IDF soldier who was abducted by Hamas terrorists in 2006, was held in prison until October, 2011 when he was finally released in a prisoner exchange. Givati rarely expressed his political views verbally, choosing rather to express them passionately through his art, leaving it to the viewer to discern.
Though Givati tragically died before he was to open the exhibition, his supporters decided to proceed despite his untimely passing.  "Having worked closely with Moshe during the last six months of his life, I could plainly see how planning the present exhibition in New York surged him with a creative vitality," said Deena Lusky, curator of the exhibition.  "He continued to paint excessively during his every waking moment until his tragic death," Lusky recalled.
Givati was regarded as a true Jew and true Israeli, deeply connected to, yet simultaneously ambivalent about, his roots and Jewish heritage. He led a peripatetic life, living and working on Kibbutz Shamir in Upper Galilee, in the artist's colony Ein Hod in the 70s, and later Haifa. He also spent time in New York, France, Italy, Holland and Germany. He travelled the world but his heart and soul, however conflicted, remained in Israel until his passing this past April.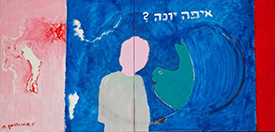 His work could be characterized as haunting, searching, and dramatic, full of originality, bursts of color and compelling abstract images. His paintings depict the soul of an artist who is alternatively conflicted, at times perhaps tormented about his spirituality and at times absolutely devoted to it. In New York, after a period of living a secular life, he became involved with the Chabad movement becoming a baal teshuva. He then veered from being deeply committed to his Yiddishkeit to becoming angry at God at the end of his life, flinging off his faith and demanding a secular funeral. The inconsistency that defined his religion also defined his lifestyle. Givati struggled with periods of addiction to drinking and drugs. The result was that he ended up homeless for a time. He was eventually rescued by an art collector who provided him a place to live and a stipend. Givati new quarters, hotel rooms provided him the opportunity to focus on art, and depicting his at times chaotic mind and soul on the "white cloths", his term for the canvas.
It was during this time that Givati painted most of the paintings currently on exhibit in New York.  The paintings, mostly of horses, is said to be based on the famous Broadway play "Equus." "Givati watched Equus twice, one day after another – once with Richard Burton and once with Tom Courtney, the two actors who shared the part," recollected Hana Kofler, a well-known Israeli curator and an expert on Givati's paintings.  "This inspired Givati to return to the horse motif when he painted his next series, and appeared in several variations throughout his works," continued Kofler.
While the horses of Equus were the main theme of Givati's last paintings, he continued to stay connected to his roots and create art based on the biblical stories.  Looking closely at his paintings, one can see clear hints at Givati's traditions including works that depicted the Binding of Isaac, Joseph's coat of stripped colors (on a horse of course), and Jonah and the whale..
While he was influenced by the work of artist Larry Rivers, Givati remained unconfined by a specific, narrow style. He said that he painted things that happened inside him and expressed this in his work. This is clearly revealed when looking at his work. It shows a dynamic and wonderful use of color and abstract form, punctuated with diaphanous hues across the spectrum, emanating contemplative spirituality, explosive energy and many variations of feeling in between. One can easily sense the vicissitudes of Givati's emotions, and the internal interplay of feeling, thought and experiences, driven by the emotional highs and lows that frequently punctuated his turbulent life.
Givati's series Equus Ambiguity is an apt representation of Givati's intense emotions and his struggle to find meaning and understanding. The series is based on his favorite play Equus about a boy who inexplicably blinds six horses and a psychiatrist's analysis of why it happened. Through the vivid, dynamic images Givati seems to be searching for meaning of suffering and why people inflict it. In the midst of spiritual ambiguity Givati sought concrete answers through his art; explanation by way of creation.
By any standard, Givati was a true artist, one who embraced the creative act of painting with trepidation and struggle, with joy and devotion; he lived his life with absolute passion and suffered with passion. The result is evident in his highly emotional, visibly compelling work that evokes the heart and soul of a person who was compelled to create, driven by a search for something he could never really define. This journey makes his paintings all the more interesting, dynamic and intense.
Visitors to Jadite Galleries will have the wonderful opportunity to experience this passion at the exhibit until June 30th.
Jadite Galleries (www.jadite.com), is located at 413 West 50th Street in New York City.