Pro-Israel Groups on How to Assure David Friedman's Confirmation as US Ambassador to Israel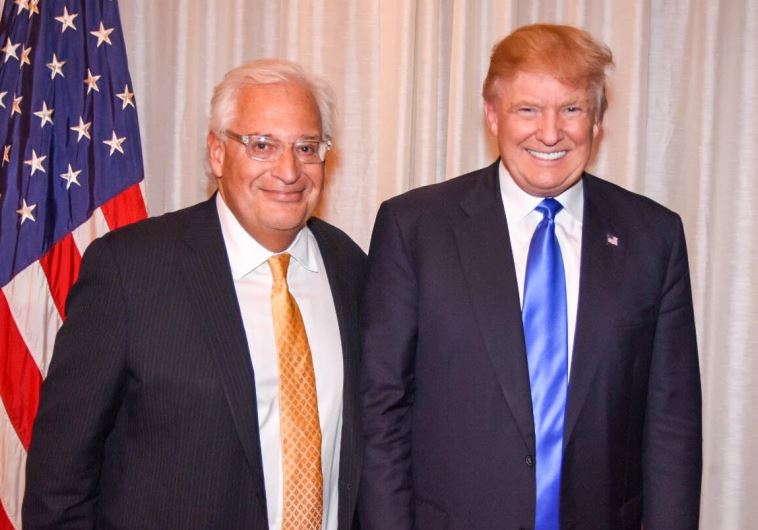 There is no longer any time to wait. Those who support President Donald Trump's choice for Ambassador to Israel, David Friedman, must act now by contacting members of the Senate Foreign Relations Committee and asking them to support Mr. Friedman's candidacy.
There are 11 Republicans and 10 Democrats on the Committee, which is the body that will decide if Mr. Friedman's candidacy can proceed to the Senate floor for consideration by the full Senate. This means, if 11 members of the committee vote in favor of Mr. Friedman, he will pass this first hurdle.
At this point, that is not necessarily a given.
It is fair to assume that the committee's chairman, Sen Bob Corker (R-TN) and nine of the other 10 Republican members (Jim Risch, ID; Marco Rubio, FL; Ron Johnson, WI; Jeff Flake, AZ; Cory Gardner, CO; Todd Young, IN; John Barrasso, WY; Johnny Isakson, GA; and Rob Portman, OH) will support Mr. Friedman. They are all reliable friends of Israel whose records give no indication that they would oppose Mr. Friedman.
No one, however, can say with assuredness what Sen Rand Paul (R-KY) will do.
J Street and the Democrats
Many observers believe all 10 Democrats on the committee will oppose Mr. Friedman, based not only on his qualifications or even on the policies he has professed, but, rather, because that is what Democrats believe they are supposed to do in this contentious political atmosphere.
Many of the Democrats on the committee support J Street, the far left-wing group that professes to be a pro-Israel group despite its espousal of policies and positions ardently opposed by most Israelis and, especially, the country's democratically elected government.
Committee members Senators Jeanne Shaheen (D-NH), Tom Udall (D-NM), Chris Murphy (D-CT), Tim Kaine (D-VA), and Jeff Merkley (D-OR), and Chris Coons (D-DE) have accepted financial support from J Street. Mr. Coons' former regional field director, Dan Siegel, is now a deputy regional director of J Street.
Sen Ed Markey (D-MA) has won a comparatively positive score by the Arab-American Institute indicating a "pro-Arab, pro-Palestinian voting record."'
Democrats Who May Support Israel
But there are three Democrats on the committee whose previous pro-Israel records may mean they would keep an open mind on the benefits of Mr. Friedman's candidacy: New Jersey Senators Robert Menendez and Cory Booker and the ranking minority member of the committee, Ben Cardin (MD).
Supporters of Israel who have endorsed Mr. Friedman point to his enthusiastic advocacy of the effort to have the US Embassy moved from Tel Aviv to the Jewish state's capital of Jerusalem, a move that is consistent with legislation passed by Congress, including many Democrats.
Many supporters of Israel maintain that the relocation of the embassy is particular important in light of the December passage of UN Security Council Resolution 2334 that declared the Old City of Jerusalem, including the Western Wall, "occupied Palestinian territory."
Reaching Out
Jewish-American groups, such as the National Council of Young Israel (NCYI), Americans for a Safe Israel (AFSI), the Zionist Organization of American (ZOA), and Z Street, have issued statements recognizing that left-wing political advocacy groups, particularly J Street, have launched what NCYI called "a vicious, well-funded attack against the Friedman nomination."
In a statement, J Street's president, Jeremy Ben-Ami, denounced Mr. Friedman as "a leading American friend of the settlement movement, who lacks any diplomatic or policy credentials."
In fact, Mr. Friedman's support of the Jewish communities in Judea, Samaria, the Golan, and the eastern neighborhoods of Jerusalem and his distance from the traditionally anti-Israel State Department are precisely the reasons he has garnered so much support from so many pro-Israel groups and individuals.
"It is important that Young Israel branch members, their friends and family members, and anyone of good conscience, express strong support for Mr. Friedman by contacting their own state's Senators," said Farley Weiss, president of the National Council of Young Israel, an umbrella group representing nearly 150 Orthodox-Jewish congregations throughout the United States and Canada.
Committed to Judea, Samaria, and Jerusalem
Mr. Friedman, who previously served as Mr. Trump's attorney, has been one of the President's major advisors on Israel. An Orthodox Jew and committed Zionist, Mr. Friedman is currently president of American Friends of Bet El, a Jewish community located in the Judean Hills of Samaria, about a 15-minute drive from Jerusalem.
A resident of Long Island who maintains a vacation home in Jerusalem, Mr. Friedman is credited with helping draft the strongly pro-Israel plank in this year's GOP platform.
"If you want pro-Israel policies and ideology guiding the US Ambassador to Israel, it is imperative that David Friedman's nomination be confirmed by the US Senate," said Lori Lowenthal Marcus, a journalist and president of Z Street, a pro-Israel group established to counter J Street.
No Creation of a Terrorist State
She pointed out that groups such as J Street oppose Mr. Friedman for exactly the reasons that NCYI, AFSI, ZOA, and Z Street support him.
For example, she said, Mr. Friedman "thinks the goal of the Middle East peace process should be peace and refuses to insist that the only way to achieve peace is to create another terrorist state on Israel's border." Most supporters of Mr. Friedman are convinced the current "two-state solution" would serve to grant the Palestinian Arabs with the means to destroy Israel.
She stressed that Mr. Friedman "is not a State Department flunky, infected by the Arabist orientation of so many State Department professionals."
"Sounds great, doesn't he?" she said.
"Kapos"
One of J Street's strongest objections to Mr. Friedman seems to be that he characterized the left-wing group as "worse that kapos," Jews who turned against and abused fellow Jews in the Nazi death camps.
"The kapos faced extraordinary cruelty and who knows what any of us would have done under those circumstances to save a loved one? But J Street? They are just smug advocates of Israel's destruction delivered from the comfort of their secure American sofas. It's hard to imagine anyone worse," explained Mr. Friedman.
Who to Call
The best way to support Mr. Friedman is to contact the Senators sitting on the Senate Foreign Relations Committee, especially those whose votes for the nominee are not assured.
Sen Rand Paul: 202-224-4343
Sen Ben Cardin: 202-224-4524
Sen Robert Menendez: 973-645-3030 (Newark) or 202-224-4744 (Washington)
Sen Cory Booker: 973-639-8700 (Newark) or 202-224-3224 (Washington)
To contact any of the other Senators on the committee, call 202-224-3121 and ask for his or her office.
"Normally, a President's choice of ambassador to a country is readily approved and the Senate confirmation process is pro forma. But, this year, those faux pro-Israel groups, so badly stung by their candidate's defeat, are gunning for bear, and the bear in this case is David Friedman," said Ms. Lowenthal Marcus.