Pat Boone: Former Teenage Heartthrob to Give Televised Concert Celebrating Israel's 70th Anniversary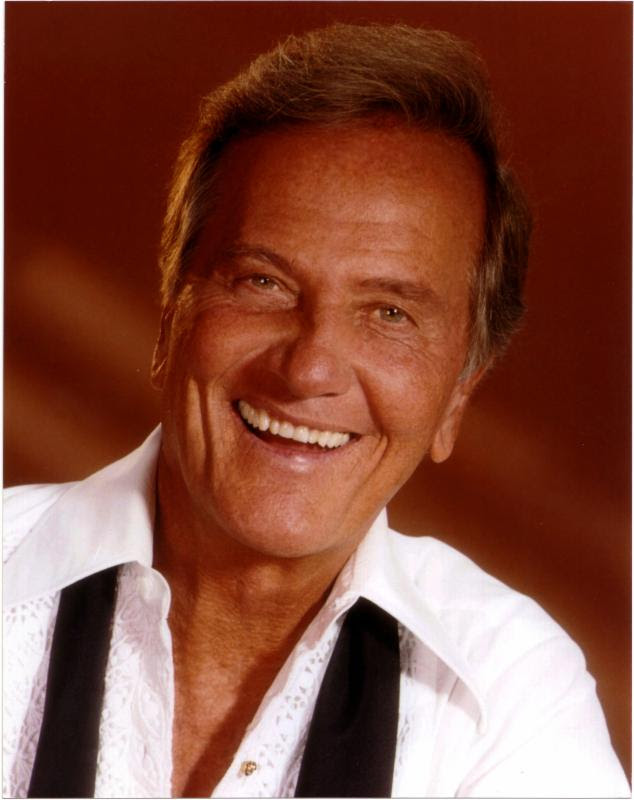 Legendary singer, film star, songwriter, and author Pat Boone knows exactly which of his many hits will be in biggest demand when he arrives in the Jewish State this May for a Christian Tourist Mission culminating in a 70th Anniversary of Israel Concert and Television Special to be taped live at the 2,000-year-old Caesarea Martima Amphitheater.
Now 83 and still much in demand throughout the world as a singer and inspirational speaker, Mr. Boone will be joined in Caesarea on May 13 by an all-star cast including celebrity performers, political and religious leaders, and the Jerusalem Symphony Orchestra.
"The Israelis are going to want to hear the 'Theme to Exodus,'" says Mr. Boone, immediately launching into the words he wrote in 1960. "This land is mine. G-d gave this land to me."
Number-One Theme with No Words
Often called "the second Jewish national anthem," the song almost did not get written, and, once the lyrics were penned, it almost did not get recorded.
In the film, there were no words to Ernest Gold's Academy-award winning score, which also won Best Soundtrack Album and Song of the Year at the Grammy Awards, the only instrumental song ever to receive that prize.
An enthusiastic fan of the Leon Uris book as well as the Otto Preminger film, Mr. Boone says he was "mesmerized" by the recording performed by the duo-piano team of Arthur Ferrante and Louis Teicher.
"It was the number-one record in the world, and I kept getting goose bumps whenever I heard it, and I wanted to sing it," he says.
Like Taking Dictation
Shocked to discover there were no words, and, according to the publishers of the score, Chappell Music, never would be any, Mr. Boone was determined to convince them otherwise.
"There were three very stubborn principals—Ernest Gold, Otto Preminger, and Chappell Music—who had all said no to a whole slew of professional song-writers, but I couldn't stop thinking that maybe I could get an idea for words that I could submit to a professional writer," he says.
Inspiration hit on December 24, 1960, when he was supposed to be helping his wife, Shirley, wrap presents for their four young daughters.
"Instead, I kept listening to the Ferrante and Teicher recording, over and over, and then the words just came. I knew it had to be a personal song, one man's description of the land and declaration of ownership," he says. "Something worth fighting for."
Written on a Christmas Card
He grabbed a piece of paper and began writing. "It was almost like taking dictation. In 30 minutes, the entire lyric was written," he says.
When he finished, he realized he had written the song on the back of a Christmas card.
"For me, that was so appropriate, because it was an amalgam of everything I believe coming together. The land of Israel is G-d's covenant with His people, the Jewish people, and that is eternal" he says.
He remembers how he felt when he took his song with its passionate high notes into the recording studio. "It felt like it was being sung through me," he says, adding that, even now when he sings it, he feels that he is a vessel for a Higher Power.
Sung at a Seder
He sang the piece during his first trip to Israel in the mid-1960s. He was in the Jewish state with his family around Passover even though they were there to tape a television special to be aired the following December entitled "Christmas in Bethlehem."
He well remembers the Seder his family was invited to attend at the Diplomat Hotel in Jerusalem. "We sat on the side, following and looking up the scriptures as we went along, and just exulting in it," he says,
At the end of the evening, he was asked to sing "Exodus." "The rabbi said that, for the Jews, that song was what the whole Seder was about," says Mr. Boone.
Singing a cappella, he was surprised when, halfway through the song, the cantor as well as others in the room began singing with him.
"They knew the words by heart, the words I had written, and when the cantor, in his deep, rich voice sang, 'Until I die, this land is mine,' the whole room exploded. People were weeping. I felt that night I was lending my voice to the song, but it was being sung through me," he says.
At the Golan and Yad Vashem
A few years later, just after the 1973 Yom Kippur War, Mr. Boone was back in Israel, and, on that trip, while visiting IDF troops on the Golan Heights, he was asked to give an impromptu concert, this time in a bunker. Once again,  "Exodus" was the highlight.
When he told Yitzhak Rabin about the trip, the then-Prime Minister showed him on the map that the Golan, where he had sung "G-d gave this land to me," had indeed become part of Israel proper.
"You sang a prophecy," Mr. Rabin told him.
The original Christmas card with the "Exodus" theme's lyrics is now framed and displayed at Yad Vashem. Mr. Boone has been given the honorary title of Israel's Christian Ambassador of Tourism.
"Speedy"
While on the Golan, Mr. Boone received another request from the soldiers: his novelty song, "Speedy Gonzales."
"Whenever Bibi Netanyahu sees me, the first thing he says is 'Hi, Speedy,'" laughs Mr. Boone.
Written by Jewish songwriter David Hess, "Speedy Gonzales" was recorded by Mr. Boone in 1962 and sold more than 8 million records worldwide. Today, the song's Mexican stereotypes would probably render it unacceptably politically incorrect, but, in the early 1960s, it was considered funny. The cartoon character that inspired the song was known as "the fastest mouse in all Mexico" and, at the time, both the animation and the song were dubbed a "cultural icon" by the Hispanic-American rights organization, the League of United Latin American Citizens.
Mr. Netanyahu remembers the song because it charted when he was a student at MIT.
Mr. Boone says he understands why the song might be considered "a little denigrating," but, he says, "anyone who knew anything about me knew I wouldn't be looking down my nose at anybody."
Jewish "by Adoption"
He certainly doesn't look down his nose when it comes to Israel and Jews. A devout Christian, he often wears a Magen David or a Chai around his neck and is convinced that "America's destiny is irrevocably linked to that of Israel, just as Christians and Jews are spiritually, biblically linked."
"When people who don't know or recognize me ask if I'm Jewish, I always tell them, yes, by adoption. My parents made sure my brother, sisters, and I learned early on that the entire Good Book was written by, about, and for Jews. Too many Christians don't quite grasp that," he says.
That early training has been reflected in Mr. Boone's astonishing long-lived career in a business in which flash-in-the-pan celebrity is more the rule than the exception.
At the height of his career in the 1950s and '60s, he was a quintessential teenage heartthrob, but his clean-cut charm, down to his iconic white buck shoes, made his version of rock and roll wholesome. He sold almost 50 million records, had 38 top-40 hits, and appeared in more than a dozen Hollywood movies.
Most American baby boomers not only remember Mr. Boone's hits such as "Bernardine," "Love Letters in the Sand," and "April Love," but, with very little encouragement, can easily sing along.
"Baritone with a Brain"
He began recording at the age of 20 in 1954, just one year after he married his wife, Shirley. At a time when most of his fellow popular singers had little to do with formal education, Mr. Boone's academic record prompted more than one fan magazine to dub him "the baritone with a brain." He attended David Lipscomb College in Nashville and North Texas State University before relocating to New Jersey to continue his studies at Columbia University.
His plan was to teach, but movie and record producers had another idea.
"I was still planning to be a teacher. I thought that my singing success was maybe G-d's way of letting me work my way through school. That was really the way I prioritized," he says.
By the time he graduated magna cum laude from Columbia in 1958, he was already the star of his own TV show, The Chevy Showroom.
Pat and Shirley Boone, who now reside in Beverly Hills, California, have four daughters, including singer, actress, and author, Debby Boone; 16 grandchildren; and three great-grandchildren.
Chanukah with Chabad
Ever since 2015, many of them have participated in Chanukah Menorah-Lighting ceremonies, conducted by Beverly Hills Chabad Rabbis Yossi Cunin and Mordechai Kirschenbaum, right outside Mr. Boone's home on famed Sunset Boulevard near the Beverly Hills Hotel.
Mr. Boone remembers the night he received the call from Rabbi Cunin, who had seen the "Merry Christmas" lights on the hedges.
"He asked if he could put up a 13-foot menorah on the lawn, and I immediately said, of course," says Mr. Boone.
He describes his relationship with the Chabad rabbis as warm and personal. He has spoken at Chabad educational programs on the topic of "Why a Christian Family Lights the Menorah."
Touring throughout Israel
Some of the Boone family offspring will undoubtedly be with him and Mrs. Boone this May in Israel. During the tour, which will include Rabbi Yechiel Eckstein, Mr. Boone will be in Jerusalem, Tel Aviv, and Haifa, before the taped concert in Caesarea.
The television special concert will be presented by Pat Boone Enterprises and Carpe Diem Group LLC, with executive producers Dann Moss and Milt Suchin, who also serve as Mr. Boone's managers.
"This historic television event, which celebrates the 70th anniversary of the modern State of Israel, is a special opportunity to reflect on the many positive and beneficial contributions that Israel has brought to benefit the world," says Mr. Moss.
Recognizing Jerusalem as the Capital
Mr. Boone has only praise for President Donald Trump for recognizing Jerusalem as the capital of Israel. Not recognizing Jerusalem as the capital of the Jewish state is as "crazy" as not recognizing Washington as the capital of the US, says Mr. Boone.
"Chicago is already the 'murder capital' of the US. Let's make this 'sanctuary city' the capital of the New America—open to anything anybody wants, whether they're citizens or not. As ridiculous as that idea is, people around the world are rushing to criticize our President for siding with the people of Israel by moving our US Embassy to Jerusalem, the historic and Biblical capital of Israel for at least 4,000 years," he says.
He is deeply critical of those who want "at least half of Jerusalem" to be the capital of Palestine.
"Let me so bold as to make a personal prophecy: This will not happen," he says.
G-d Makes the Rules
To his fellow Christians who wonder if he is denying that G-d loves the Arabs "and specifically those who now call themselves 'Palestinians,'" he says, "Yes, of course, He does, but He and He alone makes the rules and the provisions for all."
Mr. Boone relies on the Bible for his explanation. "Abraham had two sons, Isaac and Ishmael. Both were Semites, but to Isaac and his son, Jacob, G-d promised the land of Israel, and from the descendants of Ishmael—all the Arabic peoples—He created 12 tribes who settled in what became Assyria, where 'they lived in hostility toward all their brothers.' Get the picture? It's a little explanation about the otherwise inexplicable animosity of all Arab peoples toward 8 million people—the Israeli Jews—who want and deserve their own land, nestled innocently on the edge of the millions of acres of Arab lands," he says.
Further, he says, "There never was a 'Palestinian' country or government in all the centuries after Jerusalem was destroyed by the Romans."
"The whole Bible, the biggest best-selling book in history, centers on the people of Israel and almost totally on that little country the size of New Jersey. And from the time of King David and his son, Solomon, Jerusalem, the 'City of Peace,' was its capital. By G-d's own proclamation, it's 'My holy mountain.' You can argue with the Lord G-d if you want to, but I don't advise it," he says.
Israel's Achievements
He is equally enthusiastic about Israel's contemporary achievements. "The contributions Israelis have made to the world are innumerable in virtually every field: literature, chemistry, medicine, physics, economics, every science and technology, internet and communications, and efforts for world peace. Jews represent less than two-tenths of one percent of the world's population, but 21 percent of all Nobel Prize winners have been Jews," he says.
He praises Israel's economic growth—"Israel is the 100th smallest country, with less than 1/1000th of the world's population, but its $100 billion economy is larger than all of its immediate neighbors combined"—and its armed forces.
"Out of necessity, but also to help all peaceful countries, Israel designed the airline industry's most impenetrable flight security. US officials now look to Israel for advice and technology in handling airborne security threats. Fly anywhere safely lately? Thank Israel. My family and I do that every day and every hour, especially when we're in Israel," he says. "In this game called life, though many players have contributed great things, the MVP—the Most Valuable Player—has been clearly revealed: It is Israel."
S.L.R.
Letter to the Editor
Dear Editor,
Your article hailing Pat Boone leaves out the fact that Pat Boone has, for decades, been instrumental in the Christian missionary activities to convert Jews. He was the funder and motivator of the Jews for Jesus movement as far back as the 1980s (when it produced an insidious manual for missionaries on campus that detailed how to identify and befriend troubled Jewish students and mislead them about the nature of Jews for Jesus).
Watch this to see his commitment to converting Jews: http://jewishisrael.ning.com/video/missionaries-pat-boone-and-sid-roth-target-jews-on-tbn
Just listen for his use of such typical anti-semitic clichés as Jews' love of money ("What's more Jewish than being a stock broker?" and associating collecting S&H Savings Stamps as typically Jewish.)
While Mr. Boone's efforts on behalf of Israel may be valuable in some way, our appreciation for such "supporters" of Israel is misplaced when the intentions of such "friends" is to obliterate our faith.
Marshall Wilen, Fair Lawn, NJ
SLR Responds:
Jewish religious Zionists have been grappling with the issue of missionizing for a very long time. The dilemma is trying to find a way to balance the Jewish state's need for friends among the wider general public, especially in the Christian community, with the obvious problem of trying to keep our own most vulnerable Jews safe.
Herb Zweibon, z"l, who founded Americans for a Safe Israel, once asked: "How can we blame good, decent Christians who want to help Israel and who see the truth that Israel–politically, religiously, economically, and philosophically–is the best friend the United States can possibly have in the Middle East, but who feel the height of antisemitism (from their perspective) would be to turn the other way instead of trying to help Jews–individually and collectively–see the truth of Christianity?"
Mr. Zweibon's solution was that we Jews should not be blaming Christians if we are not doing our job, which is promoting traditional Judaism among all our people and teaching it to our children. Despite the hype to the contrary, the truth is there is virtually no "conversion to Christianity" or any other religious group among Jews who were raised in Shomer Shabbos, Shomer Mitzvoth, kosher homes.
Our goal should be to support the successful work of groups such as Chabad on campus. Chabad rabbis and rebbetzins, who touch the same emotional chords missionaries endeavor to stroke, have been very successful with our non-observant youngsters, many of whom are literally emotionally and spiritually adrift in a sea of cults devoted to foreign gods.