New Jersey Yachad 3RD ANNUAL PARENT CONFERENCE RESOURCE FAIR & FAMILY DAY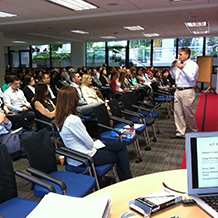 In partnership with the Kaplen JCC on the Palisades,
Sunday, December 11th, 2011 | 9:00 am – 2:00pm
Kaplen JCC on the Palisades
411 East Clinton Avenue
Tenafly, NJ
KEYNOTE: Dr. Charles Cartwright
Director, Autism Center, YAI Network
SPECIAL WORKSHOP
For parents of children with Down Syndrome
Dr. Fred Hirschenfang,
Hackensack University Medical Center
SPECIAL WORKSHOP:
Dating and Marriage For My Child
Dr. Jeffrey Lichtman,
National Director, Yachad
INFORMATIVE WORKSHOPS
Lunch & Networking
– $25 for one adult (incudes dairy lunch).
– $50 for whole family to attend (includes lunch &
child care services). Limited scholarships available.
To registrer or this conference please contact
Chani Herrmann at hermann@ou.org or 917-885-7178
Event is being co-sponsored by the Jewish Federation of Nothern New Jersey's
Jewish Council for Special Needs and the Jewish Voice & Opinion