Michael Bernardi: Third Generation Jewish Actor, Second-Generation in "Fiddler," Now for the 21st Century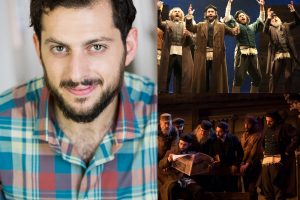 To actor Michael Bernardi, who is currently playing the role of Mordcha the innkeeper as well as understudying the roles of the rabbi and Tevye himself in the current Broadway production of Fiddler on the Roof, the cherished musical is all about tradition and Jewish continuation.
"My own relationship with Judaism reflects the success of Fiddler on the Roof," he says. "The show brought an awareness of the Jewish experience to the broader community in the United States and elsewhere and, in turn, made those societies more inclusive."
He says he finds it "amazing" now to be part of "something so important."
Family Ties
But his relationship with the musical is much more than just professional. The son of the late beloved Jewish actor, Herschel Bernardi, who was one of the earliest Tevyes on Broadway nearly 50 years ago, Michael Bernardi, 32, believes being cast in the current production has been a bonding experience with his father.
Herschel Bernardi died of a heart attack in 1986 at the age 62. His son, Michael, was then only 18 months old. Today, when he performs in the musical, Michael Bernardi wears the same high boots his father wore.
In 2014, when he played Tevye for the first time in a production staged at the Priscilla Beach Theater in Plymouth, Massachusetts, his mother, Terry, sent him his father's full Fiddler on the Roof costume. The effect, he says, was overwhelming.
"I could literally feel my father's presence in the room. I felt his pride in what I was doing. It felt like a huge hug, and I had been waiting for it for more than 30 years," he says.
Three Generations
He is, in fact, the third generation of Bernardi actors. His paternal grandfather, Berel Bernardi (known as Berl Topf), was a Yiddish actor who originated various Sholom Aleichem characters on stage throughout Eastern Europe. He met his wife, Helen (Laina), in Berlin when his troupe performed in that city in 1899. She joined him for a career on the stage and, in 1901, they immigrated to America, where they performed in New York, Canada, and throughout the country. In the 1920s, when they performed on Second Avenue, their infant son, Hershel, appeared onstage in his mother's arms.
Hershel Bernardi went on to become one of America's foremost Yiddish actors, and then made the transition to films, television, and stage roles in English. On Broadway, he starred in the title role in Zorba and was seen in Bajour. On television, he was seen in Harbor Command, The Eleventh Hour, and State Trooper.
From 1958-1961, Hershel Bernardi co-starred with Craig Stevens in Blake Edwards' popular TV series, Peter Gunn, for which he received an Emmy nomination for his portrayal of the dour Lieutenant Jacoby. In 1970, he won the lead in the CBS sitcom, Arnie, playing a ne'er-do-well who becomes an executive almost by chance.
Films and Commercials
He was in several notable films, including The George Raft Story (1961), Irma La Douce (1963), Love with the Proper Stranger (1963), the documentary The Golden Age of Second Avenue (1969), and, in 1976, The Front, a film about blacklisting in the entertainment industry. It was an especially poignant film for Mr. Bernardi who was himself the victim of blacklisting during the 1950s.
Mr. Bernardi was also a noted voiceover narrator in hundreds of films, commercials, and cartoons, including "Charlie the Tuna" and the Jolly Green Giant.
When he died, he left not only his son, Michael, but also an older son and two older daughters from a previous marriage. All are actively involved in the arts.
Born Natural
Born and raised in Los Angeles, Michael Bernardi made his entrance into the world to the strains of Fiddler on the Roof. According to family lore, when his mother went into labor, his father, rather than insisting she breathe, sang her the entire score of the show.
Michael Bernardi grew up surrounded by his mother's friends, many of them actors, writers, and producers who persuaded the little boy to tell jokes and stories. Encouraged by their enthusiastic response, his mother enrolled him in drama classes and, eventually the Comedy Store on Sunset Boulevard. By the time he was nine years old, he was earning laughs in front of a packed house in the club's Original Room.
His childhood show business career took a hiatus after taunts from an unruly audience member prompted him to retreat to more usual childhood pursuits, including sports and school productions.
Looking for Work
But he never really lost the acting bug. He eventually attended the SUNY Purchase Conservatory of Theatre Arts in Upstate New York, where, while studying the classics, he also did a one-man show entitled "My Father the Actor."
After graduating in 2007, he went back and forth between Los Angeles and New York, taking drama classes and looking for work.
His life went into a tailspin two years ago when his mother was diagnosed with breast cancer.
"My first priority was taking care of my mother, and I knew I needed Divine help to make sure that, before she left this world, I would give her something to kvell about. She had always supported me, and I wanted her to see me successful," he says.
Finding "Fiddler"
In a happy coincidence, he very soon received a call from a friend who was directing Fiddler on the Roof at the theater in Massachusetts and wanted Mr. Bernardi to play Tevye.
A few weeks before the show closed, Mr. Bernardi learned that a revival of the musical was being planned in New York. He sent in an audition tape, and the rest is history.
His mother, who is now a cancer survivor, has been in New York several times to see her son perform in the show.
Universalizing Jewish History
For Mr. Bernardi, the Tevye stories, originally written by Sholom Aleichem (Solomon Naumovich Rabinovich), tell the timeless Jewish story which is also universal.
"Tevye and Fiddler on the Roof put Jewish history front-and-center in American culture without embarrassment. The stories and the show helped awaken Jews to their own history that has survived for thousands of years, a history the world tried over and over to destroy. The Holocaust didn't come from nothing," he says.
In many ways, he says, Fiddler on the Roof represents "the beginning of a movement which saw Jews really accepted into society," and, he says, he finds it "humbling" to know that his family played a role in that tradition, and that he is "a continuing link."
Longing for Home
The universality of the story, he says, lies in the longing of the Jewish people, like people everywhere, for home.
This yearning is clear from the first moments of this new Fiddler when, at the beginning, Danny Burstein is seen onstage, not as Tevye, a Jewish peasant from the Pale of Settlement, but, rather, a modern-day man of the world. Is he a descendant of Tevye's engaged in a search for his roots? Is he a scholar preparing a dissertation on a lost world?
When the Jewish villagers of Anatevka are ordered to leave their home, they are seen in a barn whose open slats evoke the freight train compartments that will drown all the Eastern European Jews who, for one reason or another, did not flee when Tevye and his family did.
For Michael Bernardi, the stark reality of that history comes alive for him, performance after performance, during the last moments of Fiddler on the Roof.
"The show gives us a front seat to witness how Jews have always maintained their faith even in the face of death. The temptation to walk away from Judaism is everywhere. I know it, but I am not going to be the spot where that chain ends," he says.
S.L.R.