MatzaFun Tours Offers a Luxurious, Fun-Filled Pesach at the Jersey Shore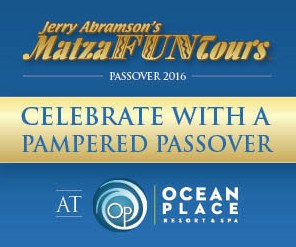 In April, MatzaFun Tours will host its 15th annual Passover vacation at the Ocean Place Resort and Spa in Long Branch, NJ. The luxurious hotel has just completed a multi-million dollar renovation, including all its chic, spacious sleeping rooms, suites, ballrooms, public spaces, and its fitness center, European spa, and indoor swimming pool.
The MatzaFun vacation features elegant Pesach seders, gourmet glatt-kosher cuisine, and non-stop fun-filled activities for the entire family.
"With one phone call, you can book a Passover holiday that will be a pampered Passover celebration," says Jay Press, an on-site MatzaFun Passover Tours host for the past 20 years.
Great Adventure and Shopping
At the Ocean Place Resort and Spa, MatzaFun Tours provides everything the family needs for a sensational Passover holiday. The site is an elegant oasis of white-sand beaches with gentle breezes and enchanting waterfront views from the private balcony with every room. Located on a pristine stretch of the New Jersey shoreline, this premier hotel is half-way between New York and Atlantic City, just 55 miles from New York City.
An award-winning "Gold-Key" recipient, Ocean Place Resort and Spa offers its guests the chance to stroll two-miles of boardwalk, shop at Pier Village, enjoy a game of golf, or play on the 150-foot sandy beach directly in front of the resort.
Guests can also participate in day trips to nearby Atlantic City, Six Flags Great Adventure, or Tinton Falls Outlets. The MatzaFun packages include free transportation for teens to Great Adventure on NCSY Day; headline evening entertainment; non-stop noshing at the Ocean View tea room; family-theme nights, including Western BBQ and Oriental Night; midnight buffets; and Viennese Oneg Shabbat tables with wine-tasting.
For the children, there is a celebrated day camp, shows, and an interactive indoor children's Carnival Extravaganza,
Kashrus at the resort is under the supervision of Rabbi Zushe Blech. Chef Martin Levin of Mauzone Catering by Celebration from the Culinary Institute of America and the author of Chef Marty's Kosher Kitchen will once again be in charge of all meals and menus.
Years of Experience
For more than 28 years, the hallmark of Jerry Abramson's MatzaFun Tours has been its attention to detail and innovative cuisine that is possible only because of its decades of personal hands-on experience. In addition to their work with MatzaFun Tours, Mr. Abramson and his wife, Shelly, own and operate a year-round upscale kosher catering establishment in the Philadelphia region. Active members of the Cherry Hill Jewish community, they are purveyors of kosher food, offering exclusive glatt-kosher products and delicacies to the industry.
To make a reservation for MatzaFun Tours at Ocean Place Resort and Spa, contact Mr. Press at 800-752-6050 or 215-332-2444. More information can be seen at http://www.matzafun.com/; http://www.facebook.com/pages/MatzaFun-Tours; or http://twitter.com/matzafuntours.
Considered a master at the art of customer service, Mr. Press, who owns the Philadelphia-based travel agency, International Travel Exchange, says he has the advantage of meeting all MatzaFun Passover Tours guests and learning about their special requests and needs even before they arrive at Ocean Place.
"It's easy, since all Ocean Place guests make their reservations exclusively with me," he says.
S.L.R.