Many "Rabbis for Obama" Support BDS and the Palestinian Cause against the Jewish State: Do They Reflect Their Candidate?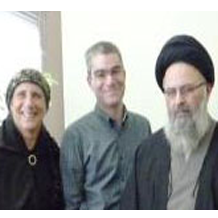 President Obama's re-election campaign announced last month the launch of "Rabbis for Obama," a group whose stated goal is to rally grassroots support for the President in the Jewish community. The announcement came amid reports that Jewish support for Barack Obama, while still strong, is dwindling when compared to his numbers in 2008; as well as some hard-hitting ads for GOP Presidential candidate Mitt Romney targeting Jewish concerns, especially regarding support for Israel.
The problem for the Democrats is that more than one-third of the "Rabbis for Obama" have taken harsh left-wing, anti-Israel positions themselves that they clearly think the President also supports.
This perception will not help Mr. Obama in the normative pro-Israel Jewish community. According to the Boston Globe, there is speculation that he could lose between three and 10 percentage points among Jews this year. While this seems small, Jews constitute only four percent of Florida's population yet typically account for between five and six percent of the state's voters. Even a small tilt could decide which way the swing state goes.
A Gallup poll released in July showed that, nationwide, 68 percent of Jews support Mr. Obama's re-election. Though a strong number, it represents a sharp drop from his 78 percent showing against Sen John McCain four years ago.
Pro-Obama, Anti-Israel
"Rabbis for Obama" was supposed to help stem this tide, but when "Obama for America" published the roster of Jewish spiritual leaders who have endorsed the re-election of the President, an analysis undertaken by many conservatives showed that of the more than 600 rabbis listed, 225 are also members of the rabbinic cabinet of the notorious J Street, a far-left group supported by George Soros and widely accused of claiming to be pro-Israel while adopting policies and positions that would harm, if not destroy, the Jewish state.
Others are members of groups that support the Boycott, Divest, and Sanction (BDS) Movement against all or parts of Israel.
Given these rabbis' views, more than a few members of the Bergen County Orthodox community were surprised to see Rabbi Benjamin Kelsen's name on the list.
In fact, Rabbi Kelsen, an attorney who, until he recently relocated to Bergenfield, had served as the quasi-official rabbi of the Congregation of the Teaneck Apartments, is not only a member of "Rabbis for Obama," he is a co-chairman of the group.
Few Orthodox Rabbis
A former member of the Bergen County Democratic Committee and currently a consultant to the NJ Democratic Party, he know the number of Orthodox rabbi on the list can be counted on one hand. Another of them is Rabbi Craig Miller of Passaic, who is known in his community for his love of Israel and deep friendships with many residents of Judea and Samaria–areas that Mr. Obama has made clear he wants the Jewish state to relinquish to the Palestinians who will render them Judenrein.
While Rabbi Kelsen was a member of "Rabbis for Obama" in 2008, Rabbi Miller was not. Rabbi Kelsen said he lent his name to "Rabbis for Obama" because he believes that, despite the fears of the vast majority of pro-Israel Orthodox-Jews, "Obama's foreign and domestic policies are on the right track."
An ardent supporter of the State of Israel, Rabbi Kelsen said he does not believe the President's policies and behavior toward the Jewish state are as bad as most of his neighbors feel it is.
"Big Joke"
It is a position Mr. Obama's campaign hopes to sell to the Jewish community. While Rabbi Kelsen said he thought it might work, members of the Orthodox community seem more likely to agree with former Republican NYC Mayor Rudy Giuliani, who called the claim that Mr. Obama is a friend of the Jewish state "the biggest joke" he had ever heard.
When asked to be more specific, Mr. Giuliani pointed to Mr. Obama's position that negotiations between Israel and the Palestinian Authority should be based on the pre-1967 boundary lines, a move that Mr. Giuliani said would place Israel in jeopardy and with which no responsible prime minister of Israel could possibly agree.
Asked to comment on Mr. Obama's border demand, Rabbi Kelsen said it was important to remember that "politics and international diplomacy constitute a complex ballet."
"Each statement is part of a larger picture. The President was not really asking for a concession from Israel when it is clear the other side would not agree to anything," he said.
"Few Gestures"
Asked about Mr. Obama's disparaging remarks to former French President Nicolas Sarkozy about Israeli Prime Minister Benjamin Netanyahu when neither Mr. Obama nor Mr. Sarkozy knew their microphones were open, Rabbi Kelsen preferred to discuss Mr. Obama's efforts to rescue Israeli diplomats trapped in Egypt last spring during the riots.
Mr. Giuliani said that, despite a few such gestures, the President's actions and statements show he "feels much more empathy and sympathy" for Israel's enemies than he does for the Jewish state.
"It isn't just that he doesn't go to Israel—which I think is very significant—but it's that he has policies that are against the interests of the people of the state of Israel. I think he's the least supportive President of the state of Israel that we've ever had, Republican or Democrat," said Mr. Giuliani.
Cold Shoulder
While not all Israelis would go that far—many still remember President Jimmy Carter's term—the consensus in the Jewish state is that Mr. Obama is not as supportive as they would like, and certainly not when compared to Mr. Romney.
Likud MK Danny Danon, who was clearly delighted with Mr. Romney's visit to Israel in July, said Mr. Obama, in contrast, "has given Israel the cold shoulder."
"We ask ourselves how come President Obama did not find the time to visit Jerusalem. He went to Saudi Arabia, to Turkey, to Egypt, but he forgot the US's ally here in the Middle East. On the other hand, we heard a strong commitment from Governor Romney and we hope to see a change in the American policy towards Israel," he said.
Polls
A recent poll commissioned by the Begin-Sadat Center at Bar-Ilan University and the Anti-Defamation League (ADL) found that only 32 percent of Israelis have a positive view of Mr. Obama, compared to the 54 percent who liked him in 2009.
In July, a poll by Tel Aviv University asked whether Mr. Obama or Mr. Romney "assigns more importance to defending Israel." 18.6 percent of respondents chose Mr. Obama, while 39.9 percent—more than double—said Mr. Romney would assign more importance to the national interests of the Jewish state.
In the middle of August, the left-leaning Israel Democracy Institute (IDI) released a poll which showed that a plurality of Israelis (40 percent) believe a victory on Election Day for Mr. Romney would be better for Israel than second-term for Mr. Obama (only 19 percent).
Videos and Ads
In an attempt to correct that view, the National Jewish Democratic Council (NJDC) released a short video last month featuring testimonies from ordinary Israelis thanking Mr. Obama for supporting the Jewish state and for increasing military aid for the Iron Dome missile defense system.
Writing about the NJDC's efforts, the nationalist Arutz Sheva news service suggested the Democrats were forced to "scour the streets of Israel to find Obama supporters."
The film is probably an attempt to counter a video prepared by the conservative political advocacy organization Emergency Committee for Israel (ECI), entitled "Daylight: The Story of Obama and Israel," which shows former Jewish supporters of Mr. Obama who now not only question his commitment to the Jewish state but allege he has "done more to de-legitimize and undermine Israel's position in the world than any other President."
In addition, the Republican Jewish Coalition has released a series of "My Buyer's Remorse" ads in which Jewish attorneys, housewives, and businessmen explain why they voted for Mr. Obama in 2008, how their perceptions of the President have changed over the past four years, and why they are now supporting Mr. Romney. While the faltering economy is a major factor, virtually all the Jewish voters cite Mr. Obama's poor treatment of Israel as one of the reasons they will not pull the lever for him again.
Radical Rabbis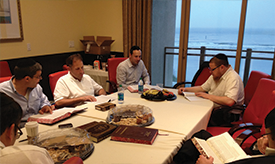 While Rabbi Kelsen clearly disagreed with the Republicans' assumptions, even he seemed to be taken aback by the positions of some of his fellow members of "Rabbis for Obama."
Rabbi Lynn Gottlieb, for example, is, like many others on the list, a vocal member of the advisory board and rabbinical council of Jewish Voices for Peace (JVP), a far-left radical group that opposes Israel's right to self-defense; supports the boycott of all of Israel (not just the communities of Judea and Samaria); and endorses the so-called Palestinian "right of return," which would allow all Arabs who fled Israel in 1948 and 1967—and their descendants—to flood back into Israel, demographically destroying the Jewish state.
The ADL lists JVP as one of the "top ten anti-Israel groups" in the US, pointing out that its members have not only called for an end to US aid to Israel, but have accused the Jewish state of practicing "apartheid." JVP endorses anti-Israel BDS campaigns.
"Like other Jewish anti-Zionist groups, JVP uses its Jewish identity to shield the anti-Israel movement from allegations of antisemitism and provide a greater degree of credibility to the anti-Israel movement," said ADL director Abraham Foxman.
JVP activists regularly attend anti-Israel events wearing T-shirts and holding signs broadcasting their Jewish identity. In March and April 2010, JVP leaders unsuccessfully lobbied for the passage of a divestment resolution at the University of California, Berkeley, targeting companies that do business with Israel.
In 2008, Rabbi Gottlieb cemented her anti-Zionist credentials when, as the Jewish representative of an interfaith panel, she spoke at a dinner in New York given for Iranian President Mahmoud Ahmadinejad.
Vetting Process?
Asked if the Obama campaign had vetted the members of "Rabbis for Obama" before releasing the list, Rabbi Kelsen said he did not know, and when asked if he thought the campaign would request Rabbi Gottlieb to leave the group, he had no comment.
Rabbi Miller said he had signed onto "Rabbis for Obama" because he is supporting the President, but, he said, he is "not involved with anyone else on the list."
Rabbi Kelsen said, he hoped the entire rabbinic list would not be tarred for Rabbi Gottlieb's positions with which he clearly disagrees. He said that in the first week after the "Rabbis for Obama" list was published, he received angry phone calls and emails from members of the community, many of them with a tone and message that he did not appreciate.
The problem for Rabbis Kelsen and Miller and the Democrats is that Rabbi Gottlieb is far from the only "Rabbi for Obama" who shares Rabbi Gottlieb's positions and the rabbinic group as a whole is being heralded by the President's re-election campaign team as truly representing Jewish opinion.
Jonathan Tobin, editor of Commentary magazine, pointed out that because the campaign is using the rabbinic list "as a prop in their effort to persuade wavering Jewish voters that they can rely on Obama to stick by Israel, then its roster ought to consist of rabbis who actually do support the Jewish state."
"If a notorious anti-Zionist like Gottlieb is a member in good standing of 'Rabbis for Obama,' it raises the question of what exactly the group stands for. How can it put itself forward as proof of the American-Jewish community's trust in President Obama as a faithful friend of the Jewish state when it is willing to embrace a leader of the movement to vilify Israel?" he said.
Raising Eyebrows
In a letter to Mr. Obama, William Kristol, editor of the Weekly Standard and co-director of the ECI, said Rabbi Gottlieb is not the only member of "Rabbis for Obama" whose presence should raise eyebrows.
According to Mr. Kristol, members include leaders of the BDS movement, founders of the pro-Hamas "Fast for Gaza" initiative, and one rabbi who has said that the US and Israel bring terrorism on themselves.
Washington Free Beacon reporter Adam Kredo investigated some of those charges. He found that, in 2010, a member of "Rabbis for Obama," Rabbi David Mivassair of State College, PA, wrote in his blog that "the US and Israel might have done something to elicit such enmity" from terrorists. He complained that those who support Israel and the US against the terrorists "act as though the violence arose spontaneously, a completely irrational aberration in human thinking, with no relationship whatsoever to anything that the US and Israel have ever done."
In 2011, Rabbi Mivassair, also a member of JVP's rabbinical council, took the side of the terrorists firing at civilian targets in southern Israel. "I have to say about a puny ineffective rocket fired into some place like Sderot, something to think about is very likely the people firing it are the children or grandchildren of people who once lived in Sderot. But it wasn't Sderot, it was a Palestinian village that had existed there for centuries that had several hundred people who were forcibly expelled at gunpoint and when the place was empty, then Jews moved in and built a town," he wrote.
In addition to claiming there is "no justification whatsoever" for Israel's blockade of the Gaza Strip, which is controlled by the terror group Hamas, Rabbi Mivassair has condemned Israel as unjustly oppressive.
Palestinian Solidarity
Another controversial member of "Rabbis for Obama" is Brant Rosen, who serves as the spiritual leader of the Jewish Reconstructionist Congregation in Evanston, IL. According to Mr. Kredo, Rabbi Rosen, a member of the JVP's rabbinical council, has endorsed the anti-Israel BDS movement and vociferously opposes Israel's defensive incursion into Gaza in 2008, Operation Cast Lead.
"Israel's founding is inextricably bound up with its dispossession of the indigenous inhabitants of the land," said Rabbi Rosen, according to a copy of his remarks found by Mr. Kredo posted on the Fresno Zionism blog.
In his book, Wrestling in the Daylight: A Rabbi's Path to Palestinian Solidarity, Rabbi Rosen wrote that the Operation Cast Lead, which began after Palestinian terrorists from the Hamas-controlled region sent unceasing barrages of rockets into civilian centers, was "not about security at all."
"This is about bringing the Palestinian people to their knees," wrote Rabbi Rosen. "Once I admitted this to myself, I realized how utterly tired I had become. Tired of trying to excuse the inexcusable. Tired of using torturous, exhausting rationalizations to explain away what I knew in my heart was sheer and simple oppression."
Thanking Goldstone
In blog post this past June, Rabbi Rosen wrote that BDS is an appropriate response to Israel's "brutal occupation."
According to Mr. Kredo, Rabbi Rosen lent his name to a 2010 missive expressing "deepest thanks" to Judge Richard Goldstone, author of the Goldstone Report, a widely disputed UN account that falsely accused Israel of committing war crimes in Gaza. Mr. Goldstone later retracted most of the report's claims.
Just this past summer, Rabbi Rosen advocated against the Jewish community's efforts to secure a moment of silence at the 2012 Olympics for the Israeli athletes who were murdered by Palestinian terrorists at the 1972 Munich games.
"At what point does our need for the world to acknowledge Jewish suffering give way to a collective victim mentality," he wrote on his blog.
Fighting Bingo and Jerusalem
Another anti-Israel "Rabbi for Obama" uncovered by Mr. Kredo is Haim Beliak of Los Angeles. A co-founder of "Jews on First," a left-wing First Amendment organization established to counter "the Christian Right" and its "theocratic agenda," he has been a longtime foe of pro-Israel philanthropist Dr. Irving Moskowitz.
Rabbi Beliak tried unsuccessfully to force the closure of Dr. Moskowitz's legal bingo parlors in Hawaiian Gardens, CA. Although Rabbi Beliak's aim was to deny Dr. Markowitz funds that were used to purchase properties throughout eastern Jerusalem, the rabbi's efforts evoked the ire of many Hispanic residents who depend on the bingo parlors for their livelihoods.
In recent years, Rabbi Beliak joined Rabbi Rosen in signing the pro-Goldstone letter and was a principal participant in the 2009 "Fast for Gaza," which Mr. Kredo described as "a daylong fast aimed at highlighting opposition to what they allege is Israel's unjust blockade of Gaza."
In fact, the blockade does not prevent food, medicine, and other essentials from reaching residents of Gaza. The blockade was designed to keep weapons and explosives from the terrorists. All items sent to Gaza are checked by Israeli security personnel first.
Nevertheless, Rabbi Beliak's group called the blockade "an act of collective punishment, denying the entire population of Gaza with necessary food, medicine, fuel, and other basic necessities. How can we—rabbis, Jews, human beings—be silent?"
Supporting the Flotilla
Still another of the "Rabbis for Obama" who serves on the JVP rabbinical council is "Jewish Renewal" Rabbi Chava Bahle from northern Michigan. In 2010, she supported the Turkish-run "Gaza Freedom Flotilla," which carried a delegation of pro-Palestinian militants into waters patrolled by Israeli security. When Israeli security teams boarded the ships to force then to turn back, armed militants on the Mavi Marmara attacked, forcing the Israelis to react. Nine of the militants were killed, souring relations between Israel and Turkey.
Israeli security removed all cargo from the ships and offered, after an inspection, to send permissible items to Gaza. None of the items bound for Gaza qualified as humanitarian aid.
Nevertheless, after the incident, Rabbi Bahle signed a letter which claimed the main mission of the "Freedom Flotilla" was to carry humanitarian aid. "We call upon our [Jewish] community not to turn away in denial or blame those of good will and good purpose who risked their lives to relieve the beleaguered people of the Gaza strip," said the letter.
Another name on President Obama's list is Rabbi Arthur Ocean Waskow of Philadelphia. He has been associated with the Council on American-Islamic Relations (CAIR), an organization that is also on the ADL's most anti-Israel group list.
"Deep Hostility"
The participation of these rabbis and others like them in "Rabbis for Obama" raised Mr. Kristol's suspicions.
"Far from demonstrating a 'deep commitment to the security of the state of Israel,' these figures have demonstrated a deep hostility to the state of Israel and a deep commitment to demonizing the Jewish state and undermining the US-Israel alliance," he told the President, adding that the ECI "cannot imagine their endorsements are ones you welcome."
Mr. Kristol suggested Mr. Obama "have an urgent and serious conversation with whoever in your campaign thought it appropriate to trumpet their support as a way of making your case to the pro-Israel community."
Commitment to What?
Mr. Kredo pointed out that while the number of rabbis who signed onto "Rabbis for Obama" has doubled since 2008, 88 Jewish spiritual leaders who had been members during Mr. Obama's first election campaign declined to renew their membership in 2012. Nine of the 16 co-chairmen from 2008 are not listed this time around.
It is unclear if those who are missing have rethought their support for Mr. Obama or simply would not participate with some of the more problematic members on the list.
From the praise given by Ira Forman, Jewish outreach director for the Obama re-election campaign, it would be hard to imagine any after-the-fact cutting of names from the list of Rabbis for Obama.
"These rabbis mirror the diversity of American Jewry. Their ringing endorsement of President Obama speaks volumes about the President's deep commitment to the security of the state of Israel and his dedication to a policy agenda that represents the values of the overwhelming majority of the American-Jewish community," he said.