Just in Time for Chanukah: "Golden Strings" because the NJ Intergenerational Orchestra Says "It's Never Too Late"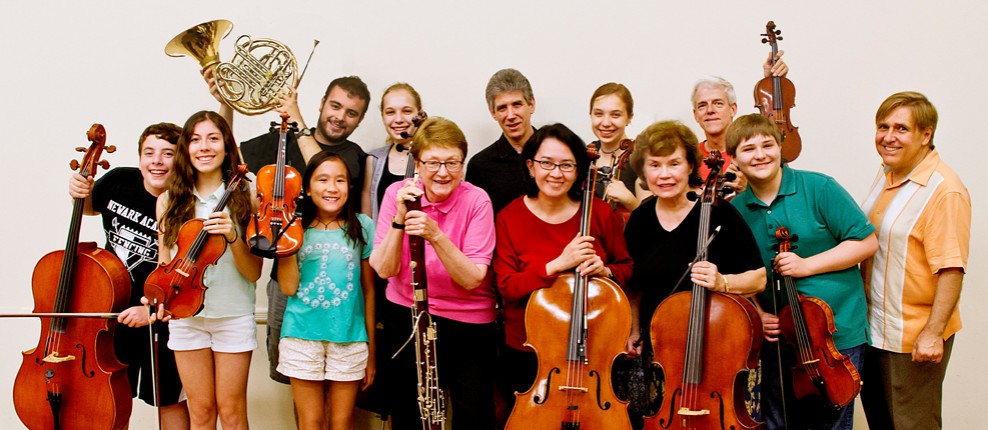 Just in time for the holiday season, the New Jersey Intergenerational Orchestra (NJIO), which just might be the best-kept secret in the Garden State, is offering its Golden Strings program to any Bergen County community group that includes, but is not necessarily limited to, senior citizens. Golden Strings would make an exceptional Chanukah gift for any lucky recipient, even for oneself.
NJIO artistic director Warren Cohen says that virtually any adult who participates in the Golden Strings eight-week program will learn to play violin, viola, or cello, whether or not he or she ever played as a child or, indeed, ever even held an instrument. Some may have played for a short while as children and then given it up.
"You don't even have to come into the program knowing how to read music. We'll teach you," said Mr. Cohen.
While Golden Strings is designed for adults, if a parent or grandparent wants to bring an older child or, preferably, a teenager along, there is usually no objection.
Reasonable Fee
The cost for this musical eight-week course is only $10 per lesson ($80 for the eight weeks), and that includes the rental of an instrument which students keep for the duration of the program. Scholarships are available based on need.
Lessons, which are conducted for groups of four to 15 people, are usually an hour to an hour-and-a-half in length.
A non-profit organization, NJIO is able to offer Golden Strings as well as its free concerts through grants and donations, including the New Jersey State Council for the Arts.  In 2013, NJIO was recognized for Intergenerational Excellence by the Michael Eisner Foundation.
Performing Groups
Now in its 23rd year, the New Providence-based NJIO provides education and performance opportunities for people of all ages who want to be part of an orchestra or ensemble. At its home base, NJIO runs three separate-level performing groups in which string players can participate.
"Prelude" is a string ensemble for beginning players of all ages who can read notes. "Intermezzo" is an orchestra for more advanced beginners and intermediate players of all instruments who enjoy playing arrangements of classical pieces, and "Symphony" is an orchestra for intermediate and advanced players who are ready for a group that performs symphonic repertoire.
Those who complete the Golden Strings program are eligible to play in NJIO's "Prelude" group.
All NJIO groups which involve string players meet on Thursdays, which makes the program very conducive for those who observe the Sabbath: "Prelude" from 4:30-5:30pm, "Intermezzo" from 5:45-7pm, and "Symphony" from 7:15-9:30pm.
All NJIO concerts are held on Sundays. Admission is free. The next one, entitled "Circle of Dvořák," will be on Sunday, March 5, at 3pm, at the College of Saint Elizabeth in Morristown. On Sunday, May 14, at 3pm, the group will perform music by Beethoven and Respighi at Summit High School in Summit, NJ.
Truly Intergenerational
A quick survey of the participants of all three NJIO performing groups shows that the group lives up to its name and motto, "Bridging the Generations through Music." Players range in age from six to 86, with beginners learning side-by-side seasoned players and even some professional musicians who mentor those who are less experienced.
"Our members are friends, families, and individuals of all abilities," said NJIO executive director Paula Roper.
Through NJIO, children, teenagers, young adults, and senior citizens all play together. It is not unusual to find two and even three generations of the same family playing in the same groups. Because the rehearsals and concerts are timed to be convenient for working adults, they are also suitable for Jewish youngsters who attend day schools.
More Conducive for Adults
According to Ms. Roper, Golden Strings offers adults the opportunity to play string instruments because, almost counter-intuitively, older people find it easier to learn violin, viola, or cello than children do.
"Children often find it easier to learn to play woodwinds than they do string instruments, but, for adults, it's the other way around," she said.
The program is not offered specifically for youngsters chiefly because there are so many other age-appropriate venues for them.
Many studies show that playing a musical instrument can benefit brain function more than any other activity, and is especially helpful in maintaining and even improving memory and delaying dementia. Some geriatricians say that playing music is the brain's equivalent of a full-body workout.
What Is Learned
The first Golden Strings lesson is devoted to teaching students how to hold the instrument and read music, and, by the second lesson, they are learning to play open-string notes. The third lesson concentrates on how to place fingers on the keyboard and how to bow. Students will play "Twinkle Twinkle Little Star" in the fourth lesson and variations on it in the fifth. For the sixth through eighth lessons, students will play various other pieces in preparation for a concert-party after the completion of the eight weeks.
NJIO will help those who want to continue lessons after the completion of the program, including assistance in renting or purchasing instruments.
Ms. Roper is available to discuss the Golden Strings program with interested individuals or community groups. She can be reached at proper@njio.org or 908-603-7691. Information about NJIO can be found on the group's website, www.njio.org.
"We look forward to meeting many potential string players in Bergen County and working with them, first, in 'Golden Strings' and then as players in our 'Prelude' ensemble," said Ms. Roper.
S.L.R.