In NJ's 9th District, It's Rabbi Shmuley Boteach vs. Bill Pascrell: Moral Values vs. Selective Antisemitism
Professor Danusha V. Goska, an author and member of the Polish-American community who writes "Bieganski the Blog," sees a double standard in the way her Congressman, Bill Pascrell (D-NJ), handles charges of antisemitism.
When it was revealed last month that a Polish-American he was endorsing for a memorial was a known antisemite, Mr. Pascrell withdrew his support. But when two members of the large Arab-American community in Paterson, which Mr. Pascrell represents as well, engaged in public antisemitism, the congressman not only refused to distance himself from them, he would not even condemn their statements.
The Polish-American in question was Chester Grabowski, the late publisher of a Clifton-based Polish-American weekly. Both of the Arab-Americans reside in Paterson. One, Dr. Aref Assaf, accused Jewish supporters of Rep Steven Rothman, Mr. Pascrell's opponent in the June 2012 Democratic Primary, of dual loyalty: caring more about Israel than they did about the US. The other was the Jordanian immigrant Imam Mohammad Qatanani, who has called the creation of the state of Israel "the greatest disaster which occurred on the face of the Earth."
Imam Qatanani has denied that Jews had any historical presence in or current rights to Israel and has encouraged his followers to read and adhere to the teachings of Sheikh Yusuf al-Qaradawi who has praised Hitler for "putting the Jews in their place." "Allah willing, the next time [the Jews are punished], it will be at the hand of the believers [Muslims]," he has said.
Mr. Assaf and Imam Qatanani are supporters of Mr. Pascrell, who still maintains a close relationship with both of them.
Mr. Pascrell, who won the Democratic primary last June for the newly redrawn 9th Congressional District (after representing the 8th District since 1997), is now running against GOP challenger, Rabbi Shmuley Boteach. Reflecting the concerns of many in the large Jewish communities in the district, Rabbi Boteach has noticed and called attention to Mr. Pascrell's involvement with Messrs Grabowski, Assaf, and Qatanani.
Renaming the Park
Clifton straddles Passaic and joins it to form one of the largest Jewish communities in the state. In September, with Mr. Pascrell's enthusiastic written endorsement, the city of Clifton announced that it would name a portion of Richardson Scale Park for Mr. Grabowski. Mr. Grabowski, who died last April at the age of 86, was the publisher of the Post Eagle. He was known for publicly suggesting that the Holocaust was exaggerated, and that "some Jews" wanted to "destroy Christianity" and were responsible for imposing communism on his native Poland.
In the Post Eagle, Jews were often referred to as "vermin," "animals," and "Christ killers." Mr. Grabowski told his readers never to "forget and forgive" the Jewish people for "deciding to kill our God, and their God, which they refuse to recognize."
In one of his editorials, he wrote, "The Day of Reckoning is coming, and then these animals will be answerable for their crimes against Poland and her people. Unfortunately, the just and righteous Jews will also suffer for the lies and distortions of their brethren…There are animals within the Jewish community, here in the USA, who deliberately etched numbers on their wrists to benefit from the Reparation funds."
Racism
Mr. Grabowski also ran ads for the Ku Klux Klan, including one in 1988 wishing "all Polonia a merry White Christmas" illustrated by a drawing of Santa Claus wearing a Klan hood. In 1992, Mr. Grabowski hosted an event for the late British neo-Nazi politician John Tyndall.
In 1984, the Bergen Record daily newspaper published an article documenting Mr. Grabowski's "hate-filled writings," including his insistence that the Jewish death toll during the Holocaust was "closer to 2 million" rather than the accepted estimate of 6 million.
Recently in The Record, former New Jersey NAACP political director Walter Fields recalled Mr. Grabowski's "profound and profane 'talent' for reaching new depths of racism."
Mr. Fields remembered a New Year's letter he received from Mr. Grabowski in 1995 in which the Post Eagle publisher said, "Again, here is wishing you a horrible 1995. Perhaps Aids, sickle cell anemia, cancer, or other terminal illness will fell you this coming year. One can only hope. Here's hoping! Your Pal, Chet."
Mr. Grabowski published the Post Eagle for 50 years and ran unsuccessfully for Clifton City Council in 1962 and for governor in 1977 and 1981. His daughter, Christine Witmyer, now runs the paper which is said to have 50,000 subscribers.
Polish-American Support
The section of the park to be named for Mr. Grabowski is located in the Athenia section of Clifton, a heavily Polish-American community, where many approved of the memorial.
On September 26, Mr. Pascrell sent a letter to Clifton Mayor James Anzaldi and the members of the City Council offering his support for the effort.
"I knew Chester for many years and he was a great friend. He was a kind and respected man who would help anyone in need and he was a friend to all. Chester was an individual who cared about the City of Clifton and was a strong advocate of the Polish-American community, not only in the City of Clifton, but all across the great State of New Jersey…For this, I whole heartedly support the honor of memorializing the Richard Scales Park to a resident, a businessman, and a leader in the City of Clifton, Mr. Chester Grabowski. His legacy will not only be that of a successful newspaper he operated for many years, but the family man who worked so hard for his community," Mr. Pascrell wrote.
Dershowitz
Like most people, Dr. Goska heard about the suggested memorial to Mr. Grabowski after Harvard Law School professor Alan Dershowitz became involved. Mr. Dershowitz was well acquainted with Mr. Grabowski's writings and devoted a portion of his 1992 bestseller, Chutzpah, to the Post Eagle and its publisher.
On October 2 (the day the matter of renaming the park for Mr. Grabowski was on the Clifton City Council agenda), Mr. Dershowitz sent a letter to Mr. Anzaldi, with copies to Gov Chris Christie and Newark Mayor Cory Booker, in which he described the Post Eagle as a "modern-day" version of the Nazi paper, Der Stürmer, and called Mr. Grabowski a "purveyor of hate speech."
Mr. Dershowitz said that if the memorial went forward as planned, he would "bring it to the attention of the world," vowing to lead legions of protesters to Clifton.
"If the people of this fine city want to be known for revering a bigot like him, the world will know. I will bring it to the attention of the world. We will have pickets and protests and leaflets," he said.
Mr. Dershowitz's letter was read during the public portion of the City Council meeting.
Almost immediately, Mr. Pascrell withdrew his support for the memorial. "There can never be room for antisemitism in any context," he said.
Not Credible
Many members of the Passaic and Clifton Jewish community did not accept Mr. Pascrell's statement that he had just learned of Mr. Grabowski's antisemitism.
A former Passaic resident who goes by the name "Carl in Jerusalem," wrote on his Israel Matzav blog that it was "simply not credible."
"It's impossible that Pascrell—who has represented Passaic and Clifton in Congress for as long as I can remember—didn't know Grabowski was an antisemite until 2012. No way, no how. Pascrell must have withdrawn his support due to electoral considerations," said "Carl," who still votes in Passaic in Federal elections by absentee ballot.
One of a Piece
Rabbi Boteach agreed, thanking Mr. Pascrell for "changing his mind about supporting the renaming of the park," but calling his plea of ignorance a "willful attempt to mislead the public."
"Pascrell has had numerous opportunities to familiarize himself with Grabowski's hateful beliefs. For Pascrell to say now that he was unaware of them is completely incredulous. Everyone knew of his hate-mongering and antisemitism, yet Pascrell insults the intelligence of the district's citizens by claiming he was not aware. Not only is that not true, but it is contemptuous of his constituents," he said.
Other members of the Jewish community now included in the 9th District pointed out that Mr. Pascrell's original support for Mr. Grabowski was "of one piece" with his unwavering support for Dr. Assaf and Mr. Qatanani.
"He's not an antisemite himself, but he won't get up and condemn it unless he has no choice, especially if it might be politically risky," said a member of the community who attended a debate between Mr. Pascrell and Rabbi Boteach.
Dual-Loyalty Charge
In several published op-eds, Dr. Assaf, president of the Paterson-based American Arab Forum, praised Mr. Pascrell and accused the very pro-Israel Mr. Rothman of being an "Israel-firster," implying that Mr. Rothman put Israel's interests ahead of America's and Mr. Pascrell did not. Dr. Assaf went on to accuse Mr. Rothman's pro-Israel supporters of being more loyal to the Jewish state than they are to America.
In his first op-ed, published in the NJ Star Ledger with the headline, "Rothman Is Israel's Man in District 9," Dr. Assaf said, "As total and blind support for Israel becomes the only reason for choosing Rothman, voters who do not view the elections in this prism will need to take notice. Loyalty to a foreign flag is not loyalty to America's."
In numerous op-eds and speeches, Mr. Rothman had listed benefits the US derives from its support for Israel, including technological research and intelligence cooperation; access to Israel's location as a port of call for US troops, ships, aircraft, and intelligence operations; and the ability of the US to stockpile arms, fuel, munitions, and other supplies on Israeli soil to be accessed whenever America needs them in the region.
In addition, about 70 percent of the $3 billion Israel receives in US aid must be used by the Jewish state to purchase American military equipment.
When Mr. Pascrell was asked to repudiate Dr. Assaf's sentiments, the congressman refused, saying only that Dr. Assaf did not work for his campaign.
The evasion fooled no one. Democratic Party activist Joshua Block, a former spokesman for AIPAC, called Mr. Pascrell's "unwillingness to directly confront and condemn this antisemitic invective and bigotry…despicable."
"Gang of 54"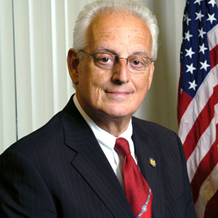 While Mr. Pascrell has voted consistently for US foreign aid to the Jewish state and has condemned Hamas and Hezbollah, he has also supported some measures which have been distinctly anti-Israel. In 2010, he was one of 54 Congressmen who signed a letter attacking Israel for defending itself against Hamas terrorists in Gaza. The letter urged President Barack Obama to pressure Israel into lifting its defense blockade on Gaza, an embargo imposed by the Jewish state after Hamas won control of Gaza.
The letter accused Israel of preventing necessary humanitarian aid from reaching Palestinians in Gaza by maintaining the blockade, which the letter said was "illegal."
Most experts, and even the notably anti-Israel United Nations, now agree the blockade is legal according to international law.
The majority of Congressmen shied away from the Gaza letter, agreeing with Mr. Rothman who said he did not sign it because "it wrongfully drew a moral equivalence between Israel protecting its citizens from terrorist attacks and the Gazans who were shielding and providing aid and comfort to the terrorists launching those attacks."
Mr. Pascrell's support for the Arab cause against Israel prompted Dr. Assaf to note on his Facebook page that "Pascrell is the right man. He has been most accessible and helpful to his constituents. The Arab and Muslim community must rise up to ensure Pascrell is the winner [of the primary]. I will do my part."
Vicious Attack
In a series of debates last month between Mr. Pascrell and Rabbi Boteach, the rabbi called the Gaza letter "one of the most vicious attacks on Israel" that "falsely and fraudulently accused Israel of engaging in collective punishment against the Palestinians."
"I ask for a single credible source that has ever said Israel denied the Palestinians food, clothing, or medicine. There is no such source because it is not true," said Rabbi Boteach during their debate at Temple Sinai in Tenafly. "Israel is a humanitarian country that protects life. One and a half million Arab citizens in Israel live in freedom. It is time that Israel stopped being demonized, especially by members of Congress."
When the issue was raised again at their second debate, held in a public school in Passaic, Mr. Pascrell defended himself by insisting that Rabbi Boteach had earlier called his record on Israel "perfect."
When the rabbi responded that he had done no such thing, Mr. Pascrell corrected himself, noting that the rabbi had approved only the incumbent congressman's record on voting for aid for Israel.
"We are grateful to you for voting for aid to Israel," Rabbi Boteach told him, "but that does not excuse the fact that you participated in a bald-faced lie. Israel faces delegitimization throughout the world. What good is the $3 billion you helped give Israel if the state can't use its military equipment because people lie?" he said.
During that second debate, Rabbi Boteach said that he had given Mr. Pascrell the opportunity to repudiate that letter, but, just as he would not distance himself from Dr. Assaf, he would not condemn the Gaza 54 letter. "Instead, you reaffirmed that blood libel against the Jewish state," Rabbi Boteach told Mr. Pascrell.
Imam Qatanani
During both debates, Rabbi Boteach brought up the issue of Imam Qatanani, who, with his family, is currently the subject of deportation efforts by the NJ Immigration Court of Appeals and the FBI. The deportation is based on the charge that Mr. Qatanani failed to disclose in his green card application that he was a member of Hamas and had been arrested and convicted by Israel of belonging to the terrorist organization.
Imam Qatanani, who now serves as the spiritual leader of the Islamic Center of Passaic County (ICPC), the largest mosque in NJ, denies that he was a member of Hamas. He does not, however, dispute that he was a member of the Muslim Brotherhood in his native Jordan.
His supporters include Mr. Pascrell, who has said he intends to do "everything in my power" to help Imam Qatanani remain in the US.
Mr. Pascrell insisted that, in the days following the 9-11 attacks, Imam Qatanani had been helpful not only to him as a Congressman, but also to law enforcement.
"Moderate" Voice
While during the debate with Rabbi Boteach, Mr. Pascrell praised the imam for his "voice of moderation," Rabbi Boteach pointed out that this past September, the "moderate voice" called for the dissolution of Americans' First Amendment rights to free speech and their replacement with Sharia Islamic law.
In the wake of a privately-made video which seemed to mock Islam and the Prophet Mohammed, Imam Qatanani told the online publication The Blaze that free speech critical of Islam poses a national security threat to the United States, and that those responsible should be arrested and investigated by the Department of Homeland Security.
"We, as Americans, have to put limits and borders on freedom of speech," he told The Blaze, explaining that while Americans may "have the freedom" to speak their minds, ultimately they "have no right to talk about Muslim holy issues," as it will incite "hatred or war among people."
He insisted that those who slander Islam incite violence, and thus pose a national security risk that threatens the safety of Americans at home and abroad. Mr. Qatanani told the publication that in such cases, the United States should disregard the First Amendment as it is typically understood, and instead act in accordance with Sharia law for the ultimate "good" of society.
Evidently not understanding that the filmmaker had been taken into custody on charges of violating the terms of his probation, Imam Qatanani suggested the government had arrested him for violating Sharia law. He told The Blaze the Department of Homeland Security should act to prevent artists, composers, photographers, and satirists, among others, from producing works critical of Islam and the Prophet Mohammed.
Hamas
During their debate, Mr. Pascrell and Rabbi Boteach agreed that Hamas is a dangerous terrorist organization that merits condemnation.
Rabbi Boteach pointed out that Hamas was not only an anti-Israel organization. He said that Palestinians are among those most hurt by the terror group: young girls murdered by their families in honor killings for the crime of having a boyfriend; or homosexuals, often murdered because of the canard that they are collaborators with Israel.
"Hamas takes the highest per capita rate of foreign aid in the world and instead of building hospitals and roads, they build bombs to kill innocent civilians," he said.
Working for Repentance
Nevertheless, said Rabbi Boteach, his first call after winning the GOP nomination was to Imam Qatanani. "I left a message and then called at least ten more times and left ten more messages and my staff called," he said.
His intention, he said, was to ask the imam to repudiate Hamas.
"If Imam Qatanani simply stands up at his mosque and condemns Hamas, I will become his single greatest supporter and work to keep him in the US. I believe in repentance," he said.
He explained that as an Orthodox rabbi, he considers Baruch Goldstein who, in 1994, shot 29 Palestinians in a mosque in Hebron "an abomination to Judaism."
"Now let Imam Qatanani say the same thing about terrorists who fire rockets on civilian targets in Israel," said Rabbi Boteach, arguing that Mr. Pascrell had offered to help the imam "without drawing that line in the sand."
No Accountability
Asked by the moderator if he would agree, Mr. Pascrell seemed flustered and would say only that he "strongly opposes Hamas" and had fought to persuade the European Union to designate Hamas as a terror organization.
Ignoring Imam Qatanani's stated desire to abrogate First Amendment rights and his own willingness, nevertheless, to do whatever possible to keep him in the US, Mr. Pascrell said he was not willing to judge, based on Israeli records, whether the imam was actually a member of the terrorist group.
"That is up to a judge and jury, not up to you," he told Rabbi Boteach. "I'm not going to play Grand Inquisitor. It's up to the FBI to decide whether this guy should go or not."
Pandering
When Rabbi Boteach accused Mr. Pascrell of not trusting the Israeli judiciary, the congressman took umbrage, suggesting the rabbi was accusing him of antisemitism.
Rabbi Boteach quickly reassured Mr. Pascrell that no one was accusing him of harboring antisemitic sentiments. What he was being accused of was "pandering."
"You're pandering for votes and so you are overlooking things that dare not be overlooked," said Rabbi Boteach. "Go to Qatanani, even if it means losing some Arab votes. Go to Qatanani and call him on his statements against Israel."
On her blog, Dr. Goska understood that Mr. Pascrell simply would not do that. She recognized that Mr. Grabowski was an antisemite and that it would benefit neither Clifton nor the Polish community to name a park after him, but, she said, it was easier for a politician to risk alienating the Polish-American community than it would be for him to do it to Arab-Americans.
"Bill Pascrell said he knew Grabowski and admired him. When confronted with the charge that Grabowski was an antisemite, Pascrell threw Grabowski under the bus. Pascrell's district has one of the highest Muslim populations in the US. Has Pascrell similarly thrown Muslims under the bus? Even when their statements have been overtly antisemitic?" she said.