In a Values-Based Campaign, Rabbi Boteach Wants to Hold Terrorists Accountable, Make Marriage Counseling Tax-Deductible, and Get the Government out of Marriage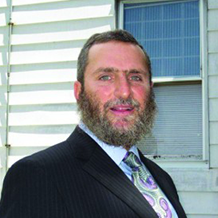 Rabbi Shmuley Boteach, the Republican candidate for Congress in NJ's 9th District, faces an uphill battle to beat Democrat incumbent Bill Pascrell. But the rabbi— who is a popular author, media personality, and spiritual leader of the stars—is hoping his important new ideas will serve as planks to motivate the electorate to move him to Capitol Hill.
For starters, despite his Orthodox rabbinic ordination from the Chabad Lubavitch movement, Rabbi Boteach has disassociated himself from what he calls the Republican Party's "trifecta of abortion, contraception, and gay marriage."
The first, he said, is a result—not the cause—of cultural deterioration in the US. The second is a misunderstanding of the purposes of marital intimacy, by failure to acknowledge that such intimacy serves purposes additional to procreation. And the third is an unimportant distraction.
If Rabbi Boteach has his way, a plan discussed by The Jewish Voice and Opinion will become the law of the land: get government out of the marriage business.
"Rather than redefining marriage, which has always meant the union of a man and woman, Americans should recognize that, by definition, marriage is a religious concept and government has no place in it. Because government needs to keep statistics and records, any two people—straight, gay, and those who have reasons of their own—should receive licenses for domestic partnership. Then, if they want, they should go out and find a clergyman or someone else to officiate at their weddings," he said.
Under this plan, those who do not choose to have any further wedding ceremony would not need one in order to enjoy all the benefits of current civil marriage.
Fighting Divorce
Speaking last month at a press conference in Teaneck, outside the offices of Dr. Reuben Gross, director of Bergen Marriage Counseling and Psychotherapy, Rabbi Boteach argued that saving marriages has nothing to do with opposing "gay marriage."
"America is living a lie, believing that if we spend the next 50 years fighting gay marriage, we are going to save the institution of heterosexual marriage. That's an unproductive game," he said.
He pointed out that while 50 percent of marriages fail, homosexuals make up only about seven percent of the population.
"If the entire gay population suddenly pulled up stakes and moved from the US, we would still have the same marriage problem. We need to refocus on how to fix the growing divorce rate in this country, not concentrate on how to fight gay marriage. We need to stop fighting and start dealing with what's important," he said.
Tax-Deductible Counseling
The first step, he said, is to make marriage counseling tax deductible, a concept that was endorsed by former reality-TV star Jon Gosselin of "Jon & Kate Plus 8" fame, who joined him at the press conference.
Mr. Gosselin, who appeared on the same TLC network as Rabbi Boteach's  2006 "Shalom in the Home" reality show, endorsed the rabbi's candidacy, citing his "amazing moral compass."
Mr. Gosselin said that while marriage counseling did not save his own marriage—mostly because his wife did not attend the sessions—he believes that lessening the financial burden could help others.
Making It Affordable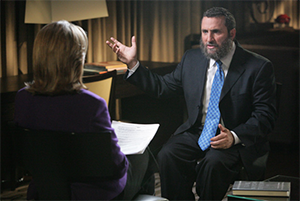 On "Shalom in the Home," Rabbi Boteach counseled families in trouble and offered advice about relationships. Many of the people who appeared on the show did so, he said, because they did not know where else to turn.
In addition to hosting his own weekly radio program—"The Shmuley Show" on WABC—he has made numerous guest appearances on the Oprah Winfrey Show and other television programs. He writes syndicated columns and is a frequent op-ed contributor to many mainstream and niche newspapers.
At the press conference, Rabbi Boteach pointed out that professional marriage counseling usually costs between $75 and $200 per session, making it too expensive for all but the wealthy to continue for any meaningful length of time. Making it tax-deductible would serve as an incentive, he said.
"We pay sky-high taxes in NJ for everything. Wouldn't it be great if we could get something back that would impact society as a whole?" said Rabbi Boteach.
Preventing Abortion
Statistics and his own experience in counseling have convinced him that lowering the divorce rate will result in a lower number of abortions as well. According to some statistics, almost half of all pregnancies among American women are unintended, and about half of all these unplanned pregnancies—about 1.3 million per year—are terminated by abortion.
Some statistics indicate that, at the current rate, about 35 percent of all women of reproductive age in the US today will have an abortion by the time they are 46.
"Almost 90 percent of women undergoing abortions are unmarried; almost a quarter of them are separated or divorced. If counseling can help them develop better relations with the men in their lives, fewer of these pregnancies will result in abortion. Happily married women are significantly less likely to resolve unintended pregnancies through abortion," said Rabbi Boteach.
Single Parents
The number of children born out-of-wedlock is also cause for alarm that should be met with greater availability of counseling, he said. He pointed out that, in the African-American community, close to 75 percent of children are born to single mothers, and in the Hispanic community, the number is about 50 percent.
"Nationally, the number is about 40 percent, and we know it is better for all children to be raised by a mother and father who love them," he said.
He said he found it "astounding" that he is the only candidate calling for something concrete to be done.
"Where is the national conversation about our culture which degrades women and portrays them as libidinous men's playthings? This is what is responsible for the high rate of abortion in the first place," he said.
Scarring Experience
Divorce scars not only the adults involved, said Rabbi Boteach. As the child of divorced parents himself, he knows the damaging effects continue to haunt the next generation as well.
"My father is in California and my mother is in Florida, and, every Passover, it is still a problem deciding with whom we will spend the holiday," he said.
Of his parents' five children, two are now divorced themselves. One of Rabbi Boteach's brothers identifies as "a proud, gay, Orthodox Jew."
A resident of Englewood, Rabbi Boteach and his Australian-born wife, Debbie, have nine children.
Shabbos Invitation
At the press conference, Rabbi Boteach, 46, discussed his now famous invitation to his 75-year-old opponent, Mr. Pascrell, to come to his home for Shabbat dinner.
While Rabbi Boteach said he had spoken personally with Mr. Pascrell and his invitation had been accepted, their proposed meeting had not yet taken place and, as time goes by, he suspects it won't.
"I told him I wanted us to get to know each other as people before we become opponents. I suggested we break bread together before we break anything else, because it doesn't have to be the politics of personal destruction. It can be the politics of issues and ideas," said Rabbi Boteach.
Differing on Israel
But those ideas spell out major differences between the two candidates. The 9th District's large Muslim and Jewish populations clashed during the Democrat primary. The Muslim community came out in huge numbers for Mr. Pascrell, while much of the Jewish community tried, unsuccessfully, to work for a victory for Steve Rothman.
Although during his eight terms in Congress, Mr. Pascrell has consistently voted in favor of foreign aid for the Jewish state, he is primarily remembered in the pro-Israel community for joining with 62 other lawmakers in 2009 to sign a letter condemning Israel for denying "critically needed aid" to Palestinian residents of Gaza.
The letter neglected to mention the necessity of Israel's blockade against the Hamas-ruled Gaza strip and the role played by the Hamas regime in creating the humanitarian crisis. There was no mention in the letter about Hamas's provoking war with Israel, sending rockets into its civilian centers, and exacerbating the situation through its extensive use of civilian human shields.
In 2010, Mr. Pascrell was one of 54 House members who signed a one-sided letter to President Barack Obama accusing Israel of imposing "de facto collective punishment of the Palestinian residents of the Gaza Strip." The letter denied Israel's right to defend herself against Hamas terror attacks on civilians.
Antisemitic Attack
During the primary campaign, Arab-American activist Aref Assaf, who supported Mr. Pascrell, accused Mr. Rothman's supporters of dual-loyalty, caring more about Israel than they did about the US.
When asked to repudiate Mr. Assaf's op-ed, Mr. Pascrell refused, saying only that Mr. Assaf did not work for his campaign.
The evasion fooled no one. Democratic Party activist Joshua Block, a former spokesman for AIPAC, called Mr. Pascrell's "unwillingness to directly confront and condemn this antisemitic invective and bigotry…despicable."
"Silence in the face of this kind of hate speech says it all," said Mr. Block.
In the May issue of The Jewish Voice, Steven Emerson of The Investigative Project detailed Mr. Pascrell's close connections to "Islamists on Capitol Hill," including the Council on American-Islamic Relations (CAIR). Mr. Emerson said they would have "few better allies" than Mr. Pascrell.
Opposing Terrorists
Rabbi Boteach has not gone that far, admitting that, based only on the letters Mr. Pascrell has signed, he would not accuse him of "supporting Hamas." However, Rabbi Boteach said, he would ask Mr. Pascrell to repudiate the letters accusing Israel of inflicting "collective punishment" on the Palestinians "when actually Hamas is responsible for the suffering of the Palestinians."
"I want people to vote for me based on their convictions. If you believe in a robust American foreign policy where tyrants are held accountable for their actions and where terrorists are also held accountable for their attacks on others, then you're going to vote for me because I will not let an organization like Hamas off the hook, and blame Israel for a blockade which is a necessity to stop Hamas from getting bombs with which they kill people," said Rabbi Boteach.
This, he said, is not merely "a Jewish issue," because "terrorism affects the US just as much."
Looking for Repentance
He approached the issue of Mr. Pascrell's relationship with Imam Mohammad Ahmad Hasan Qatanani of Paterson, now part of NJ's 9th District, in the same way. Originally from Jordan, Mr. Qatanani and his family are currently the subject of deportation efforts by the NJ Immigration Court of Appeals. The deportation is based on the charge that Mr. Qatanani failed to disclose in his green card application that he was a member of Hamas and had been arrested and convicted of belonging to the terrorist organization by Israel.
Mr. Pascrell has championed Mr. Qatanani's cause to remain in the US. Rabbi Boteach said he would, too, if Mr. Qatanani agrees to repudiate Hamas.
"I believe in repentance," said Rabbi Boteach, explaining that, as a first step, Mr. Qatanani would have to "repudiate Hamas publicly—especially in his own mosque—as an abomination to Islam, because any movement that is out to kill Jews or any innocent people in the name of Islam is an abomination to Islam."
"If Imam Qatanani repudiates Hamas for being a terrorist organization and expresses the belief that Israel can and should be a homeland for the Jewish people which he respects, then, of course, I would embrace him and assist him in staying in this country because it would establish him as a voice for reconciliation and peace. But, without that declaration, when we only have an imam who apparently lied or misinformed the INS about a previous arrest, which is grounds for deportation, then that's going to have to proceed," said Rabbi Boteach.
Jews Looking at the GOP
Republican leaders are hoping that approach, in conjunction with the gloomy economic picture and Mr. Pascrell's, at best, weak support for Israel, will convince traditionally Democratic Jews to look seriously at Rabbi Boteach's candidacy.
And President Barack Obama may not be of much help to Mr. Pascrell. The President's policies, such as demanding that Israel return to the 1949 armistice lines as a starting point for negotiations with the PA, coupled with the President's attitudes, reflected in his snubbing and publicly insulting Israeli Prime Minister Benjamin Netanyahu, have been described by his Republican opponent, Mitt Romney, as "throwing Israel under the bus."
Just this month, Mr. Obama's administration condemned Israel for its intention to build 300 new homes in Beit El as a response to the Israeli Supreme Court's demand that five homes, whose ownership is in dispute, be destroyed.
In another development, in June, the Obama administration kowtowed to Turkish demands to exclude Israel from the Global Counterterrorism Forum's first meeting, despite the fact that the Jewish state has one of the most extensive records of counterterrorism in the world. Ten of the 29 countries participating in the forum, which was established in September 2001, were Arab and/or Muslim states.
One month earlier, the Obama administration permitted Turkey to block Israel's participation in a NATO summit held in Chicago, accepting Turkey's position that NATO-Israel relations cannot be restored until Turkish-Israeli relations are normalized.
Losing Ground
Some reports indicate that Mr. Obama has lost as much as 16 percent of his support among US Jews, putting key battleground states, such as Florida, up for grabs.
In New York, which shows every indication of maintaining its solid blue, pro-Democrat status, the Jewish vote has taken an even more serious dip. If elections had been held in the middle of June, Mr. Obama would have received only 51 percent of the Jewish vote, with 43 percent going to Mr. Romney.
Overall in New York, the polls showed Mr. Obama would win 59-35.
Nationally, Rasmussen polls throughout June showed Mr. Romney either tied or ahead of Mr. Obama by three or four points.
The Koach Factor
There are other indications that more Jews are considering pulling the lever for Republicans this year. A Gallup poll taken in June showed Jewish-American support for Mr. Obama at 61 percent—a sizable majority to be sure, but the lowest since 1988 when Democrat Michael Dukakis was defeated by George H.W. Bush.
At the same time, polls indicate Jewish support for Mr. Romney at 29 percent, the highest level of support for a Republican candidate in 24 years, with 10 percent undecided.
If the undecided Jewish vote were split down the middle, the margin of victory for Mr. Obama would be 66-34, a far cry from the President's 78 percent of the Jewish vote in 2008.
Tevi Troy, one of Mr. Romney's senior campaign advisors on Jewish and Israel issues, said these numbers are significant. Candidates who win 30 percent or higher in the Jewish community, "are almost certain to win an election," he said, adding that those who garner under 20 percent, "are almost certain to lose."
"There's this 28 percent spread, which I like to think about in terms of its Hebrew gematria, which is koach, meaning strength. This 28 percent shows the disproportionate strength of the Jewish vote given its relative numbers," he said.
No Trust for Obama
In Israel, where only registered American citizens can vote by absentee ballot, a poll on "American-Israeli Relations," prepared in mid-June for the Begin Sadat Center at Bar Ilan University and the Anti-Defamation League, showed that while Israelis have confidence that the US would help the Jewish state in an existential emergency, they do not trust Mr. Obama.
Nearly 70 percent of Israelis have a positive attitude toward the US and believe the country is a loyal ally of the Jewish state. More than 90 percent said that, in an existential crisis, the US would come to Israel's aid.
But only 32 percent of Israelis have a positive view of Mr. Obama (down from 54 percent in 2009), and the number who view him "very unfavorably" has risen from 14 to 23 percent.
Forty-one percent of Israelis are "dissatisfied" or "very dissatisfied" with Mr. Obama's policies on the Israeli-Palestinian conflict, and 53 percent believe the President erred in his response to the "Arab spring."
Thirty percent of Israelis expect Mr. Romney, if elected, to improve US-Israel relations, and 38 percent admitted to not knowing what Mr. Romney would do as President. Only 8 percent think Mr. Obama in a second term would improve US-Israel relations.
Sixty percent of Israelis believe American Jews continue to feel close to Israel—up from 45 percent in 2009, while 26 percent of Israelis fear US Jews are drifting away.
Pro-Business Economics
While Rabbi Boteach is confident the pro-Israel community will see him as the better alternative to Mr. Pascrell, the Republican candidate said he is eager to go into areas throughout the 9th District that the GOP has generally given up on.
"I believe my economic policies are right for this time in America and will appeal to people in this district," he said.
Those policies include allowing businesses generating up to $500,000 a year in sales and revenue to pay no taxes at all, and business making more than that to pay a 15 percent corporate tax rate instead of the current 35 percent, which he called "insane, the highest in the industrialized world."
He believes these polices will appeal to the substantial entrepreneurial sectors in the Asian-American and African-American communities in the 9th District.
Pro-School Choice
In addition, he said, the African-American community needs better schools for their children. "I think they'll go for school vouchers and school choice, which I support, as opposed to the Democrats upon whom the teachers' unions have a nearly absolute lock," he said.
His ideas for improving education go beyond vouchers.
"I would mandate a values course into the public school curriculum so that students won't just learn geography, history, and math, but also the core American values that make this country great. Kids should be learning about the value of entrepreneurship, personal responsibility, and accountability. And the equality of the individual. I'm talking about values, not religion," he said.
Why He's Running
Those values are at the core of his campaign, Rabbi Boteach said,  because they have informed everything he has done—from his books to his programs to his relationships with celebrities such as Michael Jackson.
"I am simply a rabbi, someone who gives advice on relationships, who speaks about the weekly Torah portion, and who counsels all kinds of people. I have been involved with high-profile people, but, at the root, they are just people. They also have issues in their lives. Everything I do stems from my passion for Judaism and for Jewish values," he said.
Now, he said, pursuing those values has prompted him to run for Congress.