Hamas Is in Trouble: ISIS Wants Gaza; The PA-Hamas "Unity"…
Hamas Is in Trouble: ISIS Wants Gaza; The PA-Hamas "Unity" Government Is on the Skids; and a Pact with Israel Could Be Their Only Hope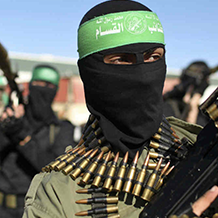 Operation Protective Edge ended last August, and while Hamas has made clear it still considers Israel its arch enemy, it now apparently sees an uneasy calm with the Jewish state as its only alternative to utter destruction.
It is no secret that Hamas faces fierce adversaries on all sides. The Army of the Islamic State, an ISIS-affiliated group in Gaza, has threatened to wage war against Hamas, which ISIS considers "heretical." The "unity government" between the PA's Fatah movement, which rules in the Arab areas of Judea and Samaria, and Hamas in Gaza appears on the verge of collapse. On June 17, the unity government's Prime Minister Rami Hamdallah handed his resignation to PA chairman Mahmoud Abbas. Another such government may or may not be formed, but Mr. Abbas has made it clear it will not include Hamas.
Hamas officials seem to feel the only path to survival lies in securing a more permanent ceasefire with Israel. To that end, the terror group and Israeli officials have been holding indirect talks, a state of affairs that did not sit well with Mr. Abbas.
Opposed to Talks
According to Dr. Bassem Naim, a foreign affairs adviser of the Hamas government in Gaza, Mr. Abbas acted to begin the process of toppling the Palestinian unity government when he heard about Hamas and Israeli envoys taking part in talks to put a more permanent end to the violence between them.
"Abbas felt there was a possibility that a solution could be found without the Palestinian Authority being involved," said Dr. Naim.
The unity government between Hamas and Fatah was formed in April 2014. The inclusion of the terrorist Hamas group in the government was the final straw in the collapse of the US-led talks between Mr. Abbas's PA and Israel.
Since April 2014, the enmity between the two Palestinian factions has escalated, reaching the level that existed when Hamas ousted Fatah from Gaza in 2007 after Hamas overwhelmingly won Palestinian elections.
Salafists vs Hamas
But tensions with Fatah are not Hamas's only concern. Hostilities between the Gaza-based terrorist organization and the Islamic State in Iraq and Syria (ISIS) have intensified.
There are reportedly eight separate ISIS-supportive groups, called Salafists, operating in Gaza, with several hundred members in total. Many of these are former Hamas members who left the organization after it decided to unite with the PA and become part of the government. The Salafists see the PA as heretical because it has negotiated with Israel.
While Hamas and Fatah are Sunni Muslim movements, neither is considered as strict in the observance of Islamic Sharia law as the Salafists.
Salafists in Gaza have called Hamas "worse than the Jewish and American occupiers." Hamas officials have told Israeli leaders that the Salafists are attacking civilian targets in the Jewish State with the intention of provoking Israeli forces into destroying Hamas, thus doing the Salafists' dirty work for them.
Taking Revenge
At the beginning of May, Hamas demolished a mosque used by a Salafist organization, alternatively called Islamic State Supporters in Bayt Al-Maqdis or the "Salafist Trend," and arrested nearly 40 of its members.
This, reportedly, was in retaliation for ISIS's takeover of the Yarmouk Palestinian refugee camp near Damascus.
According to a report in the International Business Times, after ISIS beheaded several Palestinians, including a senior Hamas official, inside the camp, last April, "the Palestinian Intelligence agency swore that it would avenge the killing of its personnel."
Threats
At the beginning of May, there were reports that Hamas operatives were torturing members of the Salafist Trend, who had been caught and imprisoned in Gaza. In return, the Salafists began threatening Hamas that there would be "consequences" if their prisoners were not released within 72 hours.
"Once again we ask the wise people of Gaza to stop the ongoing Hamas criminality and abusive detention of our brothers before it's too late," read the Salafist statement, adding that its leaders have the names of Hamas prison guards as well as Hamas security officers it says are monitoring Salafist supporters and raiding their homes.
"Those also won't escape punishment, sooner or later," threatened the Salafists.
Bombing Hamas
Two days later, the Salafists reportedly launched two bombs at Hamas posts in Gaza and sent a message to Gaza residents, warning them to "distance yourself from military and security posts and guard your lives."
Hamas's Interior Ministry spokesman Iyad al-Bozum denied that there had been any mortar fire, calling the report "baseless."
But a few days later, there was no denying the blast inside a Hamas military training camp, wounding 50 people, most of them women and children, some of them seriously.
At the end of May, the Army of the Islamic State claimed to have killed a top Hamas commander, Saber Siam, by placing a bomb on his car and blowing it up with him inside.
The Salafist group said he was killed as "a partner in a declared war against religion and against Muslims, working for the heretical government in Gaza." The ISIS group warned Hamas to "end its war against religion in Gaza" or "face the consequences."
Enemy of My Enemy
While the Fatah faction of the PA, which rules in the Arab areas of Judea and Samaria, does not share the Salafists' ideological agenda, Mr. Abbas and his colleagues view the Salafist movement as a counter-force to Hamas and, therefore, worthy of support.
Fatah leaders complain that Hamas refuses to hand over control of the border crossings between Gaza and Israel and Gaza and Egypt to the PA unity government. "This thwarts all efforts of the government on this issue," said Fatah spokesman Ahmed Assaf.
He emphasized that Gaza must be part of the land the PA aims to control. "There won't be a state without Gaza; there won't be a state in Gaza; and the Israeli plan to separate Gaza to establish a state at the expense of Jerusalem and the West Bank will fail thanks to the efforts of our people in Gaza," he said.
His statement reinforced the perception that the unity government neither functions nor exerts any control in Gaza. At the end of Operation Protective Edge, there was evidence that Hamas tried to launch a coup attempt against the Ramallah-based PA in Judea and Samaria, but was foiled by Israel.
Rockets on Israel
Hamas's problems from the Salafists include periodic missile strikes on Israel, which Hamas leaders insist were conducted without their permission.
For example, on May 26, just after 9pm, air-raid sirens sounded in Ashdod, Ashkelon, and in numerous other Israeli towns and villages in the southern regions close to Gaza. There were reports that Iron Dome missile defense batteries were deployed to Gan Yavneh, near Ashdod, to intercept at least one incoming Grad rocket.
No injuries were reported.
According to an Israeli security source, the rocket was launched from northern Gaza during a dispute between rival Islamist groups. The attackers, who might have been from the Islamic Jihad terror group, he said, hoped either to provoke an Israeli response against Hamas or were "merely" engaging in "a potentially dangerous form of saber-rattling."
Holding Hamas Responsible
Israel holds Hamas, as the ruling party in Gaza, responsible for all terror activity emanating from that area, and this was no exception.
"It is a shame that Hamas is trying again to escalate the security situation in the south. The State of Israel must respond to every instance of fire towards the citizens of Israel," said Israeli Culture and Sports Minister Miri Regev in a prepared statement.
Blaming Likud
Former Foreign Minister, Yisrael Beiteinu MK Avigdor Liberman, said the missile attack was the fault of the current Likud-led government.
"A government that isn't willing to write in its fundamental positions that it intends to overthrow the Hamas regime in Gaza is a government that broadcasts weakness," said Mr. Liberman, adding that if the current government refuses to act immediately, "it would be better for it to end its term now, for the sake of the security of Israeli citizens and for the strength of the State of Israel."
Mr. Liberman demanded the destruction of Hamas as a condition to his joining the government. When Israeli Prime Minister Benjamin Netanyahu refused, Mr. Liberman declined to join. He then filed a no-confidence motion against the government, claiming it was unable to deter Hamas.
Israel's Price Tag
Left-wing Labor MK Omer Bar-Lev agreed, calling on Mr. Netanyahu "to respond sharply and powerfully to Hamas…with our price tag."
"We are given yet another sign this evening that the lack of a strong position by Netanyahu and [Defense Minister Moshe] Ya'alon, together with the lack of the clear peace initiative relying on the opportunity created after Protective Edge, will bring us soon to another round [of fighting] in the south of the country," he said.
Mr. Bar-Lev's colleague in the opposition, Yesh Atid MK Haim Yellin, a resident of the Gaza border region and former head of the Eshkol Regional Council, demanded a response from the IDF.
"There has to be a clear price tag according to which the policy towards Gaza is conducted. We must disarm the Gaza Strip in exchange for its rehabilitation. While the people there have nothing to lose, we here will continue to suffer," he said.
Fearing an Israeli Strike
Hamas, fearing an IDF airstrike retaliation, responded by evacuating its security headquarters and military sites on orders of the terrorist group's Interior Ministry. The group then said it had arrested the people responsible for firing at Israel.
"What happened yesterday [the rocket fire] goes against the interests of the Palestinian factions in the Gaza Strip and against our national interests. We consider the rocket fire to be dangerous. Right after the rocket fire, our security forces were deployed to different places across the Strip and hunted for the shooters until they were found and arrested," a Hamas source told the Israeli press.
Nevertheless, a day later, the Israeli Air Force (AIF) struck four terrorist infrastructures in southern Gaza.
Israel stopped further retaliation after being asked by Egypt to "show restraint," but Mr. Ya'alon said that unless quiet were restored, Gaza residents would pay a heavy price.
Punishing Israel for Hamas's Crimes
By the beginning of June, the conflict between Hamas and the Salafists escalated. According to Iyan Buzum, spokesman for Hamas's Interior Ministry, Hamas police tried to arrest Yussef al-Hatar, a 27-year-old Salafist leader, for unspecified "illegal activities." Mr. al-Hatar tried to escape, opening fire on the Hamas forces and then trying to activate a suicide vest, but the police shot and killed him first.
On June 3, two rockets from Gaza exploded in the Sdot Negev region. There were no physical injuries or damages.
An ISIS-affiliated Salafist group, the Sheikh Amar Hadid Brigades, took responsibility, claiming the rockets against Israel were fired in revenge for the death of Mr. al-Hatar.
"We have repeated that we will continue in the way of Jihad against the Jews, the enemies of Allah. No one will stop us from fulfilling our obligation and attacking the Jews," the group said in a statement, presenting Hamas with an ultimatum: Either allow attacks on Israel from Gaza or accept that the Salafists will attack the Jewish state anyway.
Claiming Innocence
Mere minutes after the Salafist rocket attack, Hamas officials rushed to confirm that its operatives were not behind the strike. In a message to Israel, a senior Hamas source maintained that the ISIS affiliate was trying to increase the conflict between Hamas and the Jewish state.
Mr. Ya'alon said the IDF would continue answering all terror attacks against Israel no matter the point of origin.
"Even if the groups that fired rockets at Israel were gangs of disaffected jihadists seeking to challenge Hamas by attacking us, we see Hamas as responsible for these attacks. We will not tolerate attacks on our civilians," he said, adding that, if needed, "we will strike even harder, and last summer proved that."
Israeli Action
In response, Israel deployed two Iron Dome batters in the Ashdod and Netivot areas and a third battery in Ashkelon itself. They were needed to counter the continuing rocket attacks, which Israel answered with attacks on terrorist infrastructure.
Mr. Ya'alon closed the Erez and Kerem Shalom border crossings between Gaza and Israel. He said they would be opened only for humanitarian cases, and the decision to open them would be made on the basis of security assessments.
The strikes prompted many Israeli MKs to call for a more robust response from government.
"We cannot accept the situation in recent weeks, in which rocket fire—no matter from whom—in the Gaza Strip into our territory. Israel should establish a clear policy, declare consistent punishment for rocket fire, and exact a price from Hamas, which is responsible for the area," said Yesh Atid MK Ofer Shelah. "At the same time, Israel should move the process to mitigate Gaza's recovery and disarmament and the prevention of all fire from Gaza. The lack of political and military action ensures that the next round is waiting."
Mr. Netanyahu condemned the international silence on the resumption of rocket fire from Gaza. Despite Hamas's attempts to shift the blame to Salafist groups, Mr. Netanyahu confirmed that Israel would blame Hamas for all fire from Gaza into the Jewish State's territory.
"I did not hear anyone in the international community condemn the rocket fire and the UN did not speak. I wonder if the silence will continue even when we use our full power to exert our right to defend ourselves," he said, making it clear that "this hypocrisy which pervades the world will not tie our hands from defending the citizens of Israel."
Believing Hamas
Israeli military sources did not doubt, however, that Hamas was telling truth regarding the source of the rocket attacks into Israel. A senior IAF official, speaking on condition of anonymity, said it was clear that Salafist groups in Gaza are intentionally provoking Israel, hoping that the IAF will "finish off Hamas for them."
"The purpose of the latest rocket fire from Gaza is to light a fire between Hamas and Israel. They expect Israel to attack Hamas for them," he said, admitting that the situation is "quite complicated."
"On one hand, we want Hamas weakened, but, on the other hand, we want it strong enough to prevent terror attacks from other groups, such as rocket fire into Israel," he said.
Limited Israeli Reprisals
Jewish Home MK Moti Yogev agreed. If members of rogue terror organizations, over whom Hamas has no control, are carrying out the attacks, Israel and Hamas might have a common interest on which they can cooperate, he said.
"In order to preserve the power of the State of Israel, we can conduct a relationship with Hamas. We are talking about a temporary relationship in order to fight a common enemy. There is no sin in this," said Mr. Yogev.
Some observers say this is why, despite forceful remarks from Messrs Netanyahu and Ya'alon, Israeli reprisals for the missile attacks have been limited to empty Hamas training sites.
There have been no casualties on either side.
Supporters of ISIS
In the middle of June, graffiti claiming that ISIS is planning an assault on Israel was found in a Be'er Sheva playground, just hours after another rocket was fired toward Ashkelon.
As many as 30 Israeli Arabs have already joined ISIS, and no fewer than four of them have died fighting for ISIS in Syria and Iraq. A significant number of Gazan Arabs have also traveled to the Levant to fight for ISIS.
ISIS supporters have also made significant inroads in Judea and Samaria. Last November, Israeli forces broke up an ISIS cell in Hebron.
Blaming the PA
Perhaps recognizing that Israel was considering their explanations, Hamas leaders went on to accuse their rivals in the Fatah faction of the PA of perpetrating the string of bombings. Hamas's Interior Ministry spokesman claimed political and security sources in the PA were behind the rocket attacks in an effort to destabilize security in Gaza.
In Israel, the Hamas claim against the PA was dismissed. Not too long ago, Mr. Abbas's Gaza home was targeted, casting doubt as to the PA's role in the attacks.
Last Resort
Facing attacks from the Salafists and the PA, Hamas leaders seemed to hope that negotiations with Israel would persuade leaders of the Jewish state not to engage in retaliatory strikes on Gaza.
By the middle of June, Hamas sources reported that their leaders were seriously considering a Qatar-backed proposal to ask Israel for a five-to-ten-year ceasefire.
"There has been indirect contact between Israel and Hamas, messages passed via Arab channels as well as through European and Turkish sources," said one of the sources, describing it as "an indirect exchange of ideas."
The source said that Hamas is "ready for an agreement" and "wants to solve the problems in Gaza."
Hamas's Demands
The source, who would not say whether other Palestinian Arab factions were involved in the talks, said Hamas's demands included ending Israel's blockade on Gaza, opening all border crossings into Gaza, and allowing Hamas to build a floating port in the Mediterranean between Cyprus and Gaza to allow goods to enter Gaza without having to go through Israel.
The document of ceasefire ideas was reportedly drafted by former UK Prime Minister Tony Blair, who has long served as a mediator between Israelis and Arabs.
According to Osama Hamdan, who is responsible for Hamas's international relations, the idea of a ten-year ceasefire was too optimistic, but, he said, the terrorist group is ready for an agreement on "quiet" in return for the removal of the Israeli blockade, opening all border crossings into Egypt, and the Gaza port.
He insisted Hamas would retain the right to "respond" at the time and manner of their choosing to anything they decide is an Israeli breach of the agreement.
Israel's Demands
Israeli sources confirmed that there have been indirect contacts between the Jewish state and Hamas, especially with mediation by Egyptian officials. An Israeli source said the talks centered on "easing the blockade," not erasing it, in exchange for quiet, which means Hamas's agreement to disarm itself as well as other terrorist elements inside Gaza.
"But Hamas is finding it difficult to control Islamic Jihad and other Salafist elements in order to do this," said the source.
Many observers doubt that Israel would permit either a floating port or an end to the blockade. They point out that, according to the San Remo Manual, the accepted source for international maritime law, a blockade loses its legitimacy if the enforcer allows any ships to pass through freely. Should Israel permit goods to enter Gaza without Israeli monitoring, the entire blockade would be legally unjustifiable.
Israel, which has enforced a naval blockade of Gaza since 2007, two years after Hamas assumed control of the Strip, has long warned that such a passage would pave the way for massive smuggling of weapons into the hands of terrorists.
Allowing Reconstruction
Nevertheless, at the end of May, Qatari official Mohammed al-Amadi announced that Israel is not blocking Qatar from sending a wide variety of materials for reconstruction. He maintained that the reconstruction process is progressing with "construction material being shipped to Gaza every day without any obstacles."
According to Israeli President Reuven Rivlin, the rehabilitation of Gaza is an Israeli interest. Remarks to that effect by the president while touring northern Israel, inflamed family members of Givati Brigade Officer First Lieutenant Hadar Goldin, who fell in combat during Operation Protective Edge after Hamas terrorists breached one of several ceasefires to attack his unit on the outskirts of the city of Rafah. His body as well as that of Golani Brigade combat soldier, First Sergeant Oron Shaul, who was killed during clashes between Hamas infiltrators and the IDF in the Gaza Belt, are still being held by Hamas terrorists.
The Goldin family insisted that the return of the Israeli soldiers' bodies should take precedence over the reconstruction of Gaza.
"Any process planned in connection to the Gaza Strip must start with the return of the fallen Hadar Goldin and Oron Shaul," said Tzur Goldin, Hadar's twin brother.
Using the Dead for Propaganda
Hamas has said it will not release the bodies until Israel frees the fourth and final batch of jailed terrorists who were not released during the last round of peace talks, as well as the 63 terrorists who were among the 1,027 terrorists released in the 2011 Shalit deal and then rearrested for, once again, committing terror-related crimes.
Shortly after Tzur Goldin made his statement, the organizers of the Hamas soccer match leading to Gaza's soccer cup released a poster showing photos of Messrs Goldin and Shaul above a stadium. The two opposing soccer teams were each aligned with one of the soldiers. The poster called the match "Shaul vs Goldin."
A week later, Hamas claimed that Mr. Shaul is still alive. On Hamas's military faction's website, Al-Majd, the group published "new details" about Mr. Shaul's capture and the conditions in which is being "held alive" by Hamas terrorists.
According to the website, Mr. Shaul was abducted by two masked terrorists who took him blindfolded to a hideaway where he was locked in a corner with his hands tied and fed soup and hummus. According to the propaganda piece, Mr. Shaul realizes he will not be released until Israel meets all of Hamas's demands. When he asked what Israel's leaders were doing to secure his release, the terrorists told him that Israel is claiming he died and is not working to win his release.
The article on the website concludes by noting that not all the details are necessarily accurate. In Israel, that was seen as an understated admission of the fictional nature of the account.
Incorporating Gaza
While, on the surface, the PA does not object to Hamas's solidifying the truce between Gaza and Israel, the authority fears a situation in which Gaza is considered a separate entity rather than a part of the PA.
"If you end up having a different kind of status for Gaza, then basically the idea of a Palestinian state completely disappears. [The truce between Israel and Hamas] must not have as its price a move away from the Palestinian national consensus," said a spokesman for Mr. Abbas.
Denying the Talks
On June 18, the reports about talks between Israel and Hamas seemed to become too stressful for the terrorist group. Quoting a senior member of the Democratic Front for the Liberation of Palestine (DFLP), the Ma'an news agency said Hamas has denied holding any kind of talks with Israel.
According to Saleh Zeidan, Hamas's denial was announced at a meeting of Palestinian Arab terrorist factions that included Hamas, the DFLP, the Popular Front for the Liberation of Palestine (PFLP), and Islamic Jihad.
Mr. Zeidan warned that any unilateral long-term agreements between Hamas and Israel would have "dangerous consequences" and would benefit "the Israeli plan to separate Gaza from the Palestinian national project."
Still Bent on Destruction
But while pursuing some sort of peace with Israel, Hamas has made clear it is still intent on destroying the Jewish state. According to IDF Southern Command head General Sami Turgeman, Hamas has never stopped trying to dig attack tunnels into Israel.
During Operation Protective Edge, the IDF destroyed most of the tunnels Hamas had dug to Israel, but, Mr. Turgeman said, the terror group is now trying to reach the numbers it had before the war.
According to some reports, Hamas has switched from using manual slave labor—much of it by minors—to machinery to build the tunnels. Work on the tunnels is being carried out by some 1,000 human diggers, working six days a week with three daily shifts, as well as by a Bagger 288, a German-produced mining machine known as a bucket-wheel excavator.
According to reports, at least 160 Palestinian-Arab children died digging terror tunnels for Hamas. The Bagger can dig faster than children and can burrow into smaller spaces.
The Next War Looms
If the number of tunnels increases, Mr. Turgeman said Israel might be forced to bomb Gaza once again in order to prevent attacks. According to reports, he is trying to advance a process by which IDF troops would destroy every Gazan tunnel directed toward Israel, even if it means sending ground forces into Gaza and removing them after destroying individual tunnels.
Still, he said, Operation Protective Edge was a success.
"Hamas had many plans to attack soldiers and civilians in Israel. But we managed to neutralize those efforts," said Mr. Turgeman, adding that Hamas has made clear it suffered. "I see a high level of bitterness in their recent communiqués. They are very disappointed. They lost over 1,000 terrorists, their tunnel system was destroyed, and even with 4,500 rockets fired at Israel they were unable to cause any substantial damage to Israel."
Tunnels and Roads
Despite Mr. Turgeman's warnings, others in the IDF seemed unconcerned, until leaders of Kibbutz Nirim, located in the northwestern Negev near the border with Gaza, announced that they had invited a private security company to investigate the tunnels situation. On May 6, the IDF issued a letter to Nirim residents advising them of the military investigation.
One month later, a Hamas operative died when the tunnel on which he was working in northern Gaza collapsed. The Hamas statement regarding the death said the terrorist was killed while conducting "resistance-related activities." In Israel, that was interpreted to mean weapon transfers or attack-tunnel reconstruction.
In addition, there were reports that Hamas is constructing a new road in northern Gaza adjacent to an IDF army base, which is an Israeli-enforced "no-go zone," maintained by the IDF for security reasons to prevent terrorist infiltrations.
Hamas released photos of the work, showing a truck unloading paving material in front of a bulldozer which had an armed Hamas operative hanging onto its side, apparently supervising the construction. In Israel, military sources said the photo merely showed two people working in a fenced-off area. The area Hamas called an IDF base showed no watch posts, making the terrorists' claim dubious.
Road to Control Terror
Hamas leader Mohammed Zahar said the road has empowered Hamas patrols that have prevented Salafist terrorists from infiltrating into Israel as well while "protecting the properties" of Palestinians from Israel.
He said the road would help local farmers gain access to lands that could not be easily reached after Operation Protective Edge.
In Gaza, analyst Ibrahim al-Madhoun, who has close ties to Hamas, said the road is emblematic of "implicit, indirect understandings by both sides not to attack each other."
"The road is a message that there is a flexible political mind in Gaza. Hamas can take reasonable steps in the light of any regional or international changes," he said.
Truce or Terror?
On Israel's Channel 10 TV, senior military correspondent said Hamas was sending a conciliatory message to Israel. "What they are broadcasting with those patrols is: 'We are preventing friction with Israel. We are here to prevent fire on Israel,'" he said.
But he recognized that the Hamas patrols can also collect intelligence on Israeli military positions and soldiers which could be used against the Jewish state in a military offensive.
This was confirmed by senior Hamas leader Fathi Hamad who pointed out that the road was paved a mere 820 feet from the border, right across from Kibbutz Nahal Oz. Mr. Hamad said it is meant to be ready for "the moment to attack" Israel.
Israeli Heads in the Sand
Mr. Liberman said Israel's reaction to this announcement was akin to "burying its head in the sand."
"If the tragedy that is already written on the wall happens, the prime minister and defense minister will not be able to clean themselves of the responsibility," he said. "The prime minister should pull himself together now and do what needs to be done to overthrow the Hamas rule in Gaza. True leadership needs to know to deal with threats before calamity, and not when it's too late already."
By June 8, the head of the IDF Planning Division, Gen. Nimrod Sheffer, admitted that the IDF was unprepared to deal with the Hamas-built terror tunnels. However, he told the Herzliya Conference, the IDF's "underground challenge will be cracked."
"We have put unusual effort into solving technological and operational challenges. We need the IDF to be flexible enough to change as rapidly as our challenges change and move ahead of them," he said.
This has led many observers to wonder if Hamas might use the truce as an undercover means to rearm.
"Hamas has already been busily siphoning off construction materials to build its terrorist attack tunnels into Israel, and has likewise been developing its domestic missile program to prepare for its next attack on the Jewish state," said Arutz Sheva reporter Dalit Halevy.
Gestures
Even Israel's attempt to offer gestures to the Palestinians in honor of the Muslim holy month of Ramadan went awry. On June 16, Israel announced that all Arab men over the age of 40 and all Arab women in Judea and Samaria would have access to the Temple Mount in Jerusalem. In addition, 800 Arab residents of Gaza would also be allowed onto the Temple Mount for Friday prayers.
As further concessions, Israel said it would permit 500 Arabs from Judea and Samaria as well as 300 Palestinian-Arabs living abroad to enter Gaza to visit family. Another 500 Arab residents of Judea and Samaria were given permission to fly from Ben-Gurion International Airport.
According to the IDF, "for the first time, 200 families from Gaza have been approved to visit residents in the West Bank during Ramadan and the Eid-al-Fitr holiday."
Gestures Cancelled
But one week later, once again, a rocket was launched from Gaza and fell into an open area of the Hof Ashkelon area. There was no damage.
And once again, there was a political firestorm in Israel. Mr. Liberman said Israel could not put up with "trickling" rocket fire.
"Those who are willing to absorb trickling will eventually receive torrential rain. We must not accept this situation," he said, adding, once again, that "a government that is ready to accept the situation, less than a year after the military operation in which we paid a high price in the lives of soldiers and the disruption of life in the entire country for two months, has no right to exist."
The IAF responded by taking out the rocket launcher in northern Gaza that was used for the attack.
As a result of the rocket attack, Israel canceled the Friday entry permits for 500 Gazans to Jerusalem. After a Palestinian terrorist from Hebron stabbed an Israeli Border Patrol officer at the Damascus Gate of Jerusalem's Old City, entry permits into Israel for all residents of Sa'ir, the village near Hebron where the terrorist resides, were also cancelled. When a terrorist murdered 25-year-old Israeli engineering student Danny Gonen in Samaria, the 500 permits to fly abroad through Ben-Gurion Airport were also cancelled.
S.L.R.