Ess Gezint: Memoirs of Dysfunctional Jewish Homes with Recipes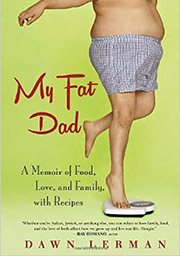 Two new paperback cookbooks prove that dysfunctional Jewish families can produce New York-based innovative chefs who go on to lead successful professional lives, even though they may not achieve personal normalcy.
In My Fat Dad, subtitled "A Memoir of Food, Love, and Family, with Recipes" (Berkley Books), Dawn Lerman, a board-certified nutritionist, grew up in a home headed by her morbidly obese public relations/advertising whiz of a father. This is no understatement. According to Ms. Lerman, he was the copywriter behind such iconic ad campaigns as "Fly the Friendly Skies of United," "This Bud's for You," and "Leggo My Eggo." He also weighed 450 pounds and that seems to have been the seminal, overriding emotional fact of her childhood and adolescence, as well as the impetus for her interest in food.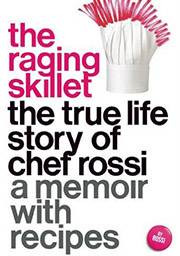 Chef Rossi, née Slovah Ross, is the owner and executive chef of a decidedly non-kosher catering company called The Raging Skillet, but in her cookbook, The Raging Skillet: The True Life Story of Chef Rossi, a Memoir with Recipes, she reveals her past. The child of Orthodox (though highly unusual) parents in Long Branch, NJ, she rebelled and drove them as crazy as they drove her. In a last-ditch effort to help her reform, her parents sent her to live with a charismatic, well-reputed Lubavitch rabbinic family in Crown Heights. Needless to say, the effort failed.
Today, Chef Rossi glories in her cutting-edge reputation. While her parents hoped she would marry a nice Jewish boy, these days, she says, "I marry lots of nice Jewish guys, sometimes to each other."
Ms. Lerman, too, was originally raised in a religious home. Before the family left Chicago for the Madison-Avenue Mecca in New York, she attended yeshiva and enjoyed an especially warm relationship with her grandmother, whom she called "Beauty." Actually, "Beauty" was the name her grandmother gave to Ms. Lerman, but she said it so often, Ms. Lerman became convinced it was actually her grandmother's name.
One can't help wondering if Ms. Lerman's unhappy early life would have been different if someone had suggested going home to Chicago or if Chef Rossi's debauchery would have been mitigated had she been exposed to the beauty of Yiddishkeit without the hypocrisy and stifling insanity which she encountered. Nevertheless, both writers dedicated their books to their birth families.
Despite both writers' departure from religious lives, the dietary laws continue to inform their writing. Chef Rossi groans when she presents an obviously treif ingredient, and frequently suggests a substitute to render the dish kosher. Most of the recipes in Ms. Lerman's book are, in fact, kosher, but it doesn't occur to her to suggest substitutes when they are not.
S.L.R.
Fat Dad's Diet-Friendly Chiffon Pie
1 (3oz) box strawberry-flavored sugar-free gelatin dessert
¼ cup boiling water
12 oz sugar-free, low-fat strawberry yogurt
8oz pre-whipped, sugar-free whipped topping
1 graham cracker crust
Fresh strawberries, sliced
Dissolve the gelatin dessert in the boiling water. Stir 2 minutes until the dessert is completely dissolved. When partially set, fold in the yogurt and then the whipped topping and blend with a hand mixer. Pour into the graham cracker crust. Refrigerate overnight. Garnish with fresh strawberries before serving.
Beauty's Salmon Patties
Oil, for frying
18 oz canned wild salmon, in water
2 eggs, beaten
1 cup finely chopped onions
1 cup tomato paste
1 cup bread crumbs
Pre-heat the oven to 350°. Lightly oil a baking sheet. Drain the liquid from the salmon and put the fish into a large bowl. Mash with the back of a fork until the fish is in small flakes. Add the eggs, onion, tomato paste, and bread crumbs. Mix well and form into patties. Fry the patties in the oil until brown, then move them to the prepared baking sheet. Bake for 15-20 minutes. Flip carefully with a spatula. Cook another 5-10 minutes. Yields 16 patties.
Chef Rossi's Cheap and Easy Nachos
1 16oz bag corn tortilla chips
1 8oz can black beans, drained
A few handfuls (enough to cover the chips) grated Monterey Jack and/or cheddar cheese
Sliced pickled jalapeños, optional
Sour cream, optional
Preheat the oven to broil. Fill a baking dish with corn tortillas chips. Sprinkle the beans around the chips. Pile the cheese on top, enough to cover. If desired, put a slice of pickled jalapeño pepper on each chip after it is cheesed, but before it is put in the oven. Put under the broiler until the cheese is melted and brown. Serve with Barmaid Salsa on one side of the nachos and Riverboat Guacamole and sour cream on the other. Serves 6.
Barmaid Salsa
10 plum tomatoes, chopped
1 onion, chopped
1 handful cilantro, chopped
1 plop (a little more than a Tbs) jalapeño, minced
Salt
3 drizzles (sort of like 2 wet plops) fresh lime juice
Mix tomatoes, onion, cilantro, and jalapeño. Salt to taste and add lime juice.
Riverboat Guacamole
4 avocados
1 onion, chopped
1 plop (a little more than a Tbs) jalapeño, minced
1 plop (a little more than a Tbs) garlic, minced
2 shots (what lands in your shot glass if the bartender likes you) fresh lime juice
1 handful fresh cilantro, chopped
1 pinch salt
1 pinch ground cumin, optional
Mash avocados with the onion, jalapeño, garlic, lime juice, cilantro, salt, and, if using, cumin. Put mixture in a food processor and process once or twice until well mixed.