Ess Gezint: Jewish Soul Food for Summer

Jewish Soul Food: Traditional Fare and What It Means by Carol Ungar (Brandeis University Press) is not another "coffee-table" cookbook, almost too beautiful to risk staining in the kitchen. This is a slim paperback with a mission: To showcase the deep link between Jewish foods and Jewish beliefs. For example, she explains that Majadarah is eaten before Tisha B'Av because lentils are closed spheres without an opening or a mouth, just like mourners. She also gives detailed instructions on how to fashion almost two dozen spectacular challahs.
Doctored-Up Gefilte Fish
1 frozen log gefilte fish (do not defrost)
1 small onion, minced
1 tsp salt
¼ tsp ground pepper or to taste
1 medium-size carrot, left whole
¾ cup granulated sugar (optional)
Put fish roll in a pot with a lid and pour in enough water to submerge the role halfway. Add onion, salt, pepper, and the carrot. If you like it sweet, add sugar. Bring to a boil, then reduce to a simmer. Continue cooking for 1¼ hours. Check periodically, adding water as needed. Drain, cool, and serve 8. Does not freeze well.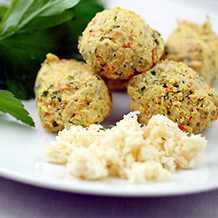 Anglo-Jewish Gefilte Fish Balls
1 frozen log gefilte fish
¼ tsp black pepper
1 cup matzoh meal
Vegetable oil for deep frying
Ketchup, chutney, or dipping sauce (optional)
Defrost gefilte fish by leaving it in the refrigerator overnight. Add pepper and then matzoh meal, one handful at a time so that you can form the fish into walnut-sized balls. The mixture should be soft but able to be handled. Heat 2 inches of oil in a stockpot or deep saucepan. There should be another 2 inches of clearance over the top of the oil. When oil reaches 365° on a deep-fat frying thermometer, drop balls in batches into the hot oil. Do not crowd the pot. Deep fry for about 6 minutes, until browned on all sides. Remove with a slotted spoon to paper towels to drain. Serve hot or cold with or without ketchup, chutney, or dipping sauce. Makes 3-40 balls to serve 10.
Rice-and-Lentil Pilaf (Majadarah)
1 cup brown or green lentils
1½ Tbs plus ¼ cup vegetable or olive oil
2 cups basmati rice
Salt
6 cups boiling water or stock
3 medium Vidalia onions, sliced into thin crescents
¼ tsp cumin
¼ tsp black pepper
Greek yogurt for serving (optional)
Cover lentils with water in a saucepan and simmer, covered, for 20 minutes until tender. Drain. Heat 1½ Tbs oil in a large saucepan over medium flame and sauté rice briefly, stirring. Add lentils and 2 tsp salt. Pour boiling water or stock over rice and lentils. Simmer on a low flame, covered, for 20 minutes. Heat remaining ¼ cup oil in a skillet over a medium flame and sauté onions, stirring frequently, until dark brown, about 10 minutes. Add cumin, pepper, and salt to taste. To serve, spoon rice and lentils onto a serving platter and top with fried onions. Can be served with yogurt. Serves 4.