Ess Gezint: Cook, Pray, Eat Kosher—for a Great Seudah
Ess Gezint: Cook, Pray, Eat Kosher—for a Great Seudah
By Susie Rosenbluth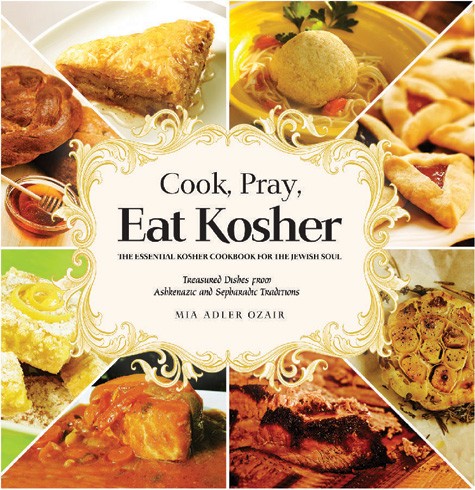 When Mia Adler Ozair met her Israeli-Iraqi husband-to-be, she was an unadventurous Ashkenazi-American home cook who, as she says, "kept it safe in the kitchen."  All that changed when she met her husband. Both mostly secular in their separate youths, they were observant when they met. She calls him "Rebbe Shaul," and he calls her his Neshama. Her new cookbook, Cook, Pray, Eat Kosher: The Essential Kosher Cookbook for the Jewish Soul (Oakhurst Publishing, distributed by Feldheim), is the result.
"Cooking for someone is one of the most spiritual and intimate acts of creation and sharing. In what other circumstance does something you create actually become a part of another person?" she says, recognizing that "although all people eat in order to survive, for the Jewish person specifically, eating is meant to be a way to elevate our connection with G-d."
Thus, a good part of this book, whose recipes she calls "treasured dishes from Ashkenazic and Sephardic traditions," is devoted to using "the act of eating to elevate your soul."
We thought the recipes provide an interesting way to celebrate Purim. Chag Sameach, everyone.
Soft Pretzels
1 pkg active dry yeast (2¼ tsp)
1½ cups warm water
1 tsp sugar
1 tsp salt
4 cups flour (use more if sticky)
1 egg, beaten
Coarse kosher salt
Preheat oven to 425°. Combine yeast with a little warm water and let stand five minutes. Add rest of water, sugar, salt, and flour. Press dough into shapes and place on greased cookie sheet. Brush with beaten egg and sprinkle with coarse salt. Bake 12-15 minutes. Makes 12-15 large pretzels.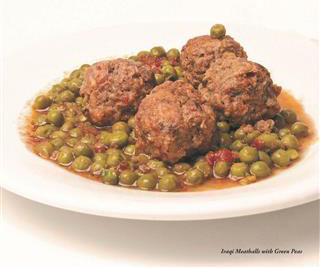 Iraqi Meatballs with Green Peas
Meatballs
2 lbs lean ground beef
1 bunch parsley (approximately 1 cup)
1 onion, chopped
1 Tbs salt, or to taste
2 tsp fresh black pepper, or to taste
Sauce:
1 Tbs grapeseed oil
3 cups water
1½ tsp dry chicken soup mix
1 tsp salt
¼ tsp pepper, or to taste
Turmeric to color light yellow
1/8 tsp curry
2 bay leaves
1 large bags frozen green peas
Combine ingredients for meatballs in large bowl and set aside to rest 15 minutes. Form meatballs. In a large pot, combine all sauce ingredients, except for peas, and bring to a boil. Add meatballs and cook, covered, for 25 minutes over medium heat, stirring once or twice during this time. Add frozen peas to the pot. Continue to cook another 20-30 minutes on medium heat, stirring occasionally. Serves 6-8.
Baked Sweet Potatoes
2 40-oz cans sweet potatoes (save liquid)
2 11-oz cans mandarin oranges, save liquid
12 shakes ground cinnamon
6 shakes ground cloves
Preheat oven to 350°. Drain liquid from potatoes and oranges into a saucepan. Heat liquid in saucepan to boil. Add cinnamon and cloves to the saucepan and simmer, uncovered, to reduce liquid, about 30 minutes. Put potatoes and oranges in a lasagna baking dish and pour liquid mixture over top. Bake about one hour or until done. Serves 6-8.
Glazed Carrots
2 lbs baby carrots
¼ cup low-sugar apricot jam
Wash carrots and cut to small size, if necessary. Cook, covered, until done. In a separate saucepan, heat jam to simmer. Pour over carrots and stir until they are glazed. Cook over low heat about three minutes. Serves 8.
Toffee Squares
Approximately 1 pkg honey graham crackers (exact amount determined by pan size)
2 sticks unsalted parve margarine (not frozen)
1 cup brown sugar
2¼ oz chopped nuts (almonds, pecans, or walnuts)
Preheat oven to 375°. Break graham crackers into quarters and line a jelly roll pan (with a lip) with the pieces. In a saucepan, caramelize the margarine and brown sugar, that is, melt them over a low flame, bring to a boil, and simmer for 4 or 5 minutes, stirring occasionally to avoid burning. The mixture will bubble. Pour the mixture over the graham crackers and spread evenly over the top. Sprinkle with nuts and bake for 10 minutes. Let cool and lift cookies from the pan, breaking into pieces. Makes 4 to 5 dozen cookies.