Christians Beheaded and Burned Alive by Muslim Terrorists; If "Never Again" Means Anything, Wear Something Orange and Take Action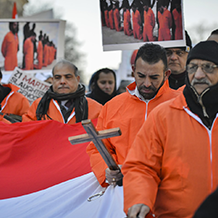 Ten years ago, supporters of the Jewish state, in Israel and abroad, wore orange to show solidarity with the 10,000 Jewish residents of Gush Katif who were evicted from their communities. This year, in a project initiated by The Jewish Voice and Opinion, Jews are being asked to join other men and women of all faiths in wearing orange as a sign of support for the persecuted Christian communities in Muslim-majority countries in the Middle East, Africa, and Asia.
According to Rev Frank Karwacki of Our Lady of Mount Carmel Catholic Church in Mount Carmel, PA, orange was selected because it represents the jumpsuits captives of the Muslim terrorist group Islamic State are forced to wear, especially just before beheadings.
"We hope to draw attention to the plight of persecuted Christians by encouraging people to wear orange ribbons and other articles of clothing," he said.
Proud of the Barbarity
Just last month in Libya, 21 Egyptian Coptic Christians in orange jumpsuits were forced to kneel on a beach in front of knife-wielding ISIS terrorists dressed in black. Their beheadings were filmed and sent out on the Internet as a video entitled "A Message Signed with Blood to the Nation of the Cross." A scrolling caption in its first few seconds says it is directed to "People of the cross, followers of the hostile Egyptian Church."
Since last June, when ISIS declares its "caliphate," the terror group has killed more than 2,000 people, about two-thirds of them civilians.
The group seems to revel in its barbarity, videoing its executions and producing a glossy propaganda magazine in which the group insists that capturing "infidel" women and forcing them to serve as sexual slaves is mandated by Islam.
Grisly Choice
Rev Karwacki, who said he was thrilled to be joined by the Jewish community in this project, said he was spurred to action by the destruction and executions carried out by ISIS.
Last year, in Mosul, Iraq, ISIS set fire to a 1,800-year-old church. The Islamists have destroyed an ancient tomb, recognized traditionally as that of the Biblical Prophet Jonah.
On set days, ISIS officials give Christians a deadline by which time they must either convert to Islam, pay a "second-class citizen protection tax," flee, or be killed.
Destruction
Before 1948, when Israel declared its independence, there were 135,000 Jews in Iraq. Currently, there are seven. Now the Muslim terrorists have turned their attention to the Christians.
Iraq had been home to an estimated 1 million Christians, but, like Christians elsewhere in the Middle East, most of the community has fled. Church officials say the community there still numbers around 450,000.
"They destroyed these ancient churches and killed so many Christians. I'm hoping that others join the orange campaign. America cannot afford to be silent about what's going on," said Rev Karwacki.
Rev Patrick Mahoney, spiritual leader of the Church on the Hill in Washington, D.C., said every five minutes, a Christian somewhere in the world dies for his or faith.
"That's over 100,000 per year," said Mr. Mahoney.
The situation is especially horrifying for women. Some of have been sold into sex trafficking operations and many are subjected to forced marriage.
Ribbons for Rescue
Lydia O'Leary wants people to wear orange, but only as a reminder to do more. Her group, Ribbons for Rescue, encourages people to call on lawmakers to provide more financial assistance for Christian refugees in the Middle East and offer them safe havens in the US.
Ribbons for Rescue, which has been active in Boston and New Hampshire, has a threefold mission: to raise awareness of the plight of persecuted Christians, to respond to hate with love, and to provide information and resources to get people involved, whether through prayer, financial donation, or action.
Wear orange today.
S.L.R.