At the Republican Jewish Coalition: Fireworks, One-Liners, and Some Confused Boos
By Susan L. Rosenbluth, TheJewishVoiceAndOpinion.com
Those attending the Republican Jewish Coalition's Presidential Candidates' Forum on December 3 in Washington could be forgiven if they came away wishing they could choose their favorite candidate the way they might select a meal from a Chinese menu: Take some policies from Sen Marco Rubio (R-FL), NJ Governor Chris Christie, and former Arkansas Governor Mike Huckabee; some one-liners with wisdom mixed in from Sen Ted Cruz (R-TX) and Donald Trump; and some interesting anecdotes and unexpected perspectives from Dr. Ben Carson, Sen Lindsay Graham (R-SC), and finally Carly Fiorina.
The program also included former FL Governor Jeb Bush, former VA Governor Jim Gilmore, Ohio Governor John Kasich, former NY Governor George Pataki, and former Sen Rick Santorum (R-PA).
At the RJC forum, none of the candidates had to fight for extra minutes of exposure. Beginning with Mr. Cruz and ending with the former CEO at Hewlett-Packard, Ms. Fiorina, the full-day conference allowed each of the 13 participating candidates to speak for 20-25 minutes, followed by five to ten minutes of questions, submitted earlier by participating members of the RJC.
Including an hour break for lunch, it was a full-day affair.
More That United
Although there were some differences among the participating candidates, it is fair to say there was much more that united them. All agreed that Israel is not only the US's closest ally in the Middle East, but its most reliable supporter in the world, judging by its votes at the UN and its actions on the ground. They agreed that the icy relationship established with the Jewish state by President Barack Obama and his former Secretary of State (and now Democratic Presidential frontrunner, Hillary Clinton), is not only a strategic error, but a moral failing.
Mr. Rubio, who, like most of the others, defined Judea and Samaria as part of Israel, noted that there are those in Washington who "wish America would abandon Israel to its multitude of eager enemies." These, he said, include "despotic regimes and even free nations throughout Europe that should know better given their histories." They now threaten Israel physically, politically, and diplomatically, exposing the Jewish state to "bullying to which no other nation is subjected," he said.
In the past, he said, the US had stopped these attacks, but "President Obama—and I'm afraid, Hillary Clinton—have a different policy." He said that while they call their approach "engagement," especially of Israel's enemies, "it should really be called 'abandonment'" of Israel.
To make his point, Mr. Rubio recalled PA President Mahmoud Abbas's recent speech at the UN in which he stressed that the "protracted Israeli occupation of our land" had gone on for "67 years," meaning since 1948, the year the Jewish state was established.
"So the man who is supposed to be Israel's 'partner for peace' just said that all of Israel is illegitimate and that the Jewish state is an 'occupation' of someone else's land," said Mr. Rubio, who focused his outrage not just against Mr. Abbas but also at the US administration for its lack of response.
"By Obama's silence, our government emboldened those who seek Israel's destruction and made itself a bystander to a poisonous lie," he said.
Terror and Labels
Mr. Rubio said the same was true of the administration's flaccid response to the current spate of Palestinian terror attacks against Israelis, and the European Union's recent approval of a new trade rule that requires special labeling of products that come from areas the EU considers "Israeli-occupied territories."
He stressed that the EU's goal is to encourage Europeans to boycott goods from Israel. However, he said, the EU rule applies to no other country, including Russia, which invaded Georgia and the Ukraine, or China, which occupies Tibet. Singling out Israel with "discriminatory laws that apply only to Jews" is antisemitism, he said.
"When I am President, there will be no acceptance of antisemitism hiding behind the Arab-Israeli conflict," he said.
War
There was no doubt among any of the candidates that the US, like Israel and, in fact, the West in general, is now at war with radical Islamist terrorism. They agreed that attempts by Mr. Obama and Mrs. Clinton to appease Islamists, including the administration's refusal even to name the enemy, has exacerbated the situation.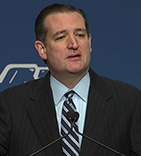 "We need a war-time President to defend America," said Mr. Cruz. "The politically correct double-speak that comes from the Obama Administration has gone beyond the point of ridiculous. When the President stands up and says the Islamic State isn't Islamic, that's just nutty. We need a President who calls the enemy by its name, 'radical Islamic terrorism,' and we will defeat it."
He maintained that Mrs. Clinton "has proven she can't protect Americans from physical harm or even answer the phone at 3am."
The GOP frontrunner, Mr. Trump, however, implied a more sinister explanation for the President's policies. "There's something going on with him that we don't know about," he said.
Beheadings vs Sunburn
All the Republican candidates took issue with Mr. Obama's insistence that climate change is the greatest threat facing the US. The Republicans gave that honor to the Islamic State (ISIS) and radical Islamist terrorists, which they agreed included Iran.
Mr. Huckabee quipped that the President was supposed to be the Commander-in-Chief, "not the meteorologist-in-chief."
"The greatest threat to society is a beheading, not a sunburn," he said.
Mr. Cruz joked that he, like Mr. Obama, trusted the Iranians. "When the Iranian dictator Ayatollah Khamenei burns American and Israeli flags, I trust him that he means it," he said, adding that "history has not been kind to those who have facilitated the gathering storm of homicidal maniacs who tell us they want to kill us."
Mr. Trump pointed out that some observers are convinced the entire science of climate change is "a hoax."
Areas of Agreement
Other areas of general agreement among the Republican candidates included the necessity of tearing up or, at least, re-negotiating Mr. Obama's "catastrophic" nuclear deal with Iran; the need to address antisemitism in the US and around the world, especially as manifested in the Boycott, Divestment, and Sanctions (BDS) movement; and the demand that the US re-establish with Israel a close relationship in which there is "no daylight."
They also agreed that Mrs. Clinton would make "a dreadful President."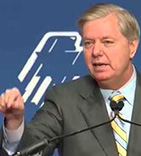 "If you want to change Obama's foreign policy, why would you vote for his Secretary of State?" said Mr. Graham, recalling that Mrs. Clinton had no problem replying to her friends' emails, but ignored 600 requests for help from US Ambassador to Libya Chris Stevens.

"She told her daughter the attack in Benghazi was by terrorists and not about a video, but she told the American people the filmmaker was in jail," said Mr. Graham.
Blackmailed by the President?
Mr. Trump suggested that Mrs. Clinton is being blackmailed to adhere to the Obama White House narrative, especially on Benghazi, arguing that if she were to veer from the White House's line, the President would instruct his Attorney General to indict her.
"So when you see Hillary backing up virtually everything Obama says, he's got total control of her," said Mr. Trump.
He said her email activity constituted much more serious criminal behavior than that perpetrated by General David Petraeus who, in January 2015, pleaded guilty to one misdemeanor charge of mishandling classified information.
"Petraeus was handed a life-changing punishment and what he did was nothing compared to her activities," said Mr. Trump.
Further, he said, there is a six-year statute of limitations on her activities, "so she's fighting for her life."
"If she doesn't become President, she'll have a real problem. What she did was just wrong, but she's been involved in corruption all her life. We became aware of it starting with White Water," he said.
"Horrible"
He said she was also "a horrible Secretary of State." "She traveled a lot, but nothing ever got done. The world blew up around her," he said.
Asked if she was a friend of Israel, he admitted she says she is, but, he said, "it's less so than you think because she's going over to the other side."
He blamed her Democratic rival, Sen Bernie Sanders (D-VT) for "bringing her to positions she didn't want to be at."
Standing up to Iran
While all the candidates had harsh words for Mr. Obama's nuclear deal with Iran, Mr. Trump called it "the single worst thing that ever happened to Israel."
"The fact that Obama was willing to make that deal, for anybody who loves Israel to support this guy, or even the Democratic Party, is impossible to believe," he said.
Mr. Cruz said the next President of the US "needs to have the fortitude to say to the Ayatollah Khamenei in no uncertain terms, either you will stop your nuclear-weapons program or we will stop it for you."
Stopping the Hate
Mr. Rubio insisted on the importance of speaking out against the BDS movement, which, he said, "reeks of hypocrisy."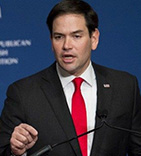 "This coalition of the radical left thinks it has discovered a clever, politically correct way to advocate Israel's destruction. BDS couches hatred in the language of human rights and social justice, but these boycotters do not seek to punish Cuba, North Korea, Iran, Syria, or Russia—all actual human rights violators. Their campaign is aimed only at Israel. They make wild, false accusations in the hopes of inciting so much hatred of the Jewish state, especially on our campuses, that eventually support for Israel will become politically taboo", he said.
If elected, Mr. Rubio said he would call on university presidents, administrators, religious leaders, and professors to speak out with clarity and force on this issue—"the same way they speak out against racism and other forms of bigotry."
"I will make clear that calling for the destruction of Israel is the same as calling for the death of Jews," he said.
Mr. Cruz went further, saying that, in his administration, "any university that supports the BDS movement" will lose its federal funding, a remark that won him a standing ovation.
Sen. Graham applied the same principle to international bodies, saying he would support defunding any agencies of the UN that tried to marginalize Israel, including the International Criminal Court.
Policy Difference on Regime Change
This is not to say there were no policy differences among the candidates. For example, Mr. Cruz favors toppling ISIS but leaving Syrian President Bashar Assad and his Alawite regime in power; Mr. Rubio wants both ousted.
Mr. Cruz pointed to the example of Libya, which, after the death of its dictator, Colonel Muammar Gaddafi, degenerated into chaos.
Like most Western countries, the US approved the killing of Mr. Gaddafi, but Benghazi is now a stronghold of Ansar al-Sharia, the al-Qaeda-linked group that murdered US Ambassador Stevens and three other Americans in 2012. Tripoli is controlled by the self-described General National Congress, backed by Libya Dawn, a group of militias, most of them Islamist, that have turned the desert nation into a series of rival city-states. Gaddafi's former home of Sirte is now the base of Libya's own chapter of ISIS.
In Egypt, the Obama administration approved the ouster of former President Hosni Mubarak, who was then replaced, in an open election, by Mohammed Morsi and his radical extremist Muslim Brotherhood. When the more moderate Abdel Fattah al-Sisi overthrew Mr. Morsi, Mr. Obama objected.
In Syria, as in Egypt and Libya, the current uprising erupted in 2011 as part of the so-called Arab Spring protests, which Mr. Assad attempted to quell with great violence. The subsequent popular revolution and civil war has led to more than 250,000 deaths and the displacement of millions of refugees.
Terrorist Takeovers
"If we are to defeat our enemies, we need to be clear-eyed that toppling a government and allowing radical Islamist terrorists to take over a nation is not benefitting our national security interests," said Mr. Cruz.
Mr. Rubio disagreed that a terrorist takeover is the only possible outcome. He argued that as long as Mr. Assad remains in power in Syria, "you're going to have in place someone that creates the conditions for the next ISIS to emerge." He called Mr. Cruz's plan to "leave Assad there because he's a brutal killer, but he's not as bad as what's going to follow him," a "fundamental, simplistic, and dangerous misunderstanding of the reality of the region."
Mr. Rubio called Mr. Assad an "Iranian puppet" who serves as a conduit for weapons to be used against Israel by the Lebanese-based terrorist group, Hezbollah.
The trick to replacing Assad, he said, is to find and empower non-jihadists to take over the Syrian government. Otherwise, he said, "the vacuum will be filled by radical Islamist terrorists."
Difficult Dichotomy
At the RJC forum, the audience seemed to favor Mr. Rubio's position. Noah Pollak, executive director of the conservative Emergency Committee for Israel, called Mr. Cruz's view "puzzling."
"Why would Ted Cruz want to keep the Assad regime in power? It has armed and funded Hezbollah, has hosted Hamas, and is one of the worst state-sponsors of terror in world," he said.
Others also pointed out the dichotomy between Mr. Cruz's overwhelming support for the State of Israel and determination to force Iran to relinquish its nuclear program, on one hand, and his seemingly nonchalant acceptance of Mr. Assad, on the other.
Dismissing Iran and Russia
Sen Graham, who spoke after Mr. Cruz, also opposed keeping Mr. Assad in power. He suggested that other Sunni Arab states, including Turkey, would fight to eliminate ISIS if they knew that, once that war was over, Mr. Assad would be replaced.
He recognized that Iran and Russia would object, but, he said, they wouldn't have much to say about the matter.
"The Syrian people will pick the next leader after the Butcher of Damascus is out," said Mr. Graham, referring to Mr. Assad's murder of his own people. "If Russia or Iran tries to interfere, we'll let them fight the rest of the Sunni Muslim-Arab world."
"Mensch with Chutzpah"
At the forum, the candidate who caused the greatest uproar was Mr. Trump, who was introduced as a "mensch with chutzpah," and  seemed determined to live up to that reputation.
For the most part, he was treated by the audience as a member of the family from whom they could accept a self-deprecating Jewish joke because the source was recognized as warmhearted and congenial.
"Do you just like me because my daughter happens to be Jewish?" he opened, adding that since her Orthodox conversion and marriage to West Orange, NJ, native Jared Kushner, a scion of the family that established the Kushner Yeshiva system, he can't reach Ivanka (sometimes called Yael) on Saturdays.
"The Best for Israel"
Mr. Trump, who said he was the only American celebrity to make a commercial for Israeli Prime Minister Benjamin Netanyahu during the last Israeli election cycle, had no problem criticizing the overwhelming number of Jews who had voted for Mr. Obama.
"I don't understand it. Obama was the worst thing to happen to Israel, and here are these folks who are great friends of Israel, great supporters of Israel, who claim they love Israel with a passion, and they are fundraising for Obama. When you ask them why, they say they don't know," he said.
Similarly, he said, he suspected the Jews attending the RJC forum would not support him even though "I'll do more for Israel than anybody else."
The reason, he said, is that he is self-funding his campaign and does not want their money. "Isn't that crazy," he said. "I would love your support, but I don't want your money."
Controlling the Politician
He noted that Mr. Bush had raised $125 million, "which means he's controlled totally by the people who gave him the money. That's why you want to give me money, but that's okay. You want to control your own politician."
Mr. Trump seemed to understand why those in the room believe financial support to politicians was important. Just five months earlier, he said, he donated $350,000 to the Republican Governors Association.
"I didn't even get a letter of thanks. Why give more?" he said, which seemed to imply that giving politicians financial support does not result in fruitful access.
"Politicians are generally incompetent. The only thing they're good at is getting elected," he said.
$150 Billion
Like the other candidates at the forum, Mr. Trump was appalled at Mr. Obama's nuclear deal with Iran. While he was certain he could turn the deal around, he groused at the notion that the Islamic Republic will have $150 billion that cannot be recouped.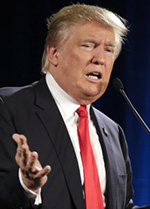 "With that money, they can buy nuclear weapons; they don't have to develop them," he said, vowing that, as President, he would have the Iranians under surveillance and would not allow them to self-inspect their own facilities or be given 24 days' notice.

"During those negotiations, Obama conceded on everything, because he wanted a deal," he said, calling it "a catastrophe for Israel."

"How can anyone be a supporter of Israel and the Democratic Party after that deal?" he said, promising that, as President, he would re-negotiate to "straighten it all out, tough and fast, but the $150 billion will be gone before the year is up, and that hurts me and the people in this room."
Getting Back the Prisoners
He stressed that he would have started the negotiations by demanding the Iranians return American prisoners still being held by Teheran, and, if they refused, he would have left the table.
"Then we would have doubled and tripled the sanctions against them. They'd be back, begging for negotiations," he said.
He mocked the Obama administration's excuse that they did not want to "complicate" the negotiations by asking for the American prisoners. "That was the worst negotiation I've ever seen. If I win this election, before I take office, our prisoners will be returned," he said.
Renegotiating Bergdahl
He was also critical of the way the Obama administration negotiated with the Taliban-aligned Haqqani network in Afghanistan over the release of US soldier Robert Bowdrie Bergdahl, who was exchanged for five Taliban members being held at the detention center at Guantanamo Bay. Mr. Trump insisted those five are all waging war against the US again.
Mr. Bergdahl has been charged with one count of desertion and one count of misbehavior before the enemy.
"And these foolish people in Washington knew six US soldiers were killed when they tried to find him. Everyone knew he was a traitor. I'll renegotiate that deal, too. We'll dump him back in Afghanistan even if we don't get the five guys back," he said.
Many Negotiators
The subject of negotiations and, especially, renegotiations became something of a joke in the room. "Look, I'm a negotiator, like you, folks. Is there anyone in this room who doesn't negotiate and renegotiate deals? Probably more than at any room I've ever spoken before," he said.
The crowd roared with appreciative laughter, but the mood changed quickly once Mr. Trump was asked substantive questions about his policies that would affect Israel.
Noting that Mr. Trump was about to visit Israel, RJC executive director Matt Brooks asked him about comments he had made earlier to the Associated Press about Israel's role in the Oslo Process.
According to that report, Mr. Trump said Israel would need to "make tough sacrifices" beyond what it has already given in order to make a peace deal with the Palestinians.
"Does that mean a return to the 1967 borders? Dividing Jerusalem? What does that mean to you?" asked Mr. Brooks.
"Sacrifices"
At first Mr. Trump seemed to explain that the entire question was hypothetical, "an example of the hardest deal in history to put together," he said.
But then he began to sound more concrete. "I can put both sides together, but it will take six months or maybe sooner. You can walk into a room and know in two seconds whether or not you're going to be able to make a deal," he said.
Making this deal, he said, would make him "so happy because there's so much violence and death going on for so many years."
However, he said, he does not know if Israel or the Palestinians "have the commitment" to make it happen.
Recognizing Israel's Concessions
Although he insisted he did not want to "give away a lot of cards" that he would need for negotiations, he said the only deal that interested him was one that is "real and lasting, not a phony deal that will last a week and then bad things start happening again."
Perhaps responding to the quizzical stares he was receiving, Mr. Trump added, "I think people know where I stand," which some took to mean his support for Israel was solid, while others seemed to think he was waxing poetic about the chance to execute a deal, the terms of which he would not divulge.
When a few boos were heard, Mr. Trump softened and made his position clearer. "Israel has already given a lot, and a lot of people don't know that. The public relations for Israel hasn't been so great. Israel's given a lot but hasn't been given a lot of credit for what they've given," he conceded, adding that some of the Jewish state's concessions have been "unthinkable" and "caused a lot of turmoil [in Israel."
Trying to be Clear
He insisted he did not want to say anything further because, he said, "I'd like to go in with a clean slate and say, 'let's go; everybody's even; we love everybody; and let's see if we can do something.'"
Recognizing that, by saying more at that point, "it may come back to haunt me later," he, nevertheless, added once again, that he knew how much Israel has already given.
"I don't know if the Israelis want to take another step further. That's going to be up to them. But Israel has not been given the credit they deserve for what they've already done. I will say that," he said.
The Embassy
But when he was asked about moving the US Embassy from Tel Aviv to Jerusalem or his position on dividing Jerusalem, he refused to respond.
"I'll wait until I get to Israel to talk to Bibi Netanyahu," he said.
When the room erupted into loud boos, it seemed to catch Mr. Trump by surprise. Every other Republican candidate at the forum, including Mr. Bush, had stressed that his or her first act as President would be to move the embassy, and all of them had endorsed an undivided Jerusalem to remain Israel's capital.
"I know what you're saying. You're not going to be unhappy. Do me a favor, just relax. You'll like me very much, believe me. Okay? It's going to be fine," Mr. Trump tried to reassure the crowd.
The Art of the Deal
He then launched into a lesson that might have come straight from his 1987 bestseller, The Art of the Deal: "You can't go into [negotiations] with that attitude," he told his audience. "You can make a great deal. You can't think you're going to shove it down. You've got to go in and do it nicely so everyone's happy. Don't worry about it. You're going to be very happy, okay?"
He went onto explain to the audience that he believes Mr. Netanyahu is "a very good man who has been treated very badly" by the Obama administration.
He noted that the election campaign commercial he made for the prime minister might have helped during the Israeli elections, but it probably would not help during the projected negotiations between Israel and the Palestinians.
"I'm trying to keep it nice and level, right? And then I get people screaming at me," he said, referring to the Israel supporters at the RJC forum who had been hoping for more definitive pro-Israel positions from Mr. Trump.
Some took this as another hint that his position in any negotiations would be staunchly pro-Israel.
Historic Generals
Trying to regroup, Mr. Trump stressed that while Mrs. Clinton says she is pro-Israel, he did not believe she has sufficient "energy or strength" to help either the Jewish state or the US.
"Israel needs more than just our support. Israelis need strength and real power behind them," he said.
Israel's problem, he said, is that its enemies "fight really dirty and they're fighting a lot better" than they used to.
He recalled an Israeli friend who came to visit 15 years ago, laughing about the ease with which the Jewish state could defend itself.
"They're not the JV" anymore, said Mr. Trump.
The solution, he said, is to recruit military leaders reminiscent of Generals George Patton and Douglas MacArthur, rather than the more soft-spoken officers who sometimes appear on television.
"I don't want my generals on TV saying things like, 'Well, ISIS is very tough,'" said Mr. Trump. "We need foul-mouthed, vicious, horrible brilliant guys. We need geniuses like Patton and MacArthur, and we have them. I'll find them and then we'll knock the [stuffing] out of our enemies."
Pro-Israel Advocacy
Marc Zell, vice-president of Republicans Overseas and co-chair of Republicans Abroad Israel, was not impressed with Mr. Trump. "He lacks sophistication, knowledge, and experience," said Mr. Zell, adding that, nevertheless, Mr. Trump is a "serious candidate."
When asked by Israeli Army Radio if the GOP frontrunner was "a fascist," Mr. Zell said no. "He's a great marketer who has energized the debates and the primaries, but I don't think he could or should be President," he said.
Mr. Zell's personal favorite is Mr. Rubio, although he admitted that Mr. Cruz "gets it."
"He's articulate and well-read," said Mr. Zell.
He found it disturbing that Mr. Cruz does not object to leaving Mr. Assad in power even after ISIS is defeated.
"That's one of the reasons I'm supporting Rubio," he said.
Ari Fleischer, who served as White House Press Secretary for President George W. Bush and is now a board member of the RJC, said he did not believe Mr. Trump really wanted to speak to Mr. Netanyahu before answering the question on dividing Jerusalem or relocating the embassy.
"His refusal to be specific was offensive, and his statement about Jews not supporting him because he won't take their money is a misreading of the issue. Jews want to engage with pro-Israel candidates to help them understand the depth of the issue," he said.
No Pressure on Israel
There was no such equivocation from Dr. Carson, Governor Huckabee, or Mrs. Fiorina.
Dr. Carson, who visited Israel last year and, as a devout Christian student of the Bible, found it "incredible," said the task of the next US President is not to pressure Israel, but, rather, to support the Jewish state "in its efforts to find a lasting peace."
"The key word is 'lasting,'" he said, noting that, "for too long," the US and Europe have concentrated on a peace deal in which "the focus has always been on what the future of the Palestinian state looks like."
Dr. Carson said, as President, he would focus on what the Jewish state would look like after a peace deal was signed.
"Everlasting peace cannot be just for the Palestinians, but for Israel as a Jewish state for the Jewish people forever," he said.
He recognized that the Palestinians are divided by territory, with Fatah in Judea and Samaria and Hamas in Gaza, and by ideology, with Fatah nominally secular and Hamas Islamist. Between them lies Israel. If Judea, Samaria, and Gaza were reunited, the Jewish state would be split in two.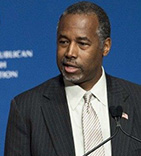 "Even if Israel were to withdraw to the 1967 borders and give up Jerusalem, there would be no one on the Palestinian side to ratify the agreement," he said. "And if the issues of territory and ideology were resolved for the Palestinians, how would you preserve a vital Jewish state? In the two-state solution, no Jews are allowed to reside in Palestine, but Israel would be a bi-national state with a growing Palestinian population. Eventually, it would all be one Palestinian state."
Not Based on Israel
He rejected the argument accepted by the Obama administration, among others, that the problems in the Middle East are rooted in the Israeli-Palestinian conflict.
He pointed out that, since 1950, there have been 67 conflicts in the Middle East, resulting in 11 million Muslim deaths. Of these, 35,000 have been as a result of the Israeli-Palestinian conflict.
"The Israeli-Palestinian conflict is responsible for .3 percent of all Muslim deaths in the region. The rest are the result of Muslim-on-Muslim violence that has nothing to do with Israel," he said.
His research, he said, convinced him that Mr. Obama "has zero understanding of this region." As an example, he pointed out that, while the war between Israel and Hamas was raging during the summer of 2014, the most logical intermediary would have been Egypt. Its shared border with Hamas would allow Egypt to enforce a deal and it already enjoyed a peace treaty with Israel.
"But President Obama and Secretary of State [John] Kerry asked Turkey and Qatar to serve as intermediaries. This was crazy. Qatar is ideologically close to Hamas, and Turkey had already said Israel was worse that the Nazis," said Dr. Carson.
No Question about Israeli Sacrifices
Mr. Huckabee, who insisted the relationship between Israel and the US is not so much "organizational" based on common interests, but "organic" based on "the belief that our children should grow up with freedom rather than trampled by tyrants," responded with astonishment to Mr. Trump's wavering on whether Israel had sacrificed sufficiently for a peace deal with the Palestinians.
"Where have you been for the past 70 years?" asked Mr. Huckabee. "Israel has repeatedly given up, sacrificed, and gotten nothing in return."
"There can be no pressure on Israel to relinquish land or its sons and daughters as long as the Palestinians are teaching in their schoolbooks that it is okay to murder Jews," he said. "No American President can pressure Israel to give up land that G-d gave them the deed to, and that includes Judea and Samaria."
No Moral Equivalence
He rejected any notion of moral equivalence between Israel and the Arabs. "One side, the Palestinians, is trying to murder innocent people, and the other, Israel, is trying to protect its families," he said.
Similarly, he said, as things stand now, there can be no two-state solution, which, he recognized, is still promoted by Democrats and some Republicans. "How can there be a two-state solution when one side, the Palestinians, believes the other side, Israel, has no right to exist?" he said.
To make his point, he recalled a trip to Israel with a well-meaning Christian who kept discussing the importance of the two-state solution. In the Old City of Jerusalem, Mr. Huckabee suggested his companion purchase a map from an Arab merchant and then try to find Israel on it. When the companion realized the Jewish state was missing, Mr. Huckabee said that was the problem.
"If we leave it to the Palestinians, there will be no Israel," he said. "The land should remain in the hands of the side that respects all faiths. How many synagogues are there in Saudi Arabia? How many churches are there in Teheran?"
Map in Jordan
Mrs. Fiorina said she had a similar experience while traveling through Jordan a few years ago. When the driver gave her a map, she realized that "where Israel should have been, there was only white space."
When she asked the driver for an explanation, he said, "Oh, that doesn't exist."
"When the Supreme Leader of Iran says his mission is to wipe Israel off the face of the map, I know it's not political rhetoric. It is powerful ideology," she said, mocking an argument that has been used by some members of the Obama administration.
No Peace Process
As opposed to Mr. Trump, Ms. Fiorina, also business leader used to making deals, did not think peace was possible between Israel and the Palestinians.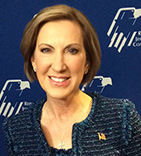 She, however, put the onus on the Palestinians, saying negotiations were pointless "unless and until the Palestinian leaders grow so war-weary that they are prepared to accept Israel's right to exist."

However, she said, if the next President "makes that condition clear" perhaps the Palestinians could be brought to the table.
Not a Provocation
Mr. Huckabee dismissed the argument that moving the US embassy to Jerusalem would be seen as a provocation.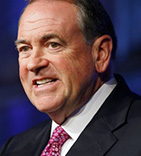 "The provocation is the steady stream of missiles and terrorism Israel has had to bear. The provocation is from the Iranians and Palestinians who hate Israel and want to annihilate the Jewish state. There is nothing we can do to ameliorate that. The US needs finally to make the definitive statement as to whom it's taking sides with and move its embassy to Jerusalem and once and for all declare that we know who our peace partner in the Middle East is, and it's Israel," he said.
Mr. Bush, whose brother also promised to move the US Embassy to Jerusalem but never did it, said that, as President, he would exert no pressure on Israel to negotiate with the Palestinians "until the PA and the others it represents recognize the right of Israel to exist as a Jewish state with secure borders," he said.
When asked about his troubling ongoing relationship with his father's Secretary of State James Baker, Mr. Bush said the person on whom he relies for advice on Israel is his brother.
Pro-Life
Both Messrs Cruz and Huckabee have conservative positions on abortion and homosexual marriage, but because many in the RJC are less doctrinaire on these issues, the candidates were asked how they would convince pro-choice, pro-gay marriage advocates to vote for them.
Mr. Cruz said he would ask the individual: Do you want to win?
He argued that unless pro-life voters are motivated to come to the polls, a Republican candidate, who, he said, would be better for the country, cannot win.
"We all want to save our country, and if we have another four to eight years of an Obama-type administration, we could lose it," he said.
The Middle Will Lose
He recognized that political consultants have been telling Republicans for years that they should "run in the middle."
"And every time, the Republicans get clobbered because millions of pro-life conservatives and Reagan Catholic Democrats stay home," he said.
Mr. Huckabee took a different approach, telling the RJC that a voter whose priority is abortion or gay marriage would not vote for him.
"These are my deeply held convictions, and if you want a President who stands by his convictions, you'll vote for me," he said.
Mr. Christie, who is also pro-life, said he is very concerned with life after the nine months in the womb. "I'm also pro-life for the 16-year-old drug addict and the 47-year-old lawyer who is addicted to pain killers and has lost everything because of it. Their lives are precious gifts from G-d, too," he said.
Hispanic Community
Mr. Graham took issue with Mr. Cruz's position, arguing that the 2012 Republican Presidential candidate, Mitt Romney, lost not because he was insufficiently conservative, but because the Republicans could not attract the Hispanic vote.
"The Hispanic community doesn't vote for us because they think we don't like them," he said.
He pointed out that, as a group, the Hispanic community is very conservative. It is the minority with the highest percentage serving in the US Marine Corps. As a community, they are church-going, predominantly Catholic, and pro-life.
"In 2012, the Republicans talked about illegal immigrants self-deporting themselves. In 2016, we're talking about forced deportation of 11 million people, and this would include American citizens who are children. We can't win an election with this policy," he said.
His suggestion was that after the southern border is secured, the US make an attempt to "deport the crooks" and then ask Hispanic immigrants who entered the country illegally to learn English, pay a fine for having broken immigration laws, and wait ten years before being able to secure a Green Card.
Further, he said, the majority of Americans would not support a pro-life candidate who did not make an exception for rape and incest.
"Our positions on social issues cannot be a disconnect from American life as it is. If we say a woman must carry the child who is a product of rape or incest, we will lose the American vote," he said.
Two Calls
The last speaker of the day was Ms. Fiorina who, like the others, expressed anger at the Obama administration for its moral equivalence between Israel and the Palestinians.
She said that on her first day in office as President, she would make two phone calls. The first, she said, would be to "my friend, Bibi Netanyahu, to reassure him that we will stand with the State of Israel always."
She hastened to tell the RJC that this was not a new position for her. "I know that our allies who do not always agree with Israel are nevertheless watching how we treat this exceptional ally and nation. From the way we've treated Israel these past several years, they've concluded that their friendship doesn't mean much to us either," she said.
The second phone call, she said, would be to the Supreme Leader of Iran who, she suspected, would not take her call, but who would "get the message."
She would tell him: "New deal with a new President, and unless you open every military and nuclear facility to real anytime, anywhere inspection by our people—not yours—the US will make it as difficult as possible for you to move money. We will stop the money flow."
Rand Paul
The only no-show at the RJC's forum was Senator Rand Paul (R-KY), whose libertarian and quasi-isolationist views have given some supporters of Israel pause.
Mr. Rand, who sent word that an extended vote on the Senate floor precluded his attendance at the forum, has stressed his support for Israel. In 2014, in keeping with his distaste for all US foreign aid, he proposed the Stand with Israel Act, a bill that would have cut off all US funding to the PA until the US President could certify that that the Palestinians formally and publicly recognized Israel as a Jewish state, renounced terrorism, expelled all individuals with terrorist ties from its security services, terminated all anti-American and anti-Israel incitement, publicly pledged not to engage in war against Israel, and honored previous agreements signed between the PA and the Jewish state.
Last March, it was sent to the Senate Foreign Relations Committee, from which it never emerged.