Art to Help New Organization for Jews with Special-Needs and To Commemorate the Seidenfeld Children, z"l
Art to Help New Organization for Jews with Special-Needs and To Commemorate the Seidenfeld Children, z"l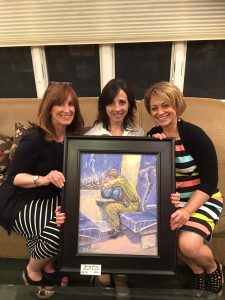 At the end of May, the artwork of Brocha Teichman and the vision of Philyss Seidenfeld for a new non-profit called Anan Kvodo converged in Teaneck when Suzanne and Avi Stokar opened their home to celebrate a "Night of Beauty." The event showcased Ms. Teichman's paintings and raised awareness of Anan Kvodo, a new organization that seeks to provide work and living opportunities in a farm-like setting for Jews with special-needs.
"It takes a village to create a village," said Mrs. Seidenfeld, who is seeking to partner with a larger organization to actuate the new organization's plan.
The type of village she envisions does not yet exist in the US, but Ms. Seidenfeld is hoping that will soon change. For more information, visit Anan Kvodo on Facebook or contact Ms. Seidenfeld at philyss@gmail.com.
Ms. Seidenfeld said her efforts are intended to leave a legacy for her four deceased children, ages 4-15, who died in a tragic fire in Teaneck in 2005.
Award-Winning Art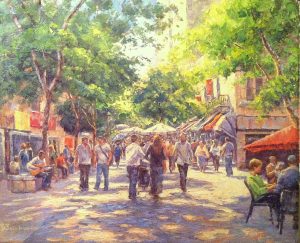 Ms. Teichman, a longtime friend of Ms. Seidenfeld, is an award-winning painter with a gallery and teaching studio in Lawrence, NY. Her impressionistic street scenes of Israel and NYC, landscapes, and portraits of children are created almost entirely with palette knives and are included in many collections throughout the world.
Ms. Teichman's work can be seen on her website, www.brochateichman.com. Those interested in learning more can become part of her email list or can call 917-562-1819.
At the Anan Kvodo event, more than 35 of Ms. Teichman's paintings and art prints were on display. Twenty percent of the proceeds went to Anan Kvodo.