Adrien Levin, z"l Atlantic City Businesswoman and Musician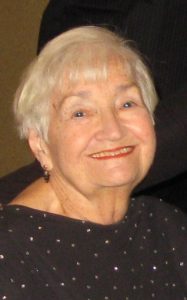 Adrien Levin, an Atlantic City businesswoman and musician, died on July 13 in Shore Memorial Hospital at the age of 92. The cause was heart failure.
"Even before gambling, most people thought of Atlantic City as an icon of pop culture, a center of honky-tonk music and rock-and-roll. But for many, it was also a magnet for classical music, attracting performers and lovers of opera, symphonies, and especially chamber music, and Adrien Levin was at the forefront of that effort," said Mrs. Levin's daughter, Susan Rosenbluth, editor and publisher of The Jewish Voice and Opinion and TheJewishVoiceAndOpinion.com, based in Englewood, NJ.
Born on March 25, 1924 on the Lower East Side of New York to the late Dr. Irving and Mae Garfunkle, Mrs. Levin was taught to play the violin by her father. By the age of 11, she was sufficiently proficient both academically and musically to enter the inaugural class of the High School of Music and Art (now the Fiorello H. LaGuardia High School of Music & Art and Performing Arts), where the school orchestra was frequently conducted by Mayor LaGuardia himself.
She graduated from Hunter College summa cum laude and Phi Beta Kappa with a bachelor's degree in Mathematics and Statistics and, throughout World War II, served as a hostess with the USO in Manhattan while also playing violin and viola with the Hunter College Orchestra.
Relocating to Atlantic City
While attending graduate school at Columbia University, she met and married the love of her life, Abe Levin, a furrier who had recently completed a degree in Economics from Johns Hopkins as well as a Master's in the field from Columbia.
In 1955, the Levin family, including their two children, relocated to Ventnor, NJ, just down beach from Atlantic City, where Mr. Levin's family's business, Nathan Levin Furs, was a landmark, first on Pacific Avenue, and then, later, on Albany Avenue. Joined in 1972 by their son, Nat, and Nat's wife, Shoshana, Abe and Adrien Levin owned and operated Nathan Levin Furs until Abe Levin's death in 1991. At that point, Nat and Shoshana Levin assumed the helm of the business, and operated Nathan Levin Furs until their retirement in 2013.
Although Adrien Levin retired from the fur store in 1992, she remained active in the avocation that defined her life, participating in music and the arts as both a performer and a passionately involved patron. When she resided in New York, she played violin and viola with the City Symphony Orchestra of New York, often performing at the American Museum of Natural History. When she moved to Ventnor, she became active in both the Atlantic City Community Concerts Series and the Ventnor Summer Music Festival. She often joked that because it was so hard to find proficient violists, she was frequently drafted to "tie on my pigtails" to play in the Ventnor Summer Music Festival's Youth Orchestra.
In addition, Mrs. Levin was a founding violinist and violist of the Sea-Sharp String Quartet and was active in the Stockton University Orchestra and the Philharmonic of Southern NJ. She sang with the Judean Choir and the Stockton Community Choir, and taught many local classes on music and composers for Brandeis University National Women's Committee.
Mrs. Levin spent many summers playing violin and viola in chamber music groups arranged by the Vermont Music and Arts Center, based at Lyndon State College in Lyndonville, Vermont.
Jewish Activists
She was an active member of the Atlantic City Crescendo Club as well as Congregations Beth Judah in Ventnor and Beth El in Margate, the Jewish Community Center in Margate, and the Jewish Federation of Atlantic and Cape May Counties.
A world traveler, for all of her married life with her husband and then with friends, Mrs. Levin always sought out interesting musical venues as well as sites of importance to the worldwide Jewish community. In the 1970s and '80s, she and her husband traveled to the Soviet Union in their roles as prominent activists in the struggle to free Soviet Jewry.
Despite her business and musical achievements, Mrs. Levin always said her premier accomplishment was the love she shared with her family. She leaves her son, Nat (Shoshana), of Margate, and daughter, Susan Rosenbluth (Dr. Richard), of Englewood, NJ.
Mrs. Levin also leaves five grandchildren, all of whom have carried on her legacy. In addition to their professional lives, all are significantly involved in the arts: Dr. Jonathan Rosenbluth (Chaviva) is a physician and percussionist; Dr. Benjamin Rosenbluth (Elana) is a physician as well as a pianist and composer; Jessica Levin (Dr. Michal Shapira) is an award-winning producer of independent films as well as HBO films, series, and projects; Ely Levin (Carolyn) is an advertising executive as well the drummer, singer, and composer for The Deedle Deedle Dees children's music group; and Rachel (Rosenbluth) Benveniste (Dr. Ron) is a classically-trained soprano and music therapist.
Many of Mrs. Levin's 14 great-grandchildren are also musicians and artists: Emily and Sylvie Levin; Miriam, Chana, Judith, Avigayil, Yitzi; Naomi, Moshe, Gabriel, and Frieda Rosenbluth; and Jacob, Devorah, and Aaron Benveniste.
In addition, Mrs. Levin, who was predeceased by her brother, Bernie Garfunkle, leaves four generations of loving nieces and nephews on her husband's side of the family.
Donations may be made to the Tizmoret Shoshana Music-and-Art Camp for Jewish girls (3415 Clarks Lane #B2, Baltimore, MD 21215), where a scholarship will be established in memory of Adrien Levin.